Proteasome Inhibitor
DFMO for Neuroblastoma
Arkansas Children's Hospital, Little Rock, AR
DFMO

+1 more
Phase 1 & 2
Waitlist Available
Research Sponsored by Wake Forest University Health Sciences
Eligibility Criteria Checklist
Specific guidelines that determine who can or cannot participate in a clinical trial
Must have
Be younger than 65 years old
Must not have
Be older than 65 years old
All Individual Drugs Already Approved
Approved for 5 Other Conditions
Study Summary
This trial is testing an investigational drug (DFMO) in combination with bortezomib for relapsed and refractory neuroblastoma. It will evaluate safety, tolerability, and tumor response.
Timeline
Screening ~ 3 weeks
3 visits
This trial's timeline: 3 weeks for screening, Varies for treatment, and 3 years for reporting.
Treatment Details
Study Objectives
Outcome measures can provide a clearer picture of what you can expect from a treatment.
Determine the Overall Response Rate (ORR) of Participants using RECIST criteria
Secondary outcome measures
Correlate PET scan changes with Progression Free Survival
Correlate urinary polyamine levels with response and progression of disease in neuroblastoma.
+2 more
Side effects data
From 2015 Phase 1 trial • 21 Patients • NCT01059071
10%
Progression of Disease resulting in death
Awards & Highlights
All patients enrolled in this study will receive some form of active treatment.
All Individual Drugs Already Approved
Therapies where all constituent drugs have already been approved are likely to have better-understood side effect profiles.
Approved for 5 Other Conditions
This treatment demonstrated efficacy for 5 other conditions.
Trial Design
Group I: DFMO and Bortezomib
Experimental Treatment
2 Interventions
Subjects will take DFMO by mouth 2 times a day for each day of a 21 day cycle and Bortezomib will be given by IV push on days 1, 4, and 8 of each 21 day cycle.
How many patients have taken this drug
Who is running the clinical trial?

Wake Forest University Health Sciences
Lead Sponsor
1,195 Previous Clinical Trials
999,115 Total Patients Enrolled
19 Trials studying Neuroblastoma
1,630 Patients Enrolled for Neuroblastoma
Beat NB Cancer Foundation
OTHER
5 Previous Clinical Trials
1,118 Total Patients Enrolled
5 Trials studying Neuroblastoma
1,118 Patients Enrolled for Neuroblastoma
1 Previous Clinical Trials
140 Total Patients Enrolled
1 Trials studying Neuroblastoma
140 Patients Enrolled for Neuroblastoma
K C Pharmaceuticals Inc.
Industry Sponsor
4 Previous Clinical Trials
771 Total Patients Enrolled
4 Trials studying Neuroblastoma
771 Patients Enrolled for Neuroblastoma
Giselle SaulnierSholler
Lead Sponsor
21 Previous Clinical Trials
2,200 Total Patients Enrolled
18 Trials studying Neuroblastoma
1,573 Patients Enrolled for Neuroblastoma
Kathleen Neville, MD
Study Chair
Children's Mercy Hospital Kansas City
Media Library


Bortezomib (Proteasome Inhibitor) Clinical Trial Eligibility Overview. Trial Name: NCT02139397 — Phase 1 & 2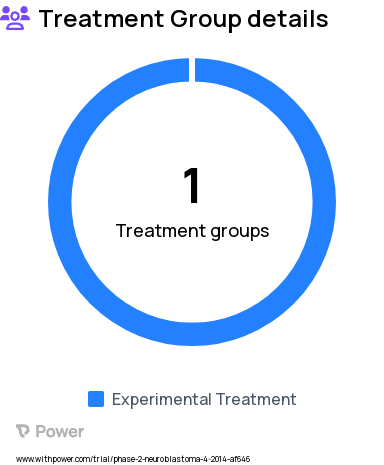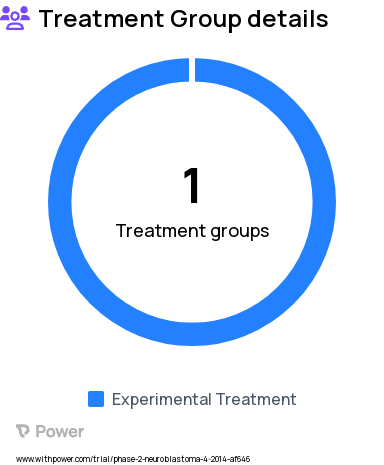 Neuroblastoma Research Study Groups: DFMO and Bortezomib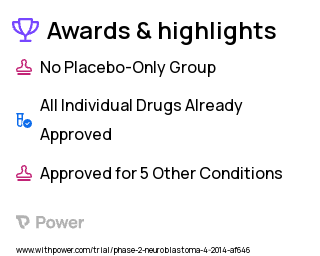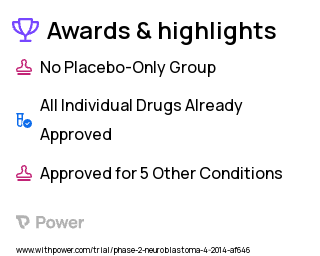 Neuroblastoma Clinical Trial 2023: Bortezomib Highlights & Side Effects. Trial Name: NCT02139397 — Phase 1 & 2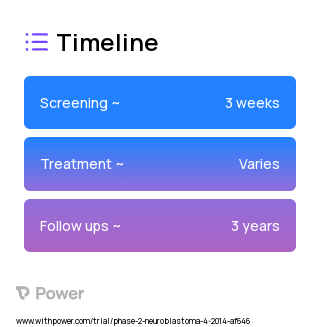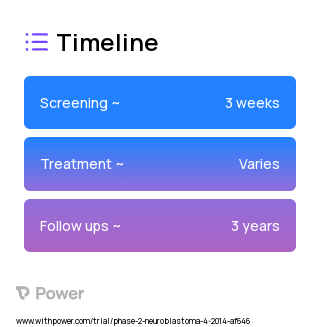 Bortezomib (Proteasome Inhibitor) 2023 Treatment Timeline for Medical Study. Trial Name: NCT02139397 — Phase 1 & 2
Frequently Asked Questions
These questions and answers are submitted by anonymous patients, and have not been verified by our internal team.
Could you compare and contrast this DFMO study to others like it?
"DFMO's first clinical trial was completed in 2004 at the National Institutes of Health Clinical Center. As of now, 395 have been completed with 156 more underway. A significant amount of these ongoing trials are based out of Little Rock, Arkansas."
Are we looking for more participants in this experiment?
"The clinical trial in question is not recruiting new participants, as per the information on clinicaltrials.gov. This study was first posted on May 1st, 2014 and was last updated on April 20th, 2022. 321 other trials are currently enrolling patients."
What are the benefits of using DFMO?
"DFMO has been successful in treating hair removal therapy, meningoencephalitic stage trypanosoma brucei gambiense infection, and multiple myeloma."
How many different sites are conducting this research?
"There are a total of six different hospitals participating in this study. These include the Arkansas Children's Hospital in Little Rock, Medical University of South Carolina in Charleston, and Arnold Palmer Hospital for Children- MD Anderson in Orlando."