Ovulatory trigger timing for Female Infertility
Fertility center of Las Vegas, Las Vegas, NV
Ovulatory trigger timing
N/A
Recruiting
Research Sponsored by Fertility Center of Las Vegas
Eligibility Criteria Checklist
Specific guidelines that determine who can or cannot participate in a clinical trial
Must have
Be between 18 and 65 years old
Must not have
Be younger than 18 years old
Be older than 65 years old
Follow Up
within 7 days of oocyte retrieval
Study Summary
This trial will compare the efficacy of two different times of administration of medications for final oocyte maturation, commonly called a "trigger", in cycles of controlled ovarian stimulation.
Timeline
Screening ~ 3 weeks
3 visits
Follow Up ~ within 7 days of oocyte retrieval
Follow Up ~
within 7 days of oocyte retrieval
This trial's timeline: 3 weeks for screening, Varies for treatment, and within 7 days of oocyte retrieval for reporting.
Treatment Details
Study Objectives
Outcome measures can provide a clearer picture of what you can expect from a treatment.
Delayed blastocyst formation
Awards & Highlights
All patients enrolled in this study will receive some form of active treatment.
Trial Design
Group I: Early Trigger
Experimental Treatment
1 Intervention
Group II: Delayed trigger
Experimental Treatment
1 Intervention
Who is running the clinical trial?
Fertility Center of Las Vegas
Lead Sponsor
4 Previous Clinical Trials
270 Total Patients Enrolled
Media Library


Ovulatory trigger timing Clinical Trial Eligibility Overview. Trial Name: NCT05498350 — N/A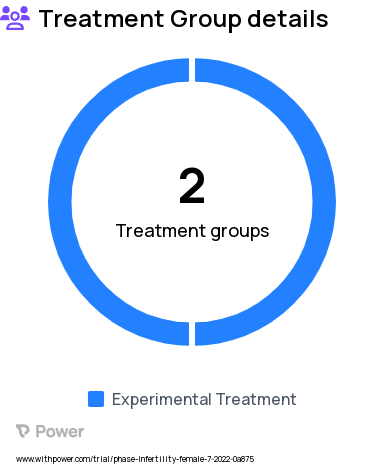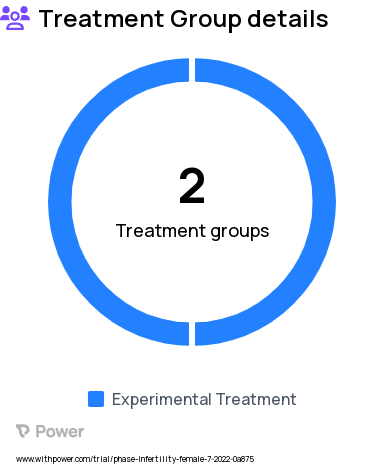 Female Infertility Research Study Groups: Early Trigger, Delayed trigger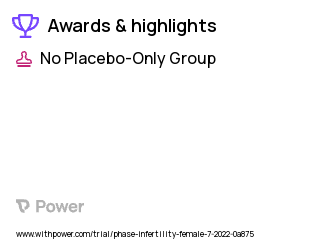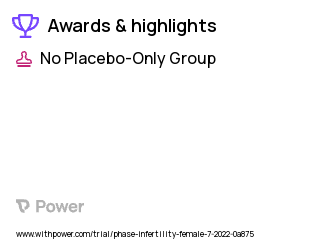 Female Infertility Clinical Trial 2023: Ovulatory trigger timing Highlights & Side Effects. Trial Name: NCT05498350 — N/A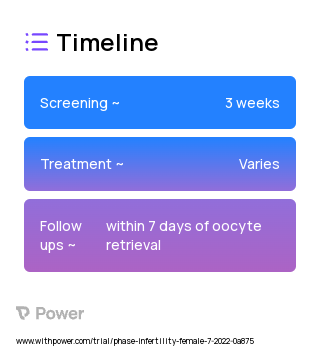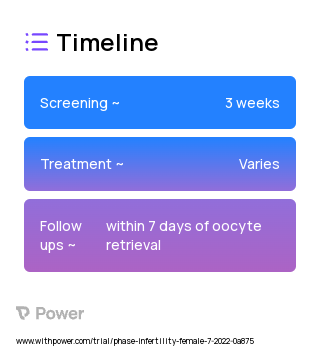 Ovulatory trigger timing 2023 Treatment Timeline for Medical Study. Trial Name: NCT05498350 — N/A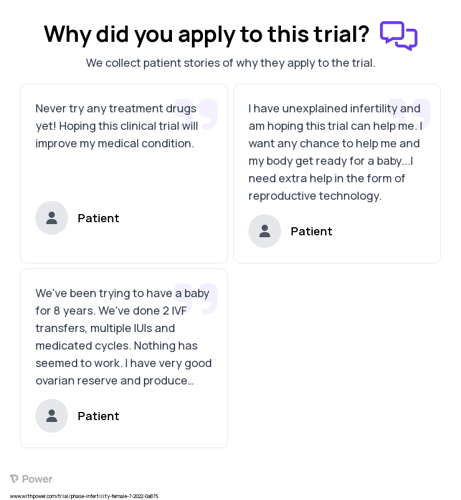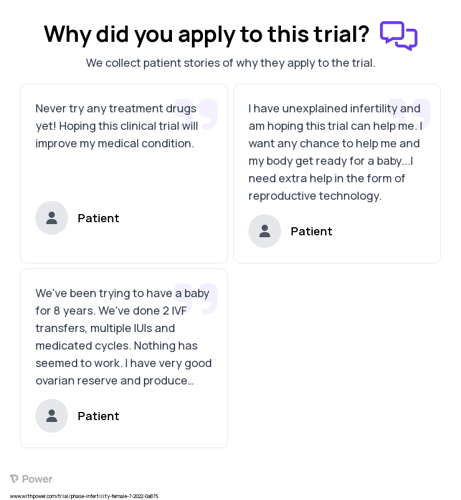 Female Infertility Patient Testimony for trial: Trial Name: NCT05498350 — N/A
Frequently Asked Questions
These questions and answers are submitted by anonymous patients, and have not been verified by our internal team.
Is this clinical trial accessible to individuals aged 25 and above?
"The age range for participants in this trial is between 18 and 34 years old."
How many individuals are participating in this research project?
"Affirmative. According to clinicaltrials.gov, the recruitment process for this medical trial is still ongoing since its original posting on August 10th 2022 and subsequent update. The goal is to enlist 150 individuals from a single location."
What criteria must a participant meet in order to qualify for this research?
"This research study requires 150 participants of childbearing age, aged 18 to 34. All candidates must meet the following criteria: female adults who plan on undergoing in-vitro fertilization (IVF), with at least 8 antral follicles observed via ultrasound scan or a serum AMH level of 1.5 ng/ml; have basic literacy proficiency in English for informed consent purposes; and can only participate once if they had prior IVF cycles."
Is registration for this clinical trial currently open?
"Correct. The information hosted on clinicaltrials.gov suggests that recruitment for this medical trial, which was first posted on August 10th 2022, is currently in progress. Approximately 150 individuals have to be recruited from 1 site specifically."
Who else is applying?
What state do they live in?
What site did they apply to?
Fertility center of Las Vegas
What portion of applicants met pre-screening criteria?
How many prior treatments have patients received?
What questions have other patients asked about this trial?
When start the screening process! For how many minutes or hours?
Why did patients apply to this trial?
Never try any treatment drugs yet! Hoping this clinical trial will improve my medical condition.
I have unexplained infertility and am hoping this trial can help me. I've dealt with infertility for a while me and my partner have been trying for over a year now.
I want any chance to help me and my body get ready for a baby...I need extra help in the form of reproductive technology.
How responsive is this trial?
Most responsive sites:
Fertility center of Las Vegas: < 48 hours