Mesenchymal Stromal Cells
Verum for Epidermolysis Bullosa
Masonic Cancer Center and Medical Center Minneapolis, Minneapolis, MN
allo-APZ2-OTS

+1 more
Phase 3
Waitlist Available
Research Sponsored by RHEACELL GmbH & Co. KG
Eligibility Criteria Checklist
Specific guidelines that determine who can or cannot participate in a clinical trial
Study Summary
This trial will test if a new drug can be safely and effectively used to treat a rare skin condition called Recessive Dystrophic Epidermolysis Bullosa (RDEB).
Timeline
Screening ~ 3 weeks
3 visits
This trial's timeline: 3 weeks for screening, Varies for treatment, and 12 months for reporting.
Treatment Details
Study Objectives
Outcome measures can provide a clearer picture of what you can expect from a treatment.
Proportion of subjects with complete target wound closure
Secondary outcome measures
Time to complete target wound closure from baseline
Awards & Highlights
The final step before approval, pivotal trials feature drugs that have already shown basic safety & efficacy.
Trial Design
Group I: Verum
Experimental Treatment
1 Intervention
Group II: Placebo
Placebo Group
1 Intervention
Who is running the clinical trial?
RHEACELL GmbH & Co. KG
Lead Sponsor
9 Previous Clinical Trials
402 Total Patients Enrolled
2 Trials studying Epidermolysis Bullosa
90 Patients Enrolled for Epidermolysis Bullosa
Media Library
allo-APZ2-OTS (Mesenchymal Stromal Cells) Clinical Trial Eligibility Overview. Trial Name: NCT05838092 — Phase 3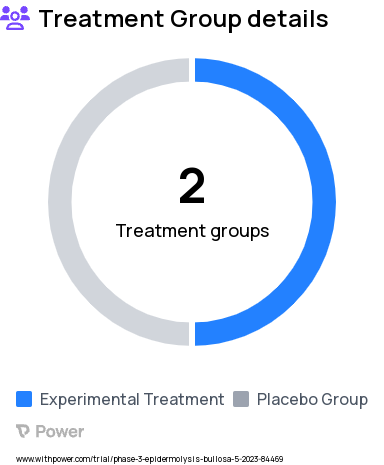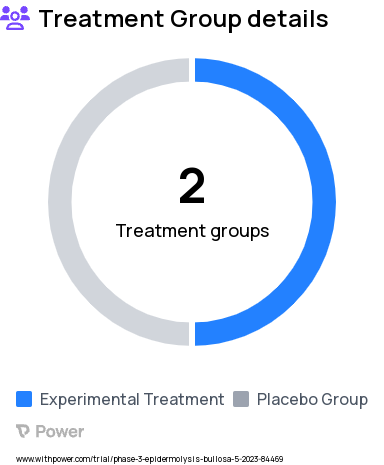 Epidermolysis Bullosa Research Study Groups: Verum, Placebo
Epidermolysis Bullosa Clinical Trial 2023: allo-APZ2-OTS Highlights & Side Effects. Trial Name: NCT05838092 — Phase 3
allo-APZ2-OTS (Mesenchymal Stromal Cells) 2023 Treatment Timeline for Medical Study. Trial Name: NCT05838092 — Phase 3
Frequently Asked Questions
These questions and answers are submitted by anonymous patients, and have not been verified by our internal team.
Has Verum attained the necessary regulatory clearance from the FDA?
"According to our evaluation, verum has been awarded a safety rating of 3 due its successful completion of Phase 3 trials and the collected data illustrating efficacy."
Are researchers still enrolling participants for this investigation?
"As per the information listed on clinicaltrials.gov, this trial is not currently enrolling participants. The study was first posted June 1st 2023 and last updated April 20th 2023. At present there are 24 other trials actively recruiting individuals for their studies."