Educational Intervention for Healthy Subjects
Research Sponsored by Thomas Jefferson University
Eligibility Criteria Checklist
Specific guidelines that determine who can or cannot participate in a clinical trial
Must have
With or without a personal or family history of PCA
Be older than 18 years old
Must not have
Be younger than 18 years old
Follow Up
baseline up to 2 months
Study Summary
This trial is studying how well a peer-based health education program works in reducing barriers to prostate cancer genetic screening in African American participants.
Healthy Subjects

Prostate Cancer
Eligibility Criteria
Inclusion Criteria
You will be eligible if you check "Yes" for the criteria below
Whether or not you or your family has a

history of prostate cancer

.
Timeline
Screening ~ 3 weeks
3 visits
Follow Up ~ baseline up to 2 months
Follow Up ~
baseline up to 2 months
This trial's timeline: 3 weeks for screening, Varies for treatment, and baseline up to 2 months for reporting.
Treatment Details
Study Objectives
Outcome measures can provide a clearer picture of what you can expect from a treatment.
Awareness of risks and benefits of genetic testing
Change in of decisional conflict
+2 more
Awards & Highlights
All patients enrolled in this study will receive some form of active treatment.
Trial Design
Group I: Arm I (health education)
Experimental Treatment
2 Interventions
Participants attend 1-2 monthly peer educator-led education sessions about PCA genetic testing over 3 hours each for 18 months.
Group II: Arm II (cancer educational materials)
Active Control
2 Interventions
Participants receive mailed informational materials about PCA risk, family history, and genetic testing.
Who is running the clinical trial?

Thomas Jefferson University
Lead Sponsor
428 Previous Clinical Trials
138,698 Total Patients Enrolled
Media Library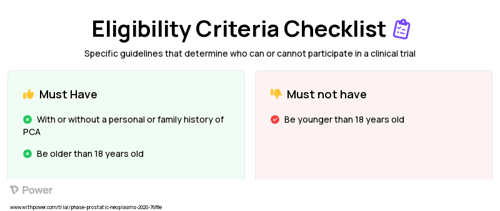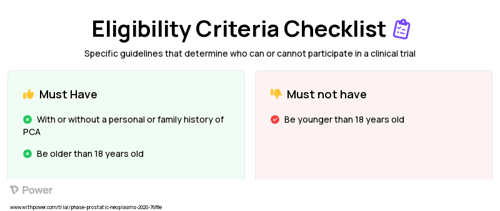 Educational Intervention Clinical Trial Eligibility Overview. Trial Name: NCT05011799 — N/A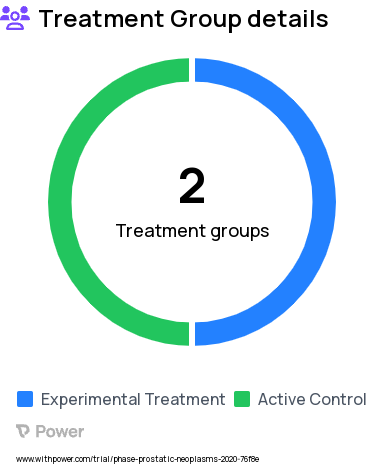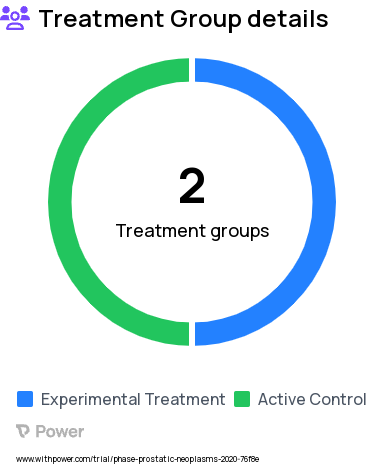 Healthy Subjects Research Study Groups: Arm I (health education), Arm II (cancer educational materials)
Healthy Subjects Clinical Trial 2023: Educational Intervention Highlights & Side Effects. Trial Name: NCT05011799 — N/A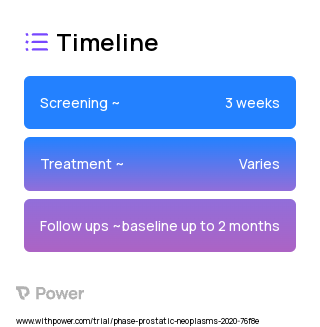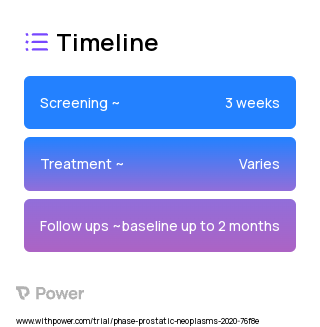 Educational Intervention 2023 Treatment Timeline for Medical Study. Trial Name: NCT05011799 — N/A
Frequently Asked Questions
These questions and answers are submitted by anonymous patients, and have not been verified by our internal team.
What qualifications are necessary for participants to be accepted into this research project?
"To qualify for this medical study, participants must demonstrate general health and fall within the acceptable age range of 35 to 69. Currently 176 people have been accepted as candidates."
What is the scope of patient recruitment for this clinical trial?
"Affirmative. Clinicaltrials.gov provides evidence that this medical trial is actively recruiting for 176 subjects at 1 location, with the original post date being January 8th 2020 and the most recent update happening on August 14th 2023."
Do adults aged 55 and over qualify for this trial?
"This particular study is reserved for those aged 35 to 69. For younger patients, there are 123 different trials available and 1715 more exist for seniors above the age of 65."
Are there any available openings for participants in this research study?
"Correct. Per the information accessible on clinicaltrials.gov, this medical study is actively recruiting patients and opened for enrollment on January 8th 2020 with its most recent update being dated August 14th 2023. The trial currently has 176 participants enrolled at a single medical centre."