Presbyopia Clinical Trials
Here is the most popular medical study for presbyopia
Popular filter options for presbyopia trials
Frequently Asked Questions
Do I need insurance to participate in a trial?
Almost all clinical trials will cover the cost of the 'trial drug' — so no insurance is required for this. For trials where this trial drug is given alongside an already-approved medication, there may be a cost (which your insurance would normally cover).
Is there any support for travel costs?
Many of the teams running clinical trials will cover the cost of transportation to-and-from their care center.
Will I know what medication I am taking?
This depends on the specific study. If you're worried about receiving a placebo, you can actively filter out these trials using our search.
How long do clinical trials last?
Some trials will only require a single visit, while others will continue until your disease returns. It's fairly common for a trial to last somewhere between 1 and 6 months.
Do you verify all the trials on your website?
All of the trials listed on Power have been formally registered with the US Food and Drug Administration. Beyond this, some trials on Power have been formally 'verified' if the team behind the trial has completed an additional level of verification with our team.
How quickly will I hear back from a clinical trial?
Sadly, this response time can take anywhere from 6 hours to 2 weeks. We're working hard to speed up how quickly you hear back — in general, verified trials respond to patients within a few days.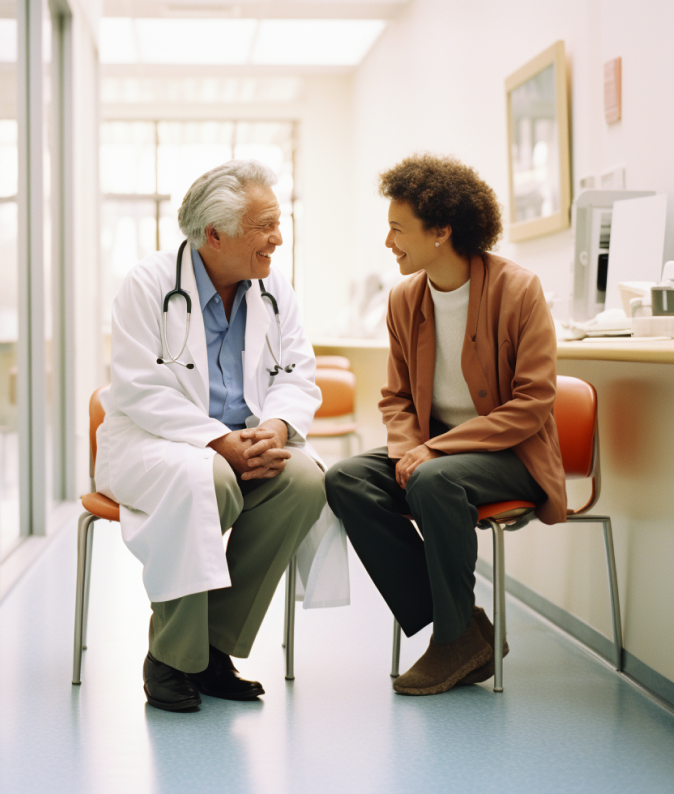 Introduction to presbyopia
What are the top hospitals conducting presbyopia research?
Advancements in the field of vision care are constantly being pursued, and top hospitals are at the forefront of clinical trials for conditions like presbyopia. In Sioux Falls, Vance Thompson Vision is leading the charge with two ongoing presbyopia trials and a commendable history of ten previous studies dedicated to this eye condition. Their first recorded trial dates back to 2008, showcasing their long-standing commitment to improving vision health. Meanwhile, The Ohio State University College of Optometry in Columbus may have only one active trial currently but they're making incredible strides forward after recording their first ever presbyopia study as recently as 2023.
In Granville's ProCare Vision Center, researchers are focusing on finding innovative solutions for presbyopia through one ongoing clinical trial while also building upon three previously conducted trials since starting their pioneering research in 2020. Similarly contributing to this vital area of research is Site #101 located in Newport Beach which has initiated its journey towards combating presbyopia with an active trial and a recorded historical participation commencing from 2023 onwards.
Fort Worth's Contact Alcon Call Center for Trial Locations completes our list with one active presbyopia trial and involvement in two earlier investigations that started as early as year 2022.One should note how even smaller-scale centers play significant roles in pushing boundaries when it comes to understanding and addressing such medical concerns.
These hospitals across different locations exemplify not only dedication but embody hope for those affected by age-related vision changes like presbyopia. Every step taken toward deciphering this complex condition brings us closer to innovative treatments that can significantly improve quality of life for individuals facing near-vision challenges
Which are the best cities for presbyopia clinical trials?
Phoenix, Arizona; San Antonio, Texas; Newport Beach, California; Memphis, Tennesseeix, Arizona; San Antonio, Texas; Newport Beach, California; Memphis, Tennessee; and Glendale, California are among the top cities for presbyopia clinical trials. These locations have a significant number of ongoing studies focused on various treatments for presbyopia. With 6 active trials each in Phoenix and San Antonio and 5 active trials in Newport Beach and Memphis, researchers are investigating innovative approaches such as combination ophthalmic solutions (LNZ101) dosed bilaterally, Aceclidine + Brimonidine (LNZ101) dosed bilaterally, Nyxol + low-dose pilocarpine, LNZ101 alone,and BRIMOCHOL™ PF. Individuals interested in participating in these clinical trials can explore the opportunities available in these cities to potentially contribute to advancements in presbyopia treatment options.
Which are the top treatments for presbyopia being explored in clinical trials?
Clinical trials exploring the top treatments for presbyopia have highlighted the potential of Clareon Vivity IOL - Toric. This innovative treatment option has shown promise in one active trial dedicated to addressing presbyopia. Introduced in 2023, it marks the beginning of research efforts towards finding effective solutions for this age-related condition. As researchers delve deeper into understanding and overcoming presbyopia, Clareon Vivity IOL - Toric emerges as a frontrunner in providing new hope for individuals affected by this common vision impairment.
What are the most recent clinical trials for presbyopia?
Recent clinical trials offer promising advancements in the field of presbyopia, a common age-related vision condition. LNZ101, an investigational treatment for presbyopia, has shown potential during Phase 1 and Phase 3 trials when administered bilaterally using different combinations such as Aceclidine + Brimonidine or low-dose pilocarpine. These studies demonstrate the ongoing efforts to develop effective solutions that address the challenges associated with presbyopia and improve quality of life for those affected by this condition.
What presbyopia clinical trials were recently completed?
Several clinical trials investigating potential treatments for presbyopia, a common age-related vision condition, have recently concluded with promising results. In August 2022, Alisyn Facemire completed a trial on Aceclidine ophthalmic solution as a potential treatment option. Likewise, in April and March of the same year, Orasis Pharmaceuticals Ltd. and Visus Therapeutics successfully finished trials on CSF-1 and BRIMOCHOL™ PF respectively. Additionally, Glaukos Corporation's Pilocarpine Ophthalmic Topical Cream study wrapped up in January 2022. These recent advancements highlight the dedication of researchers in their quest to find effective interventions for presbyopia and provide hope for individuals affected by this visual impairment associated with aging.