Integrase Inhibitor
Participants Receiving VH3810109 Plus Cabotegravir for Human Immunodeficiency Virus Infection
GSK Investigational Site, Greensboro, NC
Cabotegravir

+3 more
Phase 2
Recruiting
Research Sponsored by ViiV Healthcare
Eligibility Criteria Checklist
Specific guidelines that determine who can or cannot participate in a clinical trial
Must have
Excludes current use of cabotegravir or fostemsavir
Be older than 18 years old
Must not have
Be younger than 18 years old
Study Summary
This trial evaluates if a new HIV drug combo is effective in adults already on therapy.
Eligibility Criteria
Inclusion Criteria
You will be eligible if you check "Yes" for the criteria below
You are

not currently taking cabotegravir

or fostemsavir medications.
Timeline
Screening ~ 3 weeks
3 visits
Follow Up ~ up to month 24
Follow Up ~
up to month 24
This trial's timeline: 3 weeks for screening, Varies for treatment, and up to month 24 for reporting.
Treatment Details
Study Objectives
Outcome measures can provide a clearer picture of what you can expect from a treatment.
Number of Participants with Plasma HIV-1 Ribonucleic acid (RNA) Greater Than or Equal to (≥)50 Copies per Millilitre (c/mL) per Snapshot Algorithm at Month 6
Secondary outcome measures
Absolute Value for Cluster of Differentiation 4 (CD4+) T-Cell Count
Absolute Value for Cluster of Differentiation 8 (CD8+) T-Cell Count
Change From Baseline in CD4+ T-Cell Count
+15 more
Awards & Highlights
All patients enrolled in this study will receive some form of active treatment.
Trial Design
Group I: Participants Receiving VH3810109 Plus rHuPH20 Plus Cabotegravir
Experimental Treatment
3 Interventions
Group II: Participants Receiving VH3810109 Plus Cabotegravir
Experimental Treatment
2 Interventions
Group III: Participants Receiving Standard of Care (SOC) Antiretroviral Therapy (ART)
Active Control
1 Intervention
How many patients have taken this drug
Who is running the clinical trial?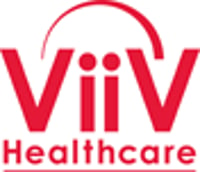 ViiV Healthcare
Lead Sponsor
347 Previous Clinical Trials
464,112 Total Patients Enrolled
Media Library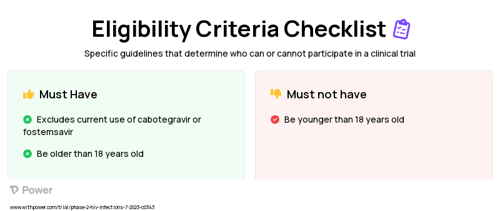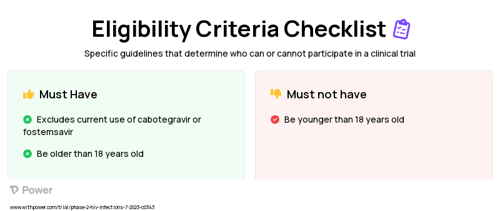 Cabotegravir (Integrase Inhibitor) Clinical Trial Eligibility Overview. Trial Name: NCT05996471 — Phase 2
Frequently Asked Questions
These questions and answers are submitted by anonymous patients, and have not been verified by our internal team.
Who is eligible to enroll in the clinical trial?
"This clinical trial seeks roughly 150 participants aged between 18 and 70, who have been diagnosed with human immunodeficiency virus infection."
Is this research endeavor actively seeking participants?
"According to clinicaltrials.gov, recruitment for this medical study has concluded as the most recent changes were made on August 9th 2023. Nevertheless, there are still 456 other trials looking for patients at present."
Does this investigation accommodate individuals aged thirty or older?
"This trial is open to patients aged between 18 and 70. Those under the age of 18 have access to 111 other studies, while those over 65 can select from 337 different trials."
How many venues is the clinical trial being conducted in?
"Presently, this trial is deploying personnel to 39 medical centres for patient recruitment. Locations include Bakersfield, Los Angeles and Palm Springs as well as 36 other destinations. To reduce the burden of travelling far distances, it may be wise to pick a nearby centre if you choose to partake in the study."
What is the Food and Drug Administration's stance on administering VH3810109 in combination with cabotegravir?
"Our team at Power gave VH3810109 Plus Cabotegravir a rating of 2 due to there being preliminary clinical evidence in its favour for safety, but none yet regarding efficacy."