Your session is about to expire
We'll log you out in 60 seconds unless you choose to continue
← Back to Search
Eligibility Criteria Checklist
Specific guidelines that determine who can or cannot participate in a clinical trial
Must have
Participants must have histologically confirmed, low or intermediate risk prostatic adenocarcinoma verified by biopsy (NIH Laboratory of Pathology confirmation is required)
Unifocal prostate cancer defined as a single focus of prostate cancer on MRI and PSMA PET/CT imaging which is correlated with a positive targeted biopsy
Must not have
Be younger than 18 years old
Study Summary
This trial will test a new type of radiation (SBRT) to treat prostate cancer with fewer side effects than standard treatments. Participants will have scans and blood tests, receive radiation in two sessions, then be followed-up for two years.
Prostate Cancer

Prostate Adenocarcinoma
Eligibility Criteria
Inclusion Criteria
You will be eligible if you check "Yes" for the criteria below
You have a

single focal prostate cancer

defined as a single focus of prostate cancer on

MRI and PSMA PET/CT imaging

which is correlated with a

positive targeted biopsy

.
You have

histologically confirmed

,

low or intermediate risk

prostatic adenocarcinoma

.
Timeline
Screening ~ 3 weeks
3 visits
This trial's timeline: 3 weeks for screening, Varies for treatment, and 2 years for reporting.
Treatment Details
Study Objectives
Outcome measures can provide a clearer picture of what you can expect from a treatment.
Pathologic complete response rate
Secondary outcome measures
Absolute and relative fraction of free PSA to bound PSA
Longitudinal quality of life (QoL)
+3 more
Awards & Highlights
All patients enrolled in this study will receive some form of active treatment.
Trial Design
Group I: 1/Focal SBRT
Experimental Treatment
2 Interventions
Focal SBRT to the tumor focus within the prostate, with response assessed by biopsy and imaging, including 18F-DCFPyL PET/CT.
How many patients have taken this drug
Stereotactic Body Radiation Therapy
Who is running the clinical trial?

National Cancer Institute (NCI)
Lead Sponsor
13,492 Previous Clinical Trials
41,267,537 Total Patients Enrolled
556 Trials studying Prostate Cancer
506,050 Patients Enrolled for Prostate Cancer
Krishnan R Patel, M.D.
Principal Investigator
National Cancer Institute (NCI)
Media Library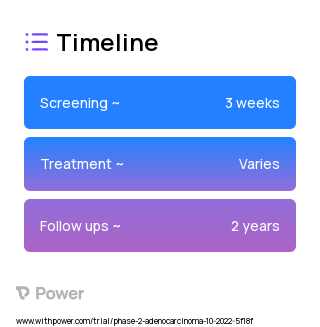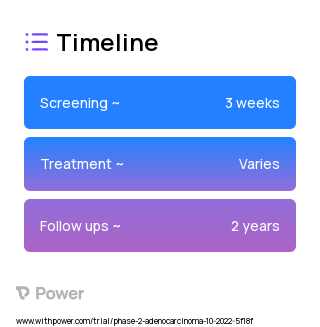 Timeline:
This trial has the following timeline:
Screening: It may take up to 3 Weeks to process to see if you qualify in this trial.
Treatment: The duration you will receive the treatment varies.
Follow Ups: You may be asked to continue sharing information regarding the trial for 6 Months after you stop receiving the treatment.
Frequently Asked Questions
These questions and answers are submitted by anonymous patients, and have not been verified by our internal team.
What potential risks could be associated with 1/Focal SBRT treatments?
"We assign a safety score of 2 to 1/Focal SBRT, as phase two trials only provide evidence for the drug's security and not its efficacy."
Has recruitment for this experiment begun?
"As indicated on clinicaltrials.gov, this medical investigation is no longer actively seeking participants; the initial posting was made on November 29th 2022 with the latest update being logged eleven days prior. However, there are over two thousand other trials that still require volunteers at present."
Who else is applying?
What site did they apply to?
National Institutes of Health Clinical Center
What portion of applicants met pre-screening criteria?
What state do they live in?
Share this study with friends