Procedure
TULSA Procedure for Prostate Cancer
Research Sponsored by Profound Medical Inc.
Eligibility Criteria Checklist
Specific guidelines that determine who can or cannot participate in a clinical trial
Must not have
Be younger than 18 years old
Study Summary
This trial will compare a new, less invasive prostate cancer treatment to the standard surgery. Researchers will track patients for 10 years to see if the new treatment is just as effective and less risky.
Prostate Cancer

Prostate Adenocarcinoma
Eligibility Criteria
Inclusion Criteria
You will be eligible if you check "Yes" for the criteria below
You have

not received treatment

for the condition being studied before.
Timeline
Screening ~ 3 days
3 visits
Follow Up ~ 120 months
5 visits
This trial's timeline: 3 days for screening, Varies for treatment, and 120 months for reporting.
Treatment Details
Study Objectives
Outcome measures can provide a clearer picture of what you can expect from a treatment.
Efficacy endpoint - proportion of patients free from treatment failure
Safety endpoint - proportion of patients who maintain both urinary continence and erectile potency
Secondary outcome measures
Biochemical failure endpoint
+15 more
Awards & Highlights
All patients enrolled in this study will receive some form of active treatment.
Trial Design
Group I: TULSA Procedure
Experimental Treatment
1 Intervention
Patients in this group will undergo TULSA Procedure. There will be about 134 people in this group.
Group II: Radical Prostatectomy
Active Control
1 Intervention
Patients in this group will undergo Radical prostatectomy. There will be about 67 people in this group.
Logistics
Other reimbursement is provided
Other forms of reimbursement are provided for this trial.
Who is running the clinical trial?
Profound Medical Inc.
Lead Sponsor
3 Previous Clinical Trials
1,180 Total Patients Enrolled
3 Trials studying Prostate Cancer
1,180 Patients Enrolled for Prostate Cancer
Media Library


Radical Prostatectomy (Procedure) Clinical Trial Eligibility Overview. Trial Name: NCT05027477 — N/A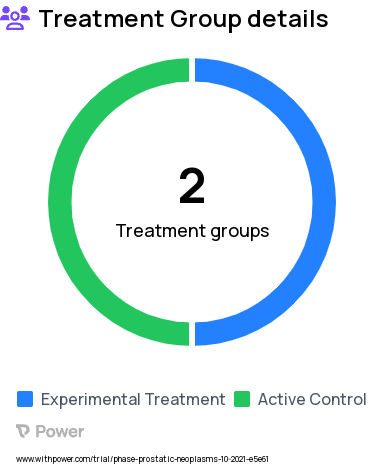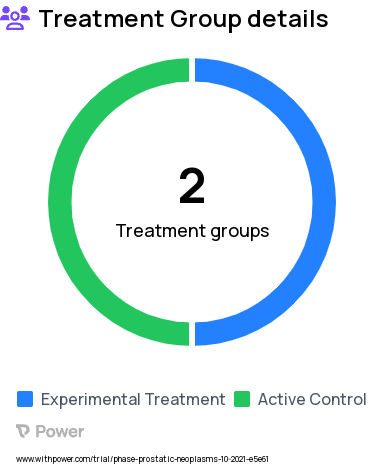 Prostate Cancer Research Study Groups: Radical Prostatectomy, TULSA Procedure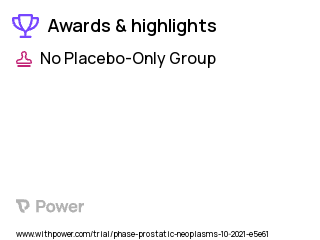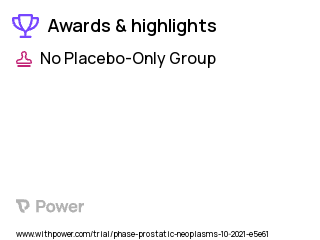 Prostate Cancer Clinical Trial 2023: Radical Prostatectomy Highlights & Side Effects. Trial Name: NCT05027477 — N/A
Radical Prostatectomy (Procedure) 2023 Treatment Timeline for Medical Study. Trial Name: NCT05027477 — N/A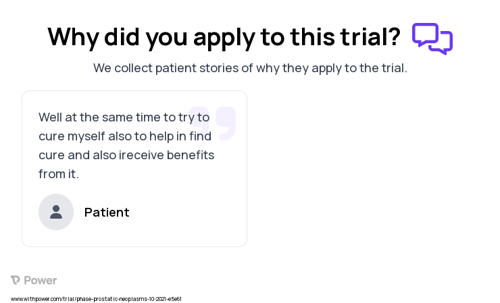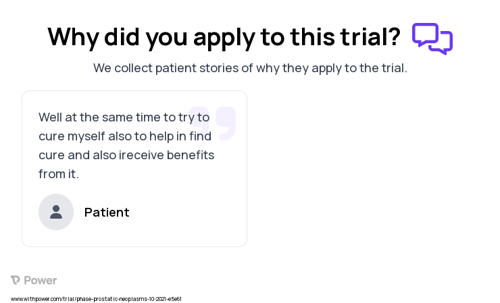 Prostate Cancer Patient Testimony for trial: Trial Name: NCT05027477 — N/A
Frequently Asked Questions
These questions and answers are submitted by anonymous patients, and have not been verified by our internal team.
What is the full scope of healthcare institutions participating in this experiment?
"At present, 10 clinical trial sites are actively participating in this study. These locations include Baltimore, Tarzana and Dallas as well as other cities across the country. Thus, prospective participants should consider selecting a facility near them to reduce their travel needs."
Could I possibly become part of this research endeavor?
"To qualify for this research project, individuals should possess a prostate cancer diagnosis and fall within the age range of 40 to 80 years old. A total of 201 eligible patients are being accepted into the study."
Is participation in this experiment still being accepted?
"The pertinent information stored on clinicaltrials.gov informs us that this trial is still open to participants, having been posted initially in November 2021 and updated lastly late the following year."
What is the current participant enrollment for this research endeavor?
"Affirmative. Per the information on clinicaltrials.gov, this experiment is actively seeking candidates and was initially posted on November 1st 2021 before being updated most recently on November 23rd 2022. The trial requires 201 individuals from 10 distinct locations to participate."
Is it possible for individuals over the age of 45 to participate in this experiment?
"This medical trial mandates that participants are between 40 and 80 years of age. If you do not meet this criteria, there are 76 studies for minors and 1336 trials available to seniors."
What benefits are researchers hoping to observe through this medical experiment?
"The primary result of this medical experiment, assessed over 12 months following treatment, will be the proportion of patients free from failure. Secondary objectives include comparing biochemical failure rates between two arms with PSA≥ 2 ng/mL for the RP arm or PSA nadir plus 2 ng/mL for the TULSA arm (Phoenix criteria), measuring International Prostate Symptom Score (IPSS) scores against baseline values ranging from 0 to 35 where higher numbers indicate a worsening condition, and determining differences in penile length at baseline and post-treatment as measured by study doctors."
Who else is applying?
What state do they live in?
What site did they apply to?
Comprehensive Urology Medical Group
What portion of applicants met pre-screening criteria?
How many prior treatments have patients received?
Why did patients apply to this trial?
Well at the same time to try to cure myself also to help in find cure and also ireceive benefits from it.
How responsive is this trial?
Most responsive sites:
Urology Group of Southern California: < 48 hours

Comprehensive Urology Medical Group: < 48 hours