Eligibility Criteria Checklist
Specific guidelines that determine who can or cannot participate in a clinical trial
Must have
Any self-reported past 7-day use of both ENDS and cigarettes
Self-identification as a regular ENDS and combustible cigarette user OR use of cigarettes and e-cigarettes on at least 6 of the past 7 days including at least 3 days of using each product;
Must not have
Be younger than 18 years old
Be older than 65 years old
Follow Up
laboratory session 1, approximately 1 week after baseline
Study Summary
This trial will investigate the behavioral processes that make cigarettes and e-cigarettes appealing to young adults, in order to help identify interventions for smoking and vaping.
Vaping

Smoking/Cigarette Smoking
Eligibility Criteria
Inclusion Criteria
You will be eligible if you check "Yes" for the criteria below
You have

used both e-cigarettes and regular cigarettes

in the

past 7 days

.
You

regularly smoke cigarettes

and/or

use e-cigarettes

, or you have used both products on at least 6 out of the past 7 days, including using each product for at least 3 days.
Timeline
Screening ~ 3 weeks
3 visits
Follow Up ~ laboratory session 1, approximately 1 weeks after baseline
Follow Up ~
laboratory session 1, approximately 1 weeks after baseline
This trial's timeline: 3 weeks for screening, Varies for treatment, and laboratory session 1, approximately 1 weeks after baseline for reporting.
Treatment Details
Study Objectives
Outcome measures can provide a clearer picture of what you can expect from a treatment.
Attentional bias (objective) (Session 1)
Attentional bias (objective) (Session 2)
Change in acute craving for bottled water before and after cue exposure (Session 1)
+7 more
Awards & Highlights
All patients enrolled in this study will receive some form of active treatment.
Trial Design
Group I: Study Protocol
Experimental Treatment
3 Interventions
All participants will receive all laboratory protocol components in a within-person randomized order across two sequential laboratory sessions.
Who is running the clinical trial?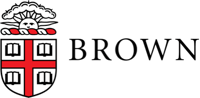 Brown University
Lead Sponsor
442 Previous Clinical Trials
525,788 Total Patients Enrolled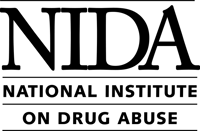 National Institute on Drug Abuse (NIDA)
NIH
2,370 Previous Clinical Trials
2,049,344 Total Patients Enrolled
10 Trials studying Vaping
5,070 Patients Enrolled for Vaping
Media Library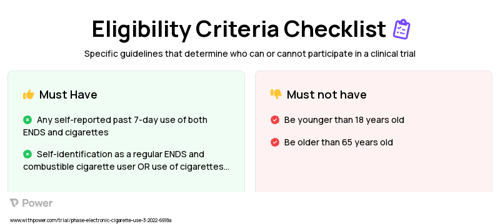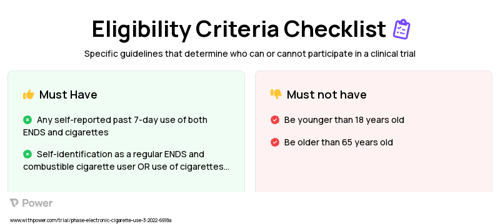 Choice Task Clinical Trial Eligibility Overview. Trial Name: NCT05280535 — N/A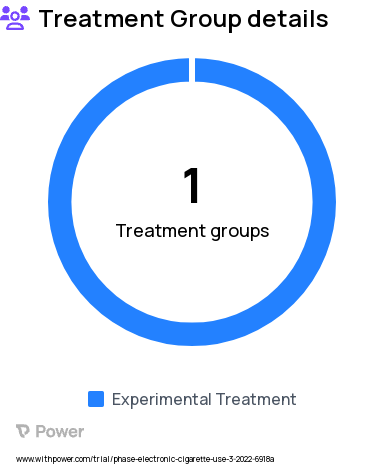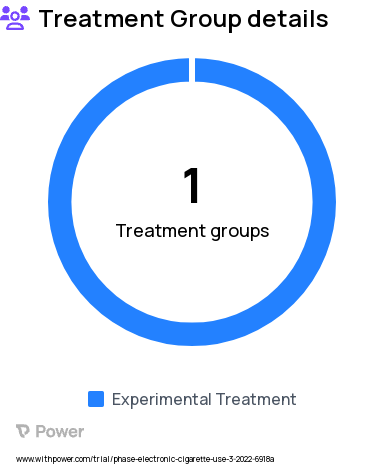 Vaping Research Study Groups: Study Protocol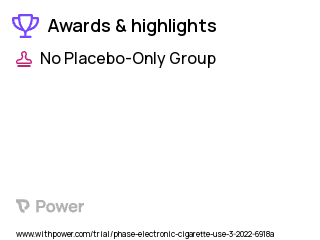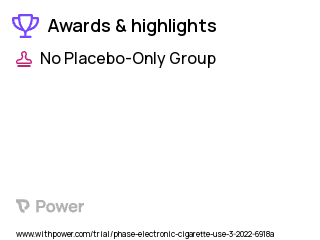 Vaping Clinical Trial 2023: Choice Task Highlights & Side Effects. Trial Name: NCT05280535 — N/A
Choice Task 2023 Treatment Timeline for Medical Study. Trial Name: NCT05280535 — N/A
Vaping Patient Testimony for trial: Trial Name: NCT05280535 — N/A
Frequently Asked Questions
These questions and answers are submitted by anonymous patients, and have not been verified by our internal team.
Does this experiment permit the participation of individuals over 45 years old?
"As stipulated by the requirements of this trial, volunteers must be between 21 and 34 years old."
Who fulfills the criteria to be accepted into this clinical trial?
"This clinical trial seeks 80 participants aged 21 to 34 who are fluent speakers of English and possess a smartphone. Additionally, the applicants should self-identify as regular users of both combustible cigarettes and ENDS (electronic nicotine delivery systems) or demonstrate at least 6 days of use within the past week with 3 days dedicated to each product. Lastly, smoking status must be confirmed by either breath CO >= 6 ppm112 or NicAlert test with urine cotinine level >= 3."
Are there still vacant spots in this research trial?
"The available data on clinicaltrials.gov reveals that this trial, which was first posted in September 1st 2022 and last updated July 18th 2022, is no longer accepting participants. However, 57 other medical studies are actively seeking enrollees at present."
Who else is applying?
What state do they live in?
What site did they apply to?
Center for Alcohol and Addiction Studies
What portion of applicants met pre-screening criteria?
How many prior treatments have patients received?
What questions have other patients asked about this trial?
How long does it last. What are the requirements? How much does it pay and are you in Houston texas 77035 area??
Why did patients apply to this trial?
I've been trying to stop smoking for years I started at 18 because I saw other girls looked pretty and ****. So I thought it would make me pretty to !! I wish I had not started. I also could use extra money and learn more at e cigarettes and tobacco . Thanks.