Sleep restriction condition for Nicotine Addiction
Research Sponsored by University of Alabama at Birmingham
Eligibility Criteria Checklist
Specific guidelines that determine who can or cannot participate in a clinical trial
Must have
Be older than 18 years old
Must not have
Be younger than 18 years old
Study Summary
This trial will test the hypothesis that chronotype (preference for morning or evening activity) and impaired sleep impact cigarette usage, smoking dependence, urge/craving, and withdrawal differently in blacks compared to whites.
Nicotine Addiction

Sleep Disorder

Smoking
Timeline
Screening ~ 3 weeks
3 visits
This trial's timeline: 3 weeks for screening, Varies for treatment, and 6 months for reporting.
Treatment Details
Study Objectives
Outcome measures can provide a clearer picture of what you can expect from a treatment.
Secondary outcome measures
Dysfunctional Beliefs and Attitudes About Sleep (DBAS)
Epworth Sleepiness Scale (ESS)
Everyday Discrimination Scale (EDS)
+6 more
Alcohol Use Disorders Identification Test-Concise (AUDIT-C).
Assessing Smoking History
Brief Wisconsin Inventory of Smoking Dependence Motives (WISDM-37)
+14 more
Awards & Highlights
All patients enrolled in this study will receive some form of active treatment.
Trial Design
Group I: Sleep Restriction
Experimental Treatment
1 Intervention
4 hours time in bed (1 am to 5 am)
Group II: Sleep Extension
Experimental Treatment
1 Intervention
10 hours time in bed (10 pm to 8 am)
Who is running the clinical trial?
University of Alabama at Birmingham
Lead Sponsor
1,508 Previous Clinical Trials
2,256,511 Total Patients Enrolled

University of Oklahoma
OTHER
443 Previous Clinical Trials
99,672 Total Patients Enrolled
Media Library


Sleep restriction condition Clinical Trial Eligibility Overview. Trial Name: NCT03968900 — N/A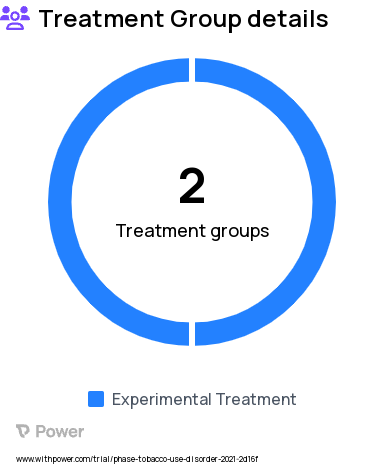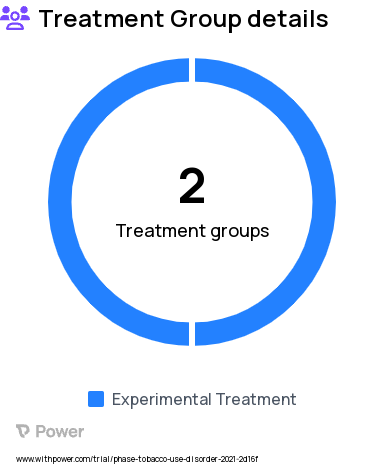 Nicotine Addiction Research Study Groups: Sleep Restriction, Sleep Extension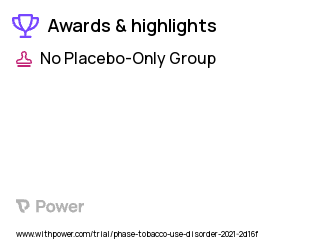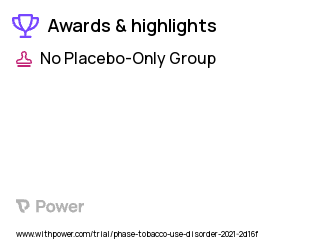 Nicotine Addiction Clinical Trial 2023: Sleep restriction condition Highlights & Side Effects. Trial Name: NCT03968900 — N/A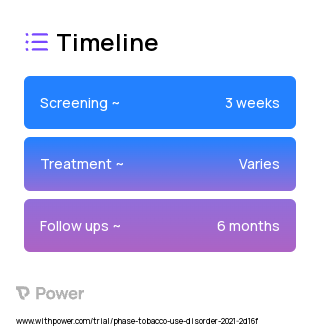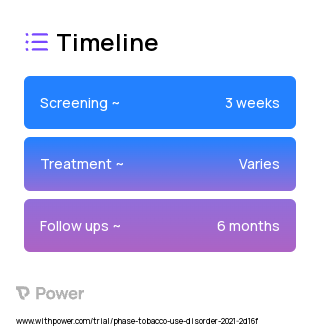 Sleep restriction condition 2023 Treatment Timeline for Medical Study. Trial Name: NCT03968900 — N/A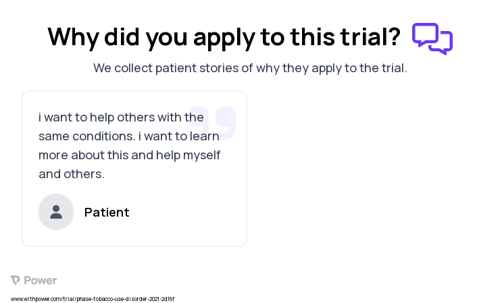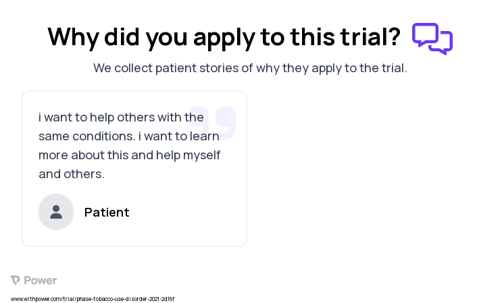 Nicotine Addiction Patient Testimony for trial: Trial Name: NCT03968900 — N/A
Frequently Asked Questions
These questions and answers are submitted by anonymous patients, and have not been verified by our internal team.
What is the current patient cohort for this investigation?
"Yes, evidence on clinicaltrials.gov suggests that this study is actively enrolling participants. This experiment was first advertised in the public domain on January 1st 2021 and has been updated as recently June 2nd 2022. The trial organisers require 50 volunteers from a single medical facility for their research."
Is recruitment still taking place for this research initiative?
"This clinical trial is actively sourcing participants, as evidenced by the data published on clinicaltrials.gov. The initial post was made January 1st 2021 and latest edit took place June 2nd 2022."
Who else is applying?
What state do they live in?
What site did they apply to?
University of Alabama, Birmingham
What portion of applicants met pre-screening criteria?
How many prior treatments have patients received?
Why did patients apply to this trial?
i want to help others with the same conditions. i want to learn more about this and help myself and others.
I wonder if sleep and smoking are related. It sounds very interesting.