Vaccine
Influenza Vaccine for Infertility
Center For Human Reproduction, New York, NY
Influenza Vaccine

+1 more
Phase 4
Waitlist Available
Led by David H Barad, MD, MS
Research Sponsored by Center for Human Reproduction
Eligibility Criteria Checklist
Specific guidelines that determine who can or cannot participate in a clinical trial
Must have
Be between 18 and 65 years old
Must not have
Be younger than 18 years old
Be older than 65 years old
Follow Up
14 to 21 days (at time of egg retrieval)
All Individual Drugs Already Approved
Drug Has Already Been Approved
Study Summary
This trial will test whether the flu vaccine increases the chances of pregnancy for women undergoing IVF.
Timeline
Screening ~ 3 weeks
3 visits
Follow Up ~ 14 to 21 days (at time of egg retrieval)
Follow Up ~
14 to 21 days (at time of egg retrieval)
This trial's timeline: 3 weeks for screening, Varies for treatment, and 14 to 21 days (at time of egg retrieval) for reporting.
Treatment Details
Study Objectives
Outcome measures can provide a clearer picture of what you can expect from a treatment.
Secondary outcome measures
Evidence of immune activation
Side effects data
From 2015 Phase 4 trial • 985 Patients • NCT02290691
Study treatment Arm
Needle- Free
Needle and Syringe
Awards & Highlights
All Individual Drugs Already Approved
Therapies where all constituent drugs have already been approved are likely to have better-understood side effect profiles.
Drug Has Already Been Approved
The FDA has already approved this drug, and is just seeking more data.
The final step before approval, pivotal trials feature drugs that have already shown basic safety & efficacy.
Trial Design
Group I: Influenza Vaccine
Experimental Treatment
1 Intervention
O.5 mL single dose influenza vaccine suspension administered intramuscularly
Group II: Saline Injection
Placebo Group
1 Intervention
O.5 ml of sterile Saline administered intramuscularly
How many patients have taken this drug
Influenza A virus A/California/7/2009 X-181 (H1N1) hemagglutinin antigen (propiolactone inactivated)
Who is running the clinical trial?
Center for Human Reproduction
Lead Sponsor
13 Previous Clinical Trials
935 Total Patients Enrolled
10 Trials studying Infertility
739 Patients Enrolled for Infertility
Foundation for Human Reproduction
UNKNOWN
1 Previous Clinical Trials
126 Total Patients Enrolled
1 Trials studying Infertility
126 Patients Enrolled for Infertility
David H Barad, MD, MS
Principal Investigator
Director of Assisted Reproductive Technology
4 Previous Clinical Trials
447 Total Patients Enrolled
4 Trials studying Infertility
447 Patients Enrolled for Infertility
Norbert Gleicher, MD
Study Director
Medical Director
8 Previous Clinical Trials
593 Total Patients Enrolled
5 Trials studying Infertility
482 Patients Enrolled for Infertility
Media Library


Influenza Vaccine (Vaccine) Clinical Trial Eligibility Overview. Trial Name: NCT02947217 — Phase 4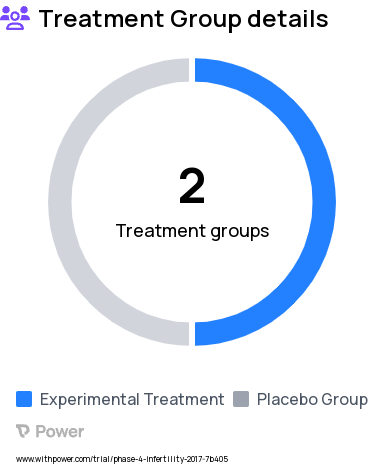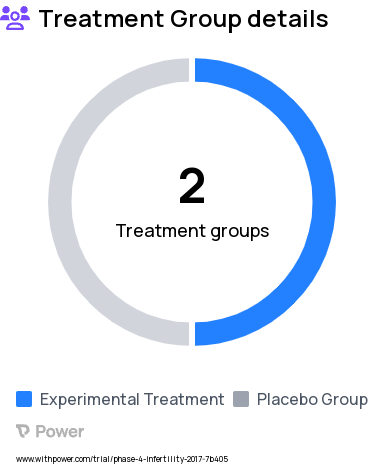 Infertility Research Study Groups: Influenza Vaccine, Saline Injection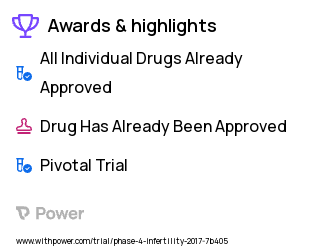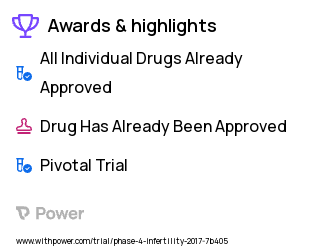 Infertility Clinical Trial 2023: Influenza Vaccine Highlights & Side Effects. Trial Name: NCT02947217 — Phase 4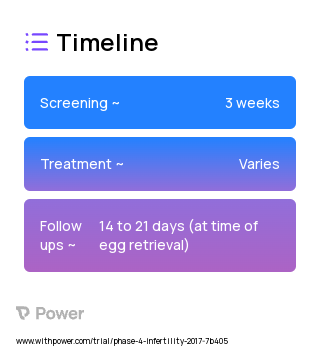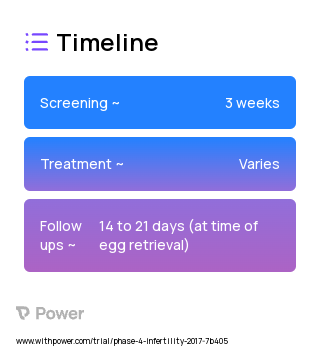 Influenza Vaccine (Vaccine) 2023 Treatment Timeline for Medical Study. Trial Name: NCT02947217 — Phase 4
Frequently Asked Questions
These questions and answers are submitted by anonymous patients, and have not been verified by our internal team.
Is the Influenza Vaccine a reliable safeguard for individuals?
"Data collected from Phase 4 trials indicates that Influenza Vaccine is safe and thus merits a score of 3."
Is it permissible for individuals over 45 to participate in this research?
"The criteria for entry into this trial necessitates that applicants are between 21 and 38 years of age. Alternatively, 14 research studies exist for individuals below the legal age limit while 36 trials encompass persons above 65."
How many participants have been enrolled in this trial thus far?
"At this moment, the trial is not enrolling patients. Initially posted on January 19th 2017 and most recently modified March 8th 2022, individuals seeking to participate in clinical studies may wish to consider the 249 trials pertaining to infertility or two active influenza vaccine tests instead."
Are there any other investigations in which the Influenza Vaccine has been utilized?
"Currently, two trials for Influenza Vaccine are in progress, neither of which have advanced to Phase 3 yet. These studies are taking place at multiple medical centres such as Bethesda, Maryland and another undisclosed location."
Are there still opportunities for enrolment into this experiment?
"This specific study, which was first announced in January 19th 2017 has ceased recruitment. Clinicaltrials.gov reveals that the last edit to this trial occurred on March 8th 2022. Fortunately, there are an additional 251 clinical trials actively searching for participants right now."
Is it possible to participate in this medical trial at the present time?
"Candidates aged 21-38 who have been diagnosed with infertility are eligible to participate in this medical trial. A total of 238 participants will be accepted into the study."
Who else is applying?
What state do they live in?
What site did they apply to?
Center For Human Reproduction
What portion of applicants met pre-screening criteria?
How many prior treatments have patients received?
Why did patients apply to this trial?
What questions have other patients asked about this trial?
Looking for costs, is IVF done with you, and what is the support given?