Megestrol Acetate for Failure to Thrive
Boston Children's Hospital, Boston, MA
Targeting 2 different conditions
Megestrol Acetate

+1 more
Phase 4
Recruiting
Research Sponsored by University of Kansas Medical Center
Eligibility Criteria Checklist
Specific guidelines that determine who can or cannot participate in a clinical trial
Must have
Be younger than 18 years old
Must not have
Be older than 18 years old
Drug Has Already Been Approved
All Individual Drugs Already Approved
Study Summary
This trial is testing whether megestrol can help kids with feeding tubes transition to oral feedings. 60 kids will be enrolled, half receiving megestrol and half receiving placebo.
Failure to Thrive

Feeding Disorders
Timeline
Screening ~ 3 weeks
3 visits
Follow Up ~ 10 to 14 weeks
Follow Up ~
10 to 14 weeks
This trial's timeline: 3 weeks for screening, Varies for treatment, and 10 to 14 weeks for reporting.
Treatment Details
Study Objectives
Outcome measures can provide a clearer picture of what you can expect from a treatment.
Change in % kilocalories/day obtained orally
Secondary outcome measures
Change in child quality of life as measured by the Infant Toddler Quality of Life scale (ITQOL47)
Change in parent stress as measured by the Pediatric Inventory for Parents (PIP36)
Number of patients with adrenal insufficiency as measured by morning cortisol lab value
Side effects data
From 2013 Phase 2 trial • 31 Patients • NCT00483327
57%
Hemorrhage, GU: Vagina
23%
Fatigue (asthenia, lethargy, malaise)
17%
Distension/bloating, abdominal
17%
Mood alteration: Depression
13%
Dyspnea (shortness of breath)
13%
Gastrointestinal - Other: Increased Appetite
13%
Urinary frequency/urgency
10%
Constitutional Symptoms - Other: thirst
10%
Mood alteration: Anxiety
7%
Pain: Throat/pharynx/larynx
7%
Vaginal discharge (non-infectious)
7%
Pain - Other: side of body
3%
Hemorrhage/bleeding associated with surgery, intra-operative or postoperative
3%
Dermatology/Skin - Other: skin peeling
3%
Dysphagia (difficulty swallowing)
3%
Fever (in the absence of neutropenia, where neutropenia is defined as ANC <1.0 x 10e9/L)
3%
Glucose, serum-low (hypoglycemia)
3%
Neuropathy: cranial: CN V Motor-jaw muscles; Sensory-facial
3%
Pain: Neuralgia/peripheral nerve
3%
Urticaria (hives, welts, wheals)
3%
Dermatology/Skin - Other: blister
3%
Thrombosis/thrombus/embolism
3%
Allergic reaction/hypersensitivity (including drug fever)
3%
Irregular menses (change from baseline)
3%
Mood alteration: Agitation
3%
Muscle weakness, generalized or specific area (not due to neuropathy): Whole body/generalized
3%
Musculoskeletal/Soft Tissue - Other: Spasm
3%
Renal/Genitourinary - Other: Burning With Urination
Awards & Highlights
Drug Has Already Been Approved
The FDA has already approved this drug, and is just seeking more data.
The final step before approval, pivotal trials feature drugs that have already shown basic safety & efficacy.
All Individual Drugs Already Approved
Therapies where all constituent drugs have already been approved are likely to have better-understood side effect profiles.
Trial Design
Group I: Megestrol
Experimental Treatment
2 Interventions
Megestrol is a steroid and progestational drug FDA approved for treating anorexia or weight loss in patients with acquired immunodeficiency syndrome. Its use in the current protocol is "off label" to stimulate appetite in tube-fed infants and toddlers who are weaning from tube feedings and learning to eat. The precise mechanism of action that leads to increased appetite and weight gain is unknown, but is probably related to megestrol's glucocorticoid effect. The proposed study will use megestrol 6 mg/kg/day in two doses because this dose has been effective and safe in two previous studies using megestrol to stimulate appetite in children transitioning from tube to oral feedings. The megestrol will be dosed at full dose weeks 10-11, at 66% dose week 12, at 33% dose week 14, and fully tapered at the end of week 14. Megestrol is absorbed from the small bowel, so feeding it through the tube will be acceptable.
Group II: Placebo
Placebo Group
1 Intervention
Subjects randomized to the placebo protocol will receive a placebo syrup identical in taste and smell to megestrol at the same intervals as those in the megestrol group but the syrup will contain no active ingredients.
How many patients have taken this drug
Who is running the clinical trial?

University of Kansas Medical Center
Lead Sponsor
420 Previous Clinical Trials
160,116 Total Patients Enrolled
Media Library


iKanEat Behavioral Intervention Clinical Trial Eligibility Overview. Trial Name: NCT03815019 — Phase 4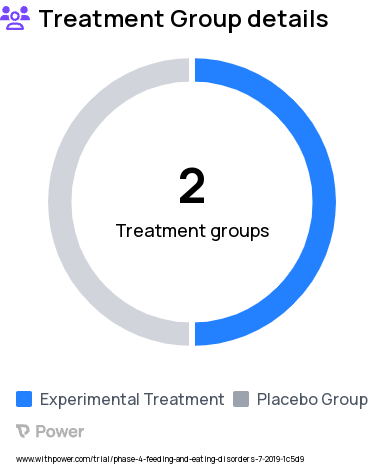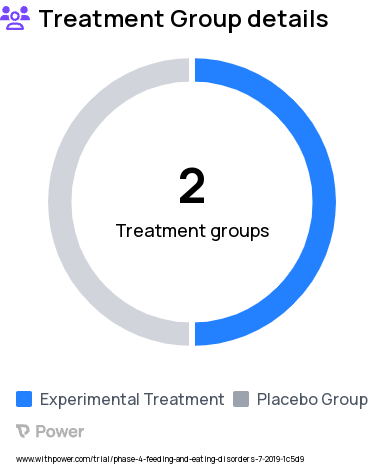 Failure to Thrive Research Study Groups: Megestrol, Placebo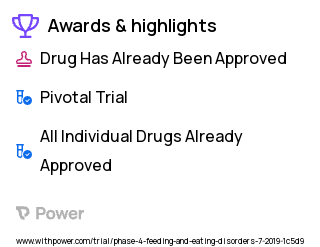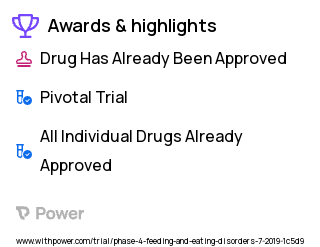 Failure to Thrive Clinical Trial 2023: iKanEat Behavioral Intervention Highlights & Side Effects. Trial Name: NCT03815019 — Phase 4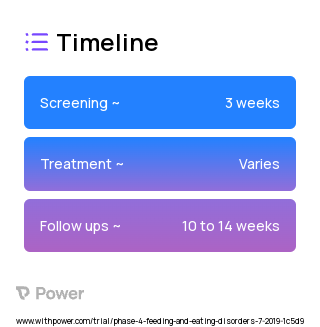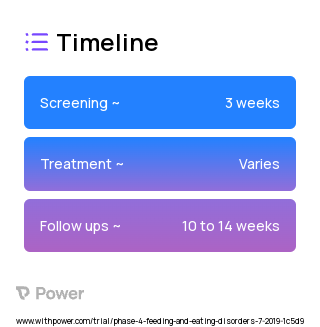 iKanEat Behavioral Intervention 2023 Treatment Timeline for Medical Study. Trial Name: NCT03815019 — Phase 4
Frequently Asked Questions
These questions and answers are submitted by anonymous patients, and have not been verified by our internal team.
How can I participate in this clinical experiment?
"This experiment will involve 60 subjects between the ages of 9 months and 8 years old that are currently diagnosed with an eating disorder. In addition to this, they must have a G or G/J tube in place, adequate oral motor skills for consuming food, and behavioral capacity necessary for mealtime routines."
Has the United States Food and Drug Administration sanctioned Megestrol Acetate?
"According to our assessment, Megestrol Acetate has been granted a safety score of 3 due to it being approved by the FDA in Phase 4 clinical trials."
Have there been antecedent experiments utilizing Megestrol Acetate?
"Presently, Megestrol Acetate is being examined in 7 separate clinical trials. Out of those studies, 2 are currently running Phase 3 evaluations. While the majority of research on this treatment takes place in Winston-Salem, North Carolina there are 85 different locations conducting these experiments."
How many sites are undertaking this investigation?
"There are 8 sites that are currently enrolling participants in this examination, including Boston, Providence and Nashville. To reduce the burden of transportation costs associated with participating, it is advised to select a location close to your residence."
Does the trial extend to persons of advanced age?
"To be accepted in this trial, patients must lie between 9 and 108 months old. 47 trials are available for participants below the age of majority while 54 have been designed with those over 65 years-old in mind."
What clinical conditions is Megestrol Acetate typically prescribed for?
"Megestrol Acetate is frequently used to provide palliative care as well as address conditions such as recurrent endometrial carcinoma, weight loss, and cachexia."
Is this experiment accepting new participants at the current time?
"Indeed, per the data available on clinicaltrials.gov this medical trial is still accepting candidates. The research was originally posted on August 15th 2019 and has been updated as recently as February 28th 2022. A total of 60 participants are needed across 8 sites for the study to be completed."
What is the aggregate size of this medical experiment's participant base?
"Affirmative. The clinical trial was initially posted on August 15th 2019, and is currently open for recruitment according to the information available through clinicaltrials.gov. Eight different medical sites are required to recruit a total of 60 patients into the study."
Who else is applying?
What state do they live in?
What portion of applicants met pre-screening criteria?