Your session is about to expire
We'll log you out in 60 seconds unless you choose to continue
← Back to Search
Tyrosine Kinase Inhibitor
Pembrolizumab + Lenvatinib for Neuroendocrine Prostate Cancer
(PLANE-PC Trial)
Led By Ulka Vaishampayan, MD
Research Sponsored by University of Michigan Rogel Cancer Center
Eligibility Criteria Checklist
Specific guidelines that determine who can or cannot participate in a clinical trial
Must have
The subject has histologically proven prostate cancer with radiologic evidence of metastases and at least one of the following: Small-cell or NEPC morphology (determined by the enrolling center) on the basis of tissue sample. Prostate adenocarcinoma with greater than 50% IHC staining for neuroendocrine markers (e.g., chromogranin and synaptophysin). Presence of visceral metastases or high volume disease (> 4 sites of metastases) with a PSA of ≤ 5. Serum chromogranin A level ≥ 5× upper limit of normal (ULN) and/or serum neuron specific enolase (NSE) ≥ 2× ULN. RBI deletions or mutations noted on genomic testing. Trans-differentiated carcinoma or poorly-differentiated carcinoma.
Be older than 18 years old
Must not have
Be younger than 18 years old
PLANE-PC Trial Summary
This trial will use a combination of lenvatinib and pembrolizumab to treat eligible patients. Each cycle is 21 days long, and the therapy will continue until the patient's condition either improves or worsens, they can't tolerate the treatment, or they and their physician decides to stop. Up to 35 cycles may be administered.
Neuroendocrine Tumors

Prostate Cancer
PLANE-PC Trial Eligibility Criteria
Inclusion Criteria
You will be eligible if you check "Yes" for the criteria below
PLANE-PC Trial Timeline
Screening ~ 3 weeks
3 visits
This trial's timeline: 3 weeks for screening, Varies for treatment, and 2 years for reporting.
Treatment Details
Study Objectives
Outcome measures can provide a clearer picture of what you can expect from a treatment.
Radiologic Progression Free Survival (rPFS) for bone lesions
Radiologic Progression Free Survival (rPFS) for soft tissue lesions
Secondary outcome measures
Duration of Response (DoR)
Frequency and Severity of adverse events
Objective Response Rate (ORR)
+1 more
Awards & Highlights
All patients enrolled in this study will receive some form of active treatment.
PLANE-PC Trial Design
Group I: Study Treatment Arm
Experimental Treatment
2 Interventions
Lenvatinib 20 mg Orally Day1-21 with Pembrolizumab 200 mg Intravenously (IV) over 30 minutes Day 1. Each cycle = 21 days
How many patients have taken this drug
Who is running the clinical trial?
University of Michigan Rogel Cancer Center
Lead Sponsor
288 Previous Clinical Trials
24,058 Total Patients Enrolled
2 Trials studying Neuroendocrine Tumors
96 Patients Enrolled for Neuroendocrine Tumors
Hoosier Cancer Research Network
OTHER
68 Previous Clinical Trials
3,705 Total Patients Enrolled
Ulka Vaishampayan
Lead Sponsor
Media Library


Eligibility Criteria:
This trial includes the following eligibility criteria: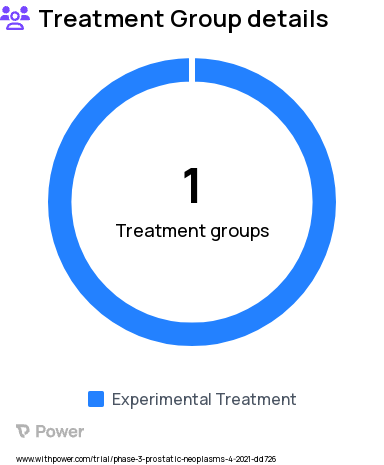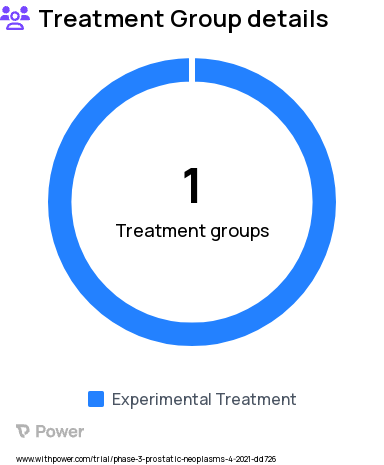 Research Study Groups:
This trial has the following groups:
Group 1: Study Treatment Arm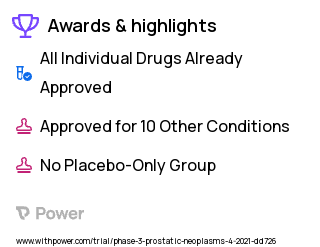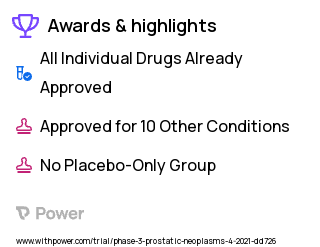 Awards:
This trial has 1 awards, including:
No Placebo-Only Group - All patients enrolled in this study will receive some form of active treatment.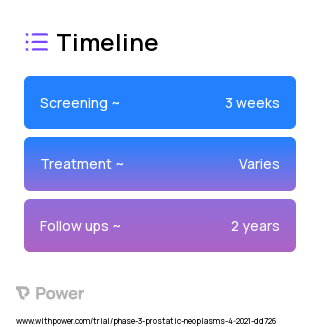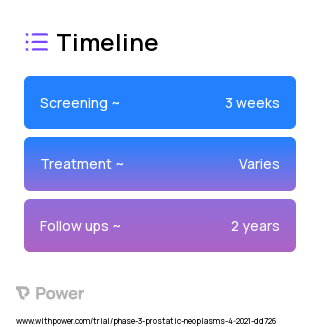 Timeline:
This trial has the following timeline:
Screening: It may take up to 3 Weeks to process to see if you qualify in this trial.
Treatment: The duration you will receive the treatment varies.
Follow Ups: You may be asked to continue sharing information regarding the trial for 6 Months after you stop receiving the treatment.
Frequently Asked Questions
These questions and answers are submitted by anonymous patients, and have not been verified by our internal team.
What other research initiatives have been undertaken using Lenvatinib?
"Presently, 1032 clinical trials worldwide are studying the effects of Lenvatinib. Of those active studies, 134 of them are in their final Phase 3 stage. Primarily based in Sacramento, California; 37061 locations have opened up testing sites for this particular medication."
What is the intended outcome of this trial?
"This two-year trial seeks to assess the Radiologic Progression Free Survival (rPFS) of soft tissue lesions. Secondary measurements such as Overall Survival, Objective Response Rate and Frequency/Severity of Adverse Events will be taken in accordance with Common Terminology Criteria for Adverse Events version 5.0."
To what extent is this research currently enrolling participants?
"The sponsor, Merck Sharp & Dohme LLC, must recruit 50 patients that meet the pre-defined inclusion criteria in order to initiate this trial. The clinical sites include University of Michigan Health System located in Ann Arbor and Winship Cancer Instituted from Emory University based out of Atlanta."
Are applications for this experiment being accepted currently?
"According to the information provided by clinicaltrials.gov, this investigation is actively searching for research subjects. The trial was first made available on May 25th 2021 and has been recently revised on October 26th 2022."
What kind of adverse reactions have been observed in people taking Lenvatinib?
"Lenvatinib's safety has been characterized to some extent, thus a score of 2 was assigned. This is because there are Phase 2 clinical trial results for this medication but no established evidence supporting its efficacy."
What medical goals is Lenvatinib typically utilized to achieve?
"Lenvatinib is typically employed to battle malignant tumours. It can also be used to help individuals with unresectable melanoma, microsatellite instability high and those that have regressed after chemotherapy therapy."
Share this study with friends