Your session is about to expire
We'll log you out in 60 seconds unless you choose to continue
← Back to Search
Eligibility Criteria Checklist
Specific guidelines that determine who can or cannot participate in a clinical trial
Must have
Newly diagnosed high-grade glioma with BRAF^V600-mutation
Peripheral absolute neutrophil count (ANC) >= 1000/uL (within 7 days prior to enrollment).
Must not have
Be older than 65 years old
Study Summary
This trial studies how well a combination of dabrafenib and trametinib works after radiation therapy in children and young adults with high grade glioma who have a genetic change called BRAF V600 mutation.
Anaplastic Ganglioglioma

Anaplastic Astrocytoma

Gliomas

Pleomorphic Xanthoastrocytoma

Glioblastoma

Malignant Glioma
Eligibility Criteria
Inclusion Criteria
You will be eligible if you check "Yes" for the criteria below
Timeline
Screening ~ 3 weeks
3 visits
Follow Up ~ up to 5 years
This trial's timeline: 3 weeks for screening, Varies for treatment, and up to 5 years for reporting.
Treatment Details
Study Objectives
Outcome measures can provide a clearer picture of what you can expect from a treatment.
Event-free survival (EFS) for stratum 1
Secondary outcome measures
Event-free survival (EFS) for stratum 2 and stratum 3
Incidence of adverse events
Overall survival (OS) for stratum 1, stratum 2, and stratum 3
Awards & Highlights
All patients enrolled in this study will receive some form of active treatment.
Trial Design
Group I: Treatment (radiation therapy, dabrafenib, trametinib)
Experimental Treatment
6 Interventions
Patients undergo standardized local RT 5 days a week (Monday-Friday) for 6-7 weeks. Four weeks after completion of RT, patients receive dabrafenib mesylate PO BID and trametinib dimethyl sulfoxide PO QD on days 1-28 of each cycle. Treatment repeats every 28 days for up to 24 cycles in the absence of disease progression or unacceptable toxicity. Patients undergo MRI at baseline, on day 1 of cycles 1, 3, 5, 7, 11, 14, 17, 20, and 23 while on treatment, then at time of relapse, every 3 months for year 1, every 4 months for year 2, every 6 months for year 3, and annually for years 4-5. Patients may also undergo lumbar puncture for CSF testing during treatment. Patients also undergo collection of blood on study.
How many patients have taken this drug
Magnetic Resonance Imaging
Trametinib Dimethyl Sulfoxide
Who is running the clinical trial?

National Cancer Institute (NCI)
Lead Sponsor
13,492 Previous Clinical Trials
41,267,526 Total Patients Enrolled
Rishi R Lulla
Principal Investigator
Children's Oncology Group
Media Library


Eligibility Criteria:
This trial includes the following eligibility criteria: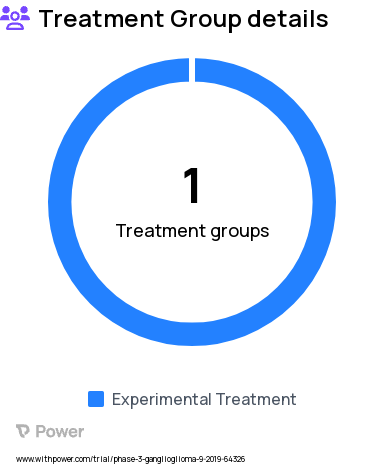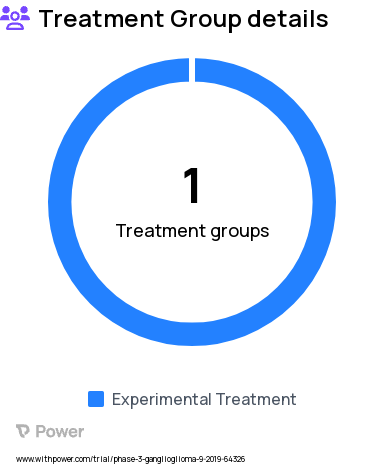 Research Study Groups:
This trial has the following groups:
Group 1: Treatment (radiation therapy, dabrafenib, trametinib)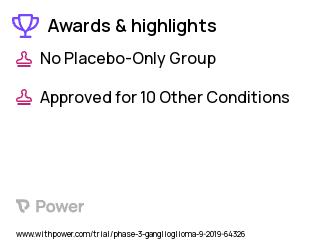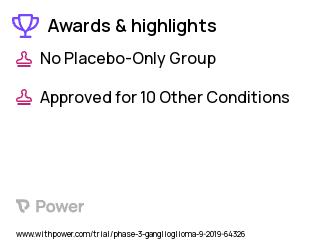 Awards:
This trial has 1 awards, including:
No Placebo-Only Group - All patients enrolled in this study will receive some form of active treatment.
Timeline:
This trial has the following timeline:
Screening: It may take up to 3 Weeks to process to see if you qualify in this trial.
Treatment: The duration you will receive the treatment varies.
Follow Ups: You may be asked to continue sharing information regarding the trial for 6 Months after you stop receiving the treatment.
Frequently Asked Questions
These questions and answers are submitted by anonymous patients, and have not been verified by our internal team.
How many individuals are being treated with this medication in this clinical trial?
"Yes, the information available on clinicaltrials.gov suggests that this trial is still recruiting patients. The first posting was on October 2nd, 2019 and the most recent update was on November 8th, 2020. There are currently 100 sites enrolling 58 participants each."
Is this clinical trial open to patients who are under the age of 75?
"Children as young as one year old and adults up to 21 years of age are eligible for this trial, which is one of 682 clinical trials specifically for people under 18."
Are there any specific requirements for participants in this clinical trial?
"This clinical trial is recruiting 58 participants, between the ages of 12 Months and 21 who have glioblastoma. It is required that patients also meet the following criteria: -PRE-ENROLLMENT ELIGIBILITY SCREENING (STEP 0): Patient is suspected of having localized newly-diagnosed HGG, excluding metastatic disease., Results for H3 K27M by immunohistochemistry (IHC) or sequencing-PRE-ENROLLMENT ELIGIBILITY SCREENING (STEP 0): Patients must be >= 12 months and =< 21 years of age at"
Are there any treatments like Radiation Therapy that have been approved by the FDA?
"Radiation therapy is considered to be a safe treatment option, but its efficacy has not been proven. Therefore, it receives a score of 2."
Does this form of treatment have a precedent?
"The University of Chicago Medical Center first began studying Radiation Therapy in 2012 and, since then, 252 completed studies have been published. There are currently 99 ongoing trials worldwide with a significant portion taking place in Savannah, Georgia."
Is this clinical trial taking place in more than a few hospitals in America?
"There are 100 sites conducting this study, for example Memorial Health University Medical Center in Savannah, University of Chicago Comprehensive Cancer Center in Chicago, and East Tennesseee Cancer Center in Chicago, and East Tennessee Childrens Hospital in Knoxville."
Are people still being enrolled in this experiment as of right now?
"The clinical trial is enrolling 58 patients at 100 sites."
Who else is applying?
What state do they live in?
What site did they apply to?
Johns Hopkins University/Sidney Kimmel Cancer Center
What portion of applicants met pre-screening criteria?
How many prior treatments have patients received?
Why did patients apply to this trial?
Share this study with friends