Study Summary
This trial is testing lenvatinib and pembrolizumab as a possible treatment for kidney cancer that has spread to nearby tissues or lymph nodes.
Stage IV Renal Cell Carcinoma

Kidney Cancer

Stage III Renal Cell Carcinoma
Study Objectives
1 Primary · 3 Secondary · Reporting Duration: Up to 4 years after study start
Objective response rate (complete and partial responses)
Disease free survival (DFS)
Incidence of adverse events (AEs)
Quality of life: Functional Assessment of Cancer Therapy-Kidney Specific Index-19 questionnaire
Trial Safety
This is further along than 68% of similar trials
Similar Trials
Trial Design
1 Treatment Group
Treatment (lenvatinib, pembrolizumab)
1 of 1
22 Total Participants · 1 Treatment Group
Primary Treatment: Pembrolizumab · No Placebo Group · Phase 2
Treatment (lenvatinib, pembrolizumab)
Experimental Group · 5 Interventions: Pembrolizumab, Lenvatinib, Quality-of-Life Assessment, Lenvatinib Mesylate, Questionnaire Administration · Intervention Types: Biological, Drug, Other, Drug, Other
How many patients have taken this drug
Trial Logistics
Trial Timeline
Reporting: up to 4 years after study start
Who is running the clinical trial?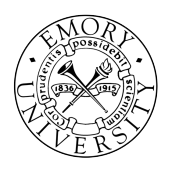 Emory University
Lead Sponsor
1,523 Previous Clinical Trials
2,713,497 Total Patients Enrolled

National Cancer Institute (NCI)
NIH
13,153 Previous Clinical Trials
41,162,902 Total Patients Enrolled
Merck Sharp & Dohme LLC
Industry Sponsor
3,706 Previous Clinical Trials
4,964,035 Total Patients Enrolled
Mehmet A Bilen, MD
Principal Investigator
Emory University
1 Previous Clinical Trials
32 Total Patients Enrolled
Eligibility Criteria
Age 18+ · All Participants · 10 Total Inclusion Criteria
Mark "Yes" if the following statements are true for you:
Your blood test shows that you have enough infection-fighting white blood cells called neutrophils, with a count of at least 1500 per microliter. The blood sample must be collected within 3 days before starting the treatment.
Your platelet count must be at least 100,000 per microliter of blood before starting the study treatment.
Your hemoglobin level must be at least 9.0 g/dL or 5.6 mmol/La, measured within 72 hours before starting the study treatment.
Your kidney function is good, with a creatinine level less than 1.5 times the normal range or a GFR (a measure of kidney function) of at least 30 mL/min.
Your bilirubin levels (a substance produced by the liver) should be normal or slightly elevated, and your liver enzymes AST and ALT should be within a certain range. If you have liver metastases, the acceptable range for AST and ALT is slightly higher.
Your blood tests for liver and kidney function must be within normal limits.
You have a kidney tumor that is too large or has spread to nearby lymph nodes, or your doctor has determined that it cannot be surgically removed.
You have clear cell renal cell carcinoma in your primary tumor and you have given written consent to participate in the study while agreeing to follow all rules of the study.
You are able to perform daily activities without assistance or with little assistance.
Your blood clotting test results are within normal limits, unless you are taking medication to prevent blood clots, in which case your test results can be within a therapeutic range.
Frequently Asked Questions
To what degree is Pembrolizumab risky for participants?
"While there is some proof of Pembrolizumab's safety, the lack of data demonstrating efficacy has led to a score of 2 being assigned." - Anonymous Online Contributor
What medical conditions does Pembrolizumab usually address?
"Pembrolizumab has been shown to be effective for treating malignant neoplasms, unresectable melanoma, and microsatellite instability high." - Anonymous Online Contributor
What other clinical experimentation has been conducted using Pembrolizumab?
"Currently, 1033 clinical trials are researching the effects and efficacy of Pembrolizumab. Of these studies 134 have reached Phase 3 while Sacramento is home to many of the sites conducting this research; 37103 locations across the globe are taking part in studying Pembrolizumab." - Anonymous Online Contributor
What is the upper limit of subjects taking part in this investigation?
"That's correct. As evidenced on clinicaltrials.gov, this medical trial is currently enrolling participants and the initial posting was made June 22nd 2020 with a final edit taking place November 28th 2022. A total of 22 individuals are being sought out from one research centre." - Anonymous Online Contributor
Are there any vacancies left in this clinical investigation?
"Affirmative. Clinicaltrials.gov data indicates that this research endeavor is still welcoming participants, having initially been posted on June 22nd 2020 and most recently updated on November 28th 2022. The study requires the enrollment of 22 individuals from a single medical facility." - Anonymous Online Contributor
Please Note: These questions and answers are submitted by anonymous patients, and have not been verified by our internal team.