Cancer Vaccine
N-803 and BCG for Bladder Cancer
UCLA Department of Urology, Los Angeles, CA
N-803 and BCG

+1 more
Phase 2 & 3
Recruiting
Led by Karim Chamie, MD
Research Sponsored by ImmunityBio, Inc.
Eligibility Criteria Checklist
Specific guidelines that determine who can or cannot participate in a clinical trial
Must have
Be older than 18 years old
Must not have
Be younger than 18 years old
Study Summary
This trial is testing a new drug, N-803, for people with bladder cancer that has not responded to BCG treatment. Patients will receive the new drug through a urinary catheter weekly for 6 weeks, followed by maintenance treatment every 3 or 6 weeks for up to 3 years.
Timeline
Screening ~ 3 weeks
3 visits
This trial's timeline: 3 weeks for screening, Varies for treatment, and 60 months for reporting.
Treatment Details
Study Objectives
Outcome measures can provide a clearer picture of what you can expect from a treatment.
Secondary outcome measures
Awards & Highlights
All patients enrolled in this study will receive some form of active treatment.
Trial Design
Group I: BCG+N-803
Experimental Treatment
2 Interventions
How many patients have taken this drug
Who is running the clinical trial?
ImmunityBio, Inc.
Lead Sponsor
59 Previous Clinical Trials
4,891 Total Patients Enrolled
Karim Chamie, MD
Principal Investigator
University of California, Los Angeles
Media Library


BCG (Cancer Vaccine) Clinical Trial Eligibility Overview. Trial Name: NCT03022825 — Phase 2 & 3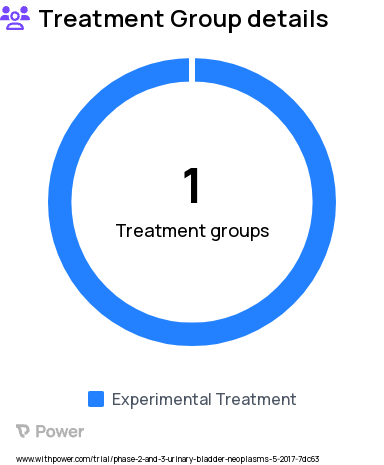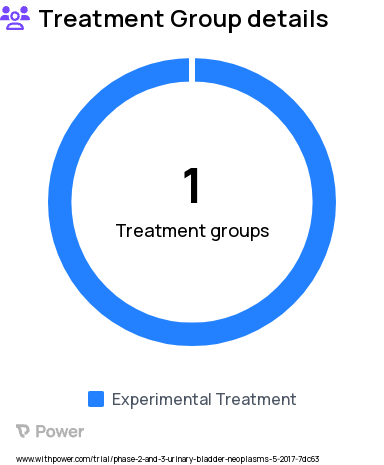 Bladder Cancer Research Study Groups: BCG+N-803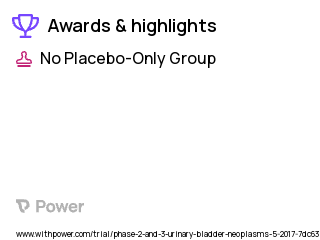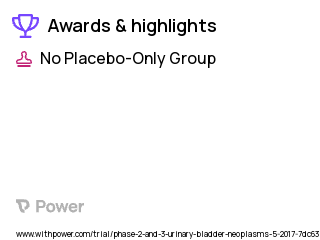 Bladder Cancer Clinical Trial 2023: BCG Highlights & Side Effects. Trial Name: NCT03022825 — Phase 2 & 3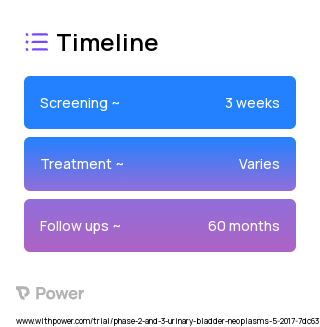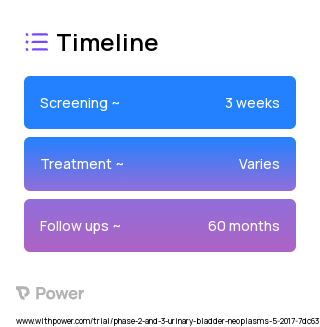 BCG (Cancer Vaccine) 2023 Treatment Timeline for Medical Study. Trial Name: NCT03022825 — Phase 2 & 3
Frequently Asked Questions
These questions and answers are submitted by anonymous patients, and have not been verified by our internal team.
What is the precedent for N-803 and BCG research?
"Right now, there are a 20 active research studies being conducted on N-803 and BCG. Out of those 20, 3 are in Phase 3. However, the majority of clinical trials taking place for N-803 and BCG are being conducted in Ann Arbor, Michigan. In total, there are 508 medical research sites running these sorts of experiments."
Could you tell me how many different facilities are coordinating this research project?
"The primary locations for this clinical trial are UCLA Department of Urology in Los Angeles, California, Moffitt Cancer Center in Tampa, Florida, and Karmanos Cancer Institute in Detroit, New York. There are also 15 other locations participating in this trial."
Are people with the specified medical condition still being recruited for this research project?
"That is accurate. The listing on clinicaltrials.gov currently states that the trial is looking for 200 individuals to participate. The trial was first posted on 6/2/2017 and the most recent update was on 10/26/2022. There will be 15 sites enrolling patients."