Sponsor focus: How the MCTM solves specific systemic issues in recruitment for sponsors

by Brandon Li, Co-Founder
In our blog post, Introducing a Modern Clinical Trial Marketplace, a new approach to patient recruitment, we introduced the concept of a Modern Clinical Trial Marketplace as a way to solve the biggest challenges in patient recruitment today. And in Part 1 and Part 2, we focused on how the Modern Clinical Trial Marketplace solves recruitment challenges for patients and sites.
In this blog, Part 3, we focus on how the Modern Clinical Trial Marketplace solves recruitment challenges for sponsors
Quick recap:
The Modern Clinical Trial Marketplace aims to address systemic issues in recruitment by creating a marketplace where all 3 core stakeholders - patients, sites and sponsors - can engage with each other seamlessly.
Let's break down how a Modern Clinical Trial Marketplace can solve fundamental problems for patients, sites, and sponsors throughout the trial journey. The summary table below breaks down the core problems in patient recruitment across the three main phases in the trial participation journey: awareness, enrollment, and reporting. We examine these stages from the perspective of our three core stakeholders: patients, sites, and sponsors.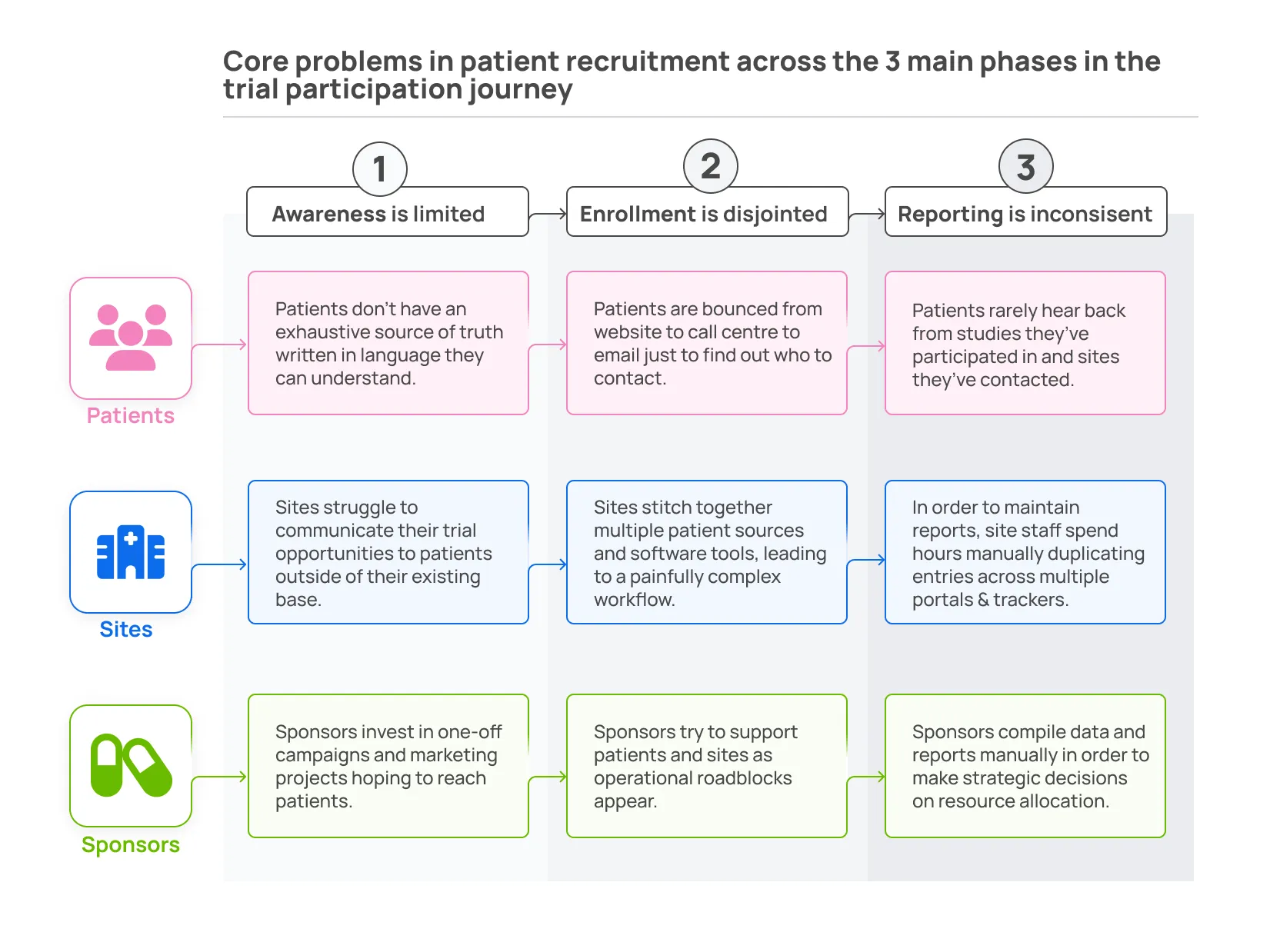 Part 3: Solving the sponsor's problems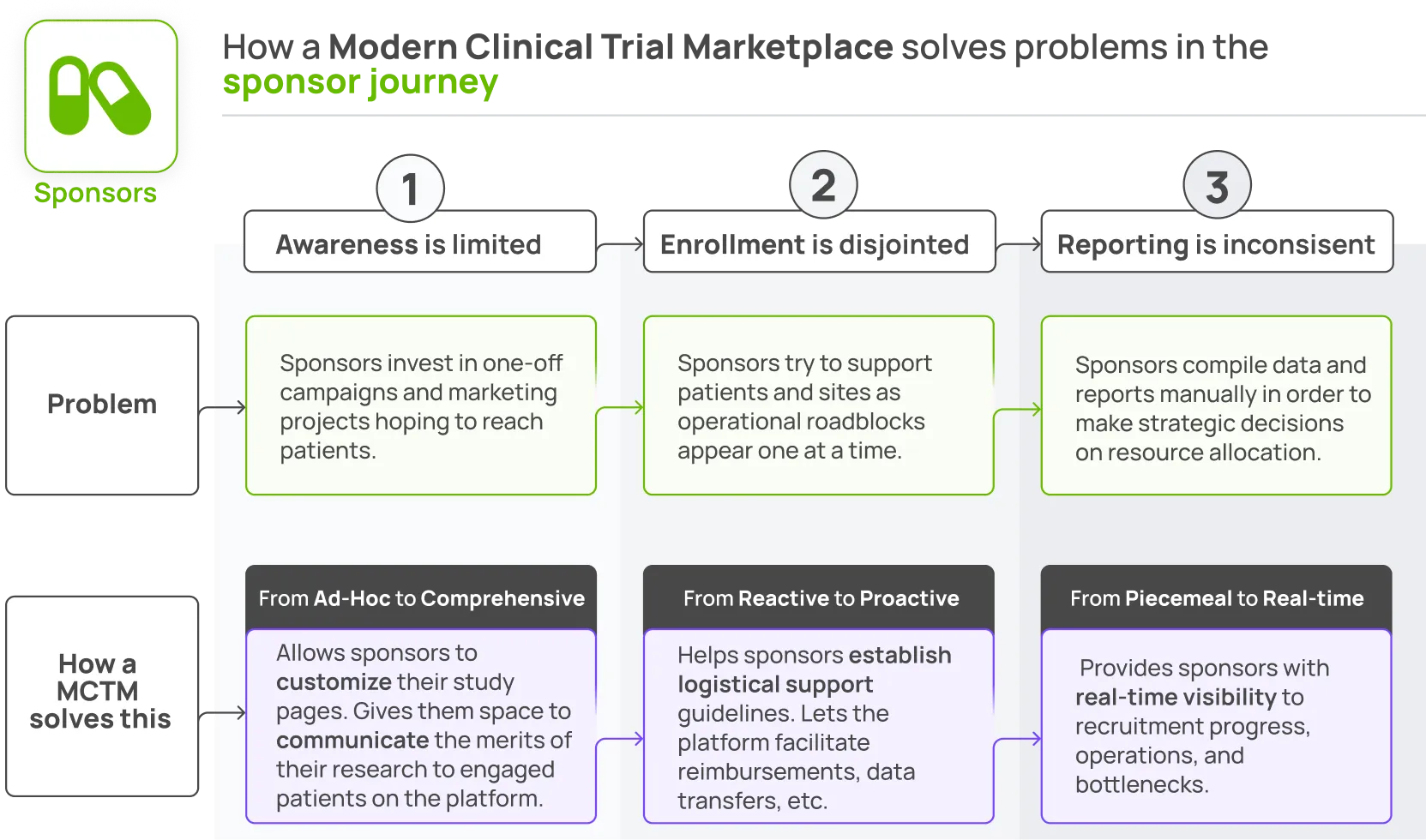 "I spend a few days per month compiling reports from all our sites and recruitment sources to stitch together a view on how recruitment is going. Data like the number of referrals, referral source, referral geography, referral status, and enrollment count, all require different data sources and methods." - Sponsor
Ad-hoc recruitment strategies employed by sponsors aren't effective because they operate under short timespans that don't allow connection with all potentially eligible patients. Short marketing campaigns will never be as effective as embedded trial awareness and consistent patient interest.
These campaigns also suffer from short durations because there's not enough time for iteration - patient and site feedback is used reactively when problems arise instead of throughout.
Finally, the campaigns suffer because they use piecemeal instead of real-time data. Effective real-time data collection tools exist, but they are not intuitive to use because they don't integrate with all recruitment sources.
Short recruitment timespans and inconsistent data collection do not allow for any source of truth on how enrollment is going and where more investment is needed.
How a Modern Clinical Trial Marketplace facilitates comprehensive, proactive, real-time enrollment for sponsors.
With both patients and sites on the marketplace, real enrollments will be flowing. This is the true measure of impact for sponsors. Sponsors can customize their trial pages to communicate the merits of their research to patients on-platform and motivate new enrollments.
To support faster enrollment, the Marketplace should provide an easy method for sponsors to standardize and communicate their logistical support. Reimbursements, data transfer and communication between healthcare providers, and patient feedback should all be built into the platform functionality.
Finally, a Marketplace that includes all patients and all sites has incredible data generation power. Sponsors can use real-time market stats on location, condition, and demographics as they build their site network and optimize recruitment strategies. This data will help more patients find sites faster while ensuring sponsors invest in the most effective trial site locations and tools.
Sponsors should be able to see the current state of recruitment at a glance: one source of truth across the entire recruitment program.
How this looks in practice on Power
Rollout for all sites: Sponsors can roll-out Power as a recruitment tool to all sites in 15 mins. Sites can centralize all leads from all recruitment channels in one place on Power.
Customize study pages: Study pages can be customized with messages and visuals that will resonate with patients, and make the study stand out.
Real time collaboration: Sponsors can see all patient applications (PHI scrubbed for Sponsor view), and collaborate with sites in real time to recruit patients and resolve roadblocks.
Patient funnel insights: Sponsors can see enrollment across all sites, and see per-site performance. Data-backed decisions can be made to improve recruitment by adapting the pre-screener or contact efforts.
Representative recruitment: Power has 40% non-white patients on platform, and sponsors can ensure representative recruitment for all studies.
A call to action
It is too difficult for patients to discover and access medical research.
It is too difficult for sites to connect with nearby patients.
And it is too difficult for sponsors to understand their trials in real-time.
Patients and researchers need a platform to easily connect with one another. A platform that cuts through the noise and systematically strips out the friction. Soon, the most cost- and time-efficient models for research will rely on a Modern Clinical Trial Marketplace to support recruitment and ultimately drive progress in research.
Patients are the stakeholder that needs the most motivation to join the ecosystem. Therefore, a model that is not designed with patient-centricity as a fundamental requirement will continuously face roadblocks. It is time to completely rethink the approach to clinical trial recruitment.
We believe that Power will become this Clinical Trials Marketplace. As a tool built first and foremost for patients, we are witnessing an influx of highly motivated research participants. Sponsors, sites, and patients see this value. Soon, all research stakeholders will come to the same Marketplace platform.
Are you looking to get more qualified patients for your trials?