CAR T-cell Therapy
axicabtagene ciloleucel for Follicular Lymphoma
Banner MD Anderson Cancer Center, Gilbert, AZ
Targeting 3 different conditions
axicabtagene ciloleucel

+2 more
Phase 2
Waitlist Available
Research Sponsored by Kite, A Gilead Company
Eligibility Criteria Checklist
Specific guidelines that determine who can or cannot participate in a clinical trial
Must have
Be older than 18 years old
Must not have
Be younger than 18 years old
All Individual Drugs Already Approved
Approved for 20 Other Conditions
Study Summary
This trial will enroll 160 adults with relapsed or refractory non-Hodgkin's lymphoma. Subjects will receive axicabtagene ciloleucel, an experimental product made from the subject's own genetically-modified white blood cells. The goal is to determine if the product is safe and effective.
Follicular Lymphoma

Marginal Zone Lymphoma

Slow-Growing Non-Hodgkin's Lymphoma
Timeline
Screening ~ 3 weeks
3 visits
Follow ups ~ up to 15 years
Follow ups ~
up to 15 years
This trial's timeline: 3 weeks for screening, Varies for treatment, and up to 15 years for reporting.
Treatment Details
Study Objectives
Outcome measures can provide a clearer picture of what you can expect from a treatment.
Objective response rate per central read
Secondary outcome measures
Best Objective Response per Central Read or Investigator Read
Complete response rate among those participants with 3 or more lines of prior therapy
+11 more
Awards & Highlights
All Individual Drugs Already Approved
Therapies where all constituent drugs have already been approved are likely to have better-understood side effect profiles.
Approved for 20 Other Conditions
This treatment demonstrated efficacy for 20 other conditions.
All patients enrolled in this study will receive some form of active treatment.
Trial Design
Group I: axicabtagene ciloleucel
Experimental Treatment
3 Interventions
Participants will receive a conditioning chemotherapy regimen of fludarabine and cyclophosphamide, followed by a single infusion of CAR transduced autologous T cells.
How many patients have taken this drug
Who is running the clinical trial?
Kite, A Gilead Company
Lead Sponsor
35 Previous Clinical Trials
3,178 Total Patients Enrolled
Kite Study Director
Study Director
Kite, A Gilead Company
26 Previous Clinical Trials
2,879 Total Patients Enrolled
Media Library


Axicabtagene Ciloleucel (CAR T-cell Therapy) Clinical Trial Eligibility Overview. Trial Name: NCT03105336 — Phase 2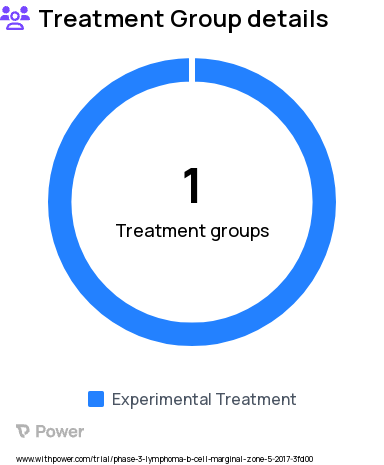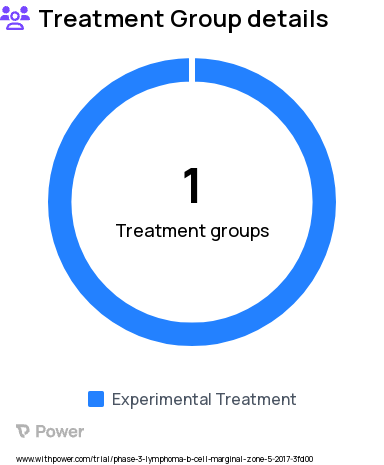 Follicular Lymphoma Research Study Groups: axicabtagene ciloleucel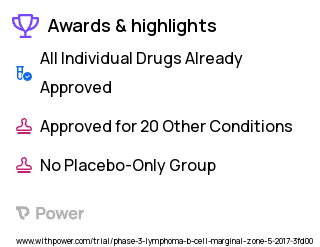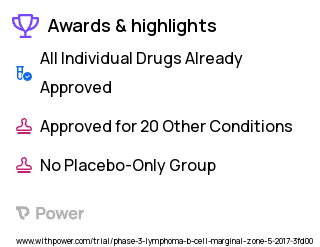 Follicular Lymphoma Clinical Trial 2023: Axicabtagene Ciloleucel Highlights & Side Effects. Trial Name: NCT03105336 — Phase 2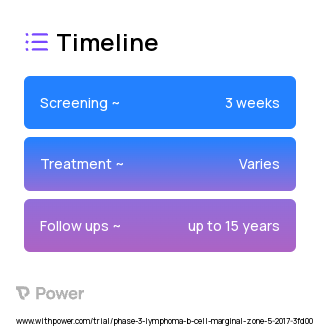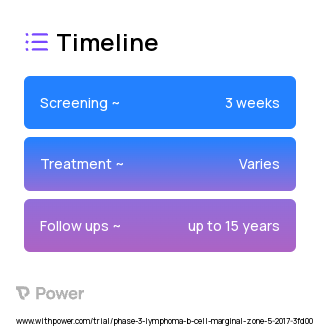 Axicabtagene Ciloleucel (CAR T-cell Therapy) 2023 Treatment Timeline for Medical Study. Trial Name: NCT03105336 — Phase 2
Frequently Asked Questions
These questions and answers are submitted by anonymous patients, and have not been verified by our internal team.
How many venues is this experiment currently taking place in?
"Currently, 17 medical facilities are hosting this clinical trial. In addition to Seattle, Gilbert and Miami, there are 14 additional sites. To best accommodate your needs, it is important that you choose the closest clinic when deciding whether or not to join the study."
Are there any openings remaining for participants in this trial?
"Clinicaltrials.gov indicates that, as of this moment, the trial is not currently accepting applications. This study was initially posted on June 20th 2017 and most recently updated November 22nd 2022; however, 2644 other medical studies are still accepting participants at present."
Could you elucidate what other tests have been undertaken with axicabtagene ciloleucel?
"Currently, 894 active clinical trials are being conducted in order to further research axicabtagene ciloleucel. Of those studies, 161 have reached Phase 3 status. Furthermore, 28479 locations across the globe are researching this treatment with the majority of them located in Philadelphia, Pennsylvania."
What precautions should be taken when using axicabtagene ciloleucel?
"As axicabtagene ciloleucel is only in Phase 2, the limited data available suggests it has a relatively high safety profile. Thus, our team at Power rated it as a level 2 on their scale of 1 to 3."
In what clinical contexts is axicabtagene ciloleucel commonly employed?
"Axicabtagene ciloleucel can be employed therapeutically to treat a variety of diseases, such as lung cancer, multiple sclerosis and acute myelocytic leukemia."
How many individuals are currently enrolled in this experiment?
"At the present time, this investigation is not actively recruiting participants. It was initially posted on June 20th 2017 and last updated November 22nd 2022. Other studies in related fields include 1,750 trials for those with lymphoma and 894 involving axicabtagene ciloleucel that are currently looking for patients to take part."
Recent research and studies