Your session is about to expire
We'll log you out in 60 seconds unless you choose to continue
← Back to Search
Monoclonal Antibodies
Anifrolumab for Lupus
(Tulip SC Trial)
Research Sponsored by AstraZeneca
Eligibility Criteria Checklist
Specific guidelines that determine who can or cannot participate in a clinical trial
Must have
To be eligible a patient must have SLEDAI-2K ≥ 6 points and "Clinical" SLEDAI-2K score ≥4 points at screening
BILAG2004 with at least 1 of the following: BILAG2004 level A disease in ≥ 1 organ system, BILAG2004 level B disease in ≥ 2 organ systems, Physician's Global Assessment (PGA) score ≥ 1.0 on a 0 to 3 VAS at Screening, Antinuclear antibody, and/or Anti-dsDNA and/oranti-Smith positive at Screening
Must not have
Be younger than 18 years old
Follow Up
baseline through week 60
Tulip SC Trial Summary
This trial is testing a new drug for lupus patients who are not responding to current treatments.
Tulip SC Trial Eligibility Criteria
Inclusion Criteria
You will be eligible if you check "Yes" for the criteria below
Tulip SC Trial Timeline
Screening ~ 3 weeks
3 visits
Follow Up ~ baseline through week 60
Follow Up ~
baseline through week 60
This trial's timeline: 3 weeks for screening, Varies for treatment, and baseline through week 60 for reporting.
Treatment Details
Study Objectives
Outcome measures can provide a clearer picture of what you can expect from a treatment.
British Isles Lupus Assessment Group-based Composite Lupus Assessment (BICLA) response
Secondary outcome measures
BICLA response with maintained low (or reduced) use of oral corticosteroid (OCS)
+7 more
Awards & Highlights
The final step before approval, pivotal trials feature drugs that have already shown basic safety & efficacy.
Tulip SC Trial Design
Group I: Anifrolumab
Experimental Treatment
1 Intervention
Solution for injection in aPFS
Group II: Placebo
Placebo Group
1 Intervention
Solution for injection in aPFS
Who is running the clinical trial?

4,181 Previous Clinical Trials
289,629,948 Total Patients Enrolled
Iqvia Pty Ltd
Industry Sponsor
105 Previous Clinical Trials
170,498 Total Patients Enrolled
Media Library


Eligibility Criteria:
This trial includes the following eligibility criteria:
You have a diagnosis of pediatric or adult SLE according to the ACR 1997 revised criteria for ≥ 24 weeks prior to signing the ICF.

The patient has a PGA score of 1.0 or greater.

This is not a complete criterion. Please provide more information or context.

You have moderate disease activity in at least two areas of your body as determined by BILAG2004 evaluation.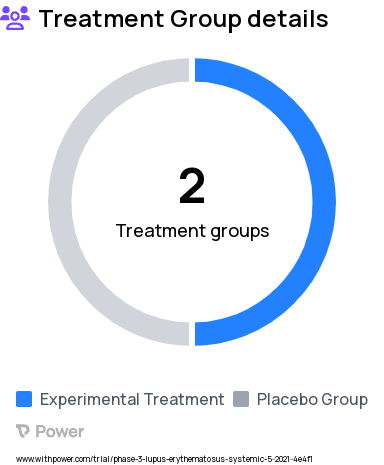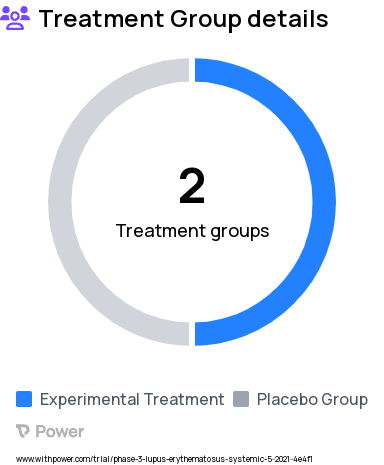 Research Study Groups:
This trial has the following groups:
Group 1: Anifrolumab
Group 2: Placebo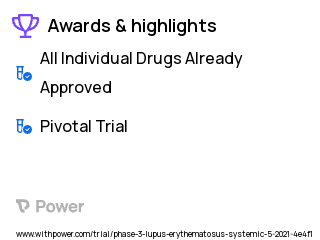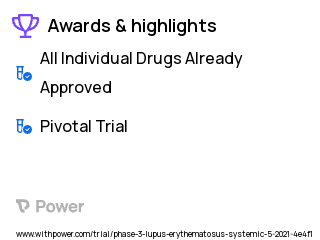 Awards:
This trial has 1 awards, including:
Pivotal Trial - The final step before approval, pivotal trials feature drugs that have already shown basic safety & efficacy.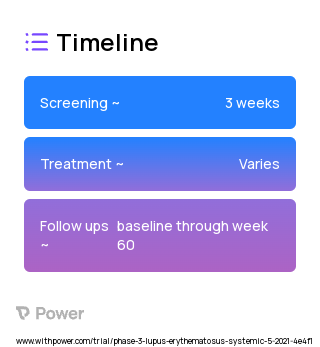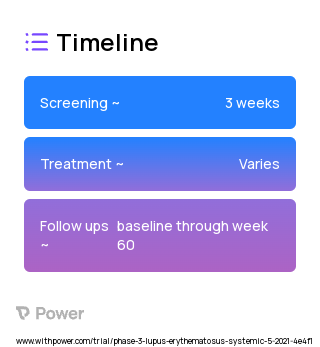 Timeline:
This trial has the following timeline:
Screening: It may take up to 3 Weeks to process to see if you qualify in this trial.
Treatment: The duration you will receive the treatment varies.
Follow Ups: You may be asked to continue sharing information regarding the trial for 6 Months after you stop receiving the treatment.
Frequently Asked Questions
These questions and answers are submitted by anonymous patients, and have not been verified by our internal team.
Are there any open slots for new patients in this clinical trial?
"The clinicaltrials.gov website reveals that this study is still actively looking for volunteers. The trial was first advertised on June 8th, 2021 and was most recently updated on October 24th, 2022."
Could you please list which hospitals are conducting this research?
"Presently, this clinical trial is being conducted in 27 locations, which are situated in Upland, Newark, Manhasset, and other cities. If you choose to enroll in this trial, try to select the location closest to you to reduce travel time."
Has there been previous research on Medi-546?
"Medi-546 was first studied in 2021 at Research Site. It has since been used in 18245 clinical trials. Presently, there are 3 ongoing studies, the majority of which are based in Upland, California."
How many people are guinea pigs in this experiment?
"That is correct. According to the most recent update on clinicaltrials.gov, this study is still recruiting patients. The trial was first posted on June 8th, 2021 and was last updated on October 24th, 2020. They are looking for 360 participants across 27 sites."
Does this experiment represent a breakthrough in medical research?
"AstraZeneca first sponsored a study for Medi-546 in 2021. Since then, there has been significant global research interest in the drug. Medi-546 received its Phase 3 drug approval after the first study in 2021, which involved 360 participants. As of now, there are 3 active trials for Medi-546 being conducted in 40 cities across 28 countries."
When can patients expect Medi-546 to hit the market?
"Medi-546 is in Phase 3 of clinical trials, so there is some data supporting efficacy and multiple rounds of data supporting safety, making it a 3 on our safety scale."
If I meet the qualifications, may I enroll in this research study?
"The ideal candidate for this study would have lupus erythematosus, systemic and be within the age bracket of 18 to 70. A total of 360 individuals are needed for this clinical trial."
Would it be possible to enroll in this experiment if I am over the age of seventy?
"The age requirements for this study are that participants must have turned 18 but not yet reached their 70th birthday."
Who else is applying?
What state do they live in?
What site did they apply to?
What portion of applicants met pre-screening criteria?
How many prior treatments have patients received?
Share this study with friends