Study Summary
This trial is testing if Avastin can help to control ovarian, fallopian, or primary peritoneal cancer after it has been found during second-look surgery.
Ovarian Cancer

Primary Peritoneal Cancer

Cervical Cancer
Treatment Effectiveness
Phase-Based Effectiveness
Similar Trials
Study Objectives
1 Primary · 0 Secondary · Reporting Duration: 63 days
Progression-Free Survival (PFS) of Participants with Positive Second-Look Findings Treated with Bevacizumab
Trial Safety
This is further along than 68% of similar trials
Similar Trials
9%
posterior capsule opacification
This histogram enumerates side effects from a completed 2015 Phase 4 trial (NCT02036424) in the Bevacizumab ARM group. Side effects include: vitreous hemorrhage with 22%, worsening of cataract with 17%, vitreous syneresis with 9%, posterior capsule opacification with 9%, pyelonephritis with 4%.
Awards & Highlights
All patients enrolled in this trial will receive the new treatment.
All Individual Drugs Already Approved
Therapies where all constituent drugs have already been approved are likely to have better-understood side effect profiles.
Trial Design
1 Treatment Group
35 Total Participants · 1 Treatment Group
Primary Treatment: Bevacizumab · No Placebo Group · Phase 2
Bevacizumab
Experimental Group · 1 Intervention: Bevacizumab · Intervention Types: Drug
How many patients have taken this drug
Who is running the clinical trial?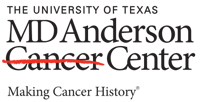 M.D. Anderson Cancer Center
Lead Sponsor
2,848 Previous Clinical Trials
1,793,467 Total Patients Enrolled
42 Trials studying Ovarian Cancer
15,980 Patients Enrolled for Ovarian Cancer

National Cancer Institute (NCI)
NIH
13,275 Previous Clinical Trials
41,234,777 Total Patients Enrolled
285 Trials studying Ovarian Cancer
73,831 Patients Enrolled for Ovarian Cancer
Amir A. Jazaeri, MD
Principal Investigator
M.D. Anderson Cancer Center
2 Previous Clinical Trials
27 Total Patients Enrolled
1 Trials studying Ovarian Cancer
9 Patients Enrolled for Ovarian Cancer
Eligibility Criteria
Age 18+ · Female Participants · 1 Total Inclusion Criteria
Mark "Yes" if the following statements are true for you:
You agree to let the researchers use tissue samples from previous surgeries or biopsies for this study.
Frequently Asked Questions
How many participants are being admitted to this clinical trial?
"Affirmative. Clinicaltrials.gov data confirms that this clinical trial is actively enrolling, with the first posting having been on November 1st 2016 and the most recent edit being made on January 3rd 2022. The study has need for 35 patients at a single medical centre." - Anonymous Online Contributor
Has Bevacizumab been granted authorization from the FDA?
"Evidence concerning the safety of Bevacizumab is limited to Phase 2 trials, so it received a score of two. No data exists that confirms its efficacy yet." - Anonymous Online Contributor
For what diseases and ailments is Bevacizumab commonly prescribed?
"Bevacizumab can be employed to combat malignant neoplasms, recurrent platinum-sensitive primary peritoneal cancer, and Stage IV epithelial ovarian cancer post-surgical excision." - Anonymous Online Contributor
Could you please provide a compendium of research regarding Bevacizumab?
"Presently, there are 355 clinical trials involving Bevacizumab with 89 of those studies being in Phase 3. Of the 17017 sites researching this medication, many reside in Taibei, Taiwan." - Anonymous Online Contributor
Are researchers currently recruiting participants for this investigation?
"The clinicaltrials.gov webpage indicates that this medical trial is currently accepting applicants, having opened on the 1st of November 2016 and been updated most recently on 3rd January 2022." - Anonymous Online Contributor
Please Note: These questions and answers are submitted by anonymous patients, and have not been verified by our internal team.