Study Summary
This trial is testing the side effects and best dose of CPX-351 in combination with quizartinib to treat acute myeloid leukemia and high risk myelodysplastic syndrome. CPX-351 contains chemotherapy drugs daunorubicin and cytarabine, which work in different ways to stop the growth of cancer cells. Quizartinib may stop the growth of tumor cells by blocking some of the enzymes needed for cell growth. The goal of this study is to learn if the combination of CPX-351 and quizartinib can help to control these diseases.
Acute Recurrent Myeloid Leukemia

Acute Myeloid Leukemia

Refractory Myelodysplastic Syndromes

Bone Marrow Blast Count of 10 Percent or Higher

Myelodysplastic Syndrome

Refractory Acute Myelogenous Leukemia
Treatment Effectiveness
Phase-Based Effectiveness
Study Objectives
2 Primary · 3 Secondary · Reporting Duration: From treatment start till death or last follow-up id the patients is alive, assessed up to 5 years
Duration of response (DOR)
Complete remission (CRc) rate
Trial Safety
Awards & Highlights
All patients enrolled in this trial will receive the new treatment.
Approved for 5 Other Conditions
This treatment demonstrated efficacy for 5 other conditions.
Trial Design
1 Treatment Group
Treatment (CPX-351, quizartinib)
1 of 1
52 Total Participants · 1 Treatment Group
Primary Treatment: Liposome-encapsulated Daunorubicin-Cytarabine · No Placebo Group · Phase 1 & 2
Treatment (CPX-351, quizartinib)
Experimental Group · 2 Interventions: Liposome-encapsulated Daunorubicin-Cytarabine, Quizartinib · Intervention Types: Drug, Drug
How many patients have taken this drug
Trial Logistics
Trial Timeline
Reporting: from treatment start till death or last follow-up id the patients is alive, assessed up to 5 years
Who is running the clinical trial?

National Cancer Institute (NCI)
NIH
13,283 Previous Clinical Trials
41,235,346 Total Patients Enrolled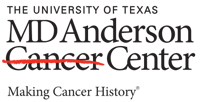 M.D. Anderson Cancer Center
Lead Sponsor
2,849 Previous Clinical Trials
1,793,592 Total Patients Enrolled
Musa Yilmaz
Principal Investigator
M.D. Anderson Cancer Center
2 Previous Clinical Trials
132 Total Patients Enrolled
Eligibility Criteria
Age 18+ · All Participants · 3 Total Inclusion Criteria
Mark "Yes" if the following statements are true for you:
You have previously received one or more treatments for acute myeloid leukemia (AML) or myelodysplastic syndrome (MDS) with more than 10% blasts. You have had up to four salvage regimens for AML and/or MDS. If you have received any treatments for MDS that are not purely supportive, such as hypomethylating agents (HMAs), lenalidomide, investigational therapies, you may still be eligible for the study.
You can take medicine by mouth.
You can participate in clinical trials for supportive care while in this study. However, you cannot take any other experimental drugs being tested for other types of cancer.
Frequently Asked Questions
What are Liposome-encapsulated Daunorubicin-Cytarabine's most common uses?
"Daunorubicin-Cytarabine liposome-encapsulated is used for treating acute myelocytic leukemia, as well as blast phase chronic myelocytic leukemia, lymphoma, and prophylaxis of meningeal leukemia." - Anonymous Online Contributor
How many volunteers are helping to progress this research?
"That is correct. The information available on clinicaltrials.gov verifies that this study, which was first announced on 5/27/2020, is still looking for subjects. In total, 52 individuals are needed across a single location." - Anonymous Online Contributor
Are there any available positions for volunteers in this clinical research?
"Yes, this study is recruiting patients at present. It was originally posted on clinicaltrials.gov on May 27th, 2020 and has been edited most recently on September 30th, 2022." - Anonymous Online Contributor
Could you please share how many times Liposome-encapsulated Daunorubicin-Cytarabine has been tested in the past?
"As of now, there are 280 ongoing clinical trials evaluating Liposome-encapsulated Daunorubicin-Cytarabine. Out of those, 68 are in Phase 3. New York City has the most active studies for this treatment (12538 total), though the majority of these are based in one city within the state." - Anonymous Online Contributor
Please Note: These questions and answers are submitted by anonymous patients, and have not been verified by our internal team.