TLR8 Agonist
Selgantolimod for Hepatitis B
Cincinnati Children's Hosp / Univ Hosp, Cincinnati, OH
Targeting 2 different conditions
Selgantolimod

+1 more
Phase 2
Recruiting
Research Sponsored by National Institute of Allergy and Infectious Diseases (NIAID)
Eligibility Criteria Checklist
Specific guidelines that determine who can or cannot participate in a clinical trial
Must have
Be older than 18 years old
Must not have
Be younger than 18 years old
Follow Up
at week 4, 12, 24, 36 and 48
Study Summary
This trial will test if the drug Selgantolimod is safe and tolerated when given to people with both hepatitis B and HIV who have been on antiviral therapy for both viruses for at least 5 years. The study will also see if Selgantolimod can reduce the level of hepatitis B surface antigen in the blood.
Hepatitis B

Human Immunodeficiency Virus Infection
Timeline
Screening ~ 3 weeks
3 visits
Follow Up ~ at week 4, 12, 24, 36 and 48
Follow Up ~
at week 4, 12, 24, 36 and 48
This trial's timeline: 3 weeks for screening, Varies for treatment, and at week 4, 12, 24, 36 and 48 for reporting.
Treatment Details
Study Objectives
Outcome measures can provide a clearer picture of what you can expect from a treatment.
Proportion of participants who experienced adverse events (AEs)
Proportion of participants with ≥1 log10 IU/mL decline from baseline in quantitative HBsAg (qHBsAg) after SLGN treatment at Week 24
Secondary outcome measures
Changes from baseline in qHBsAg levels at Weeks 4, 12, 24, 36, and 48
Detection of plasma HIV RNA >50 copies/mL at weeks 2, 4, 24, and 48
Hepatitis B Surface Antigens
+7 more
Side effects data
From 2020 Phase 2 trial • 48 Patients • NCT03491553
11%
Lower respiratory tract congestion
11%
Upper respiratory tract infection
Study treatment Arm
Selgantolimod 3 mg: HBeAg-positive CHB Participants
Selgantolimod 1.5 mg: HBeAg-negative CHB Participants
Placebo: HBeAg-positive CHB Participants
Selgantolimod 3 mg: HBeAg-negative CHB Participants
Placebo: HBeAg-negative CHB Participants
Selgantolimod 1.5 mg: HBeAg-positive CHB Participants
Trial Design
Group I: Arm A
Experimental Treatment
1 Intervention
Selgantolimod 3 mg once weekly for 24 weeks
Group II: Arm B
Placebo Group
1 Intervention
Matching Placebo for Selgantolimod once weekly for 24 weeks
How many patients have taken this drug
Who is running the clinical trial?

National Institute of Allergy and Infectious Diseases (NIAID)
Lead Sponsor
3,219 Previous Clinical Trials
5,325,299 Total Patients Enrolled
17 Trials studying Hepatitis B
9,783 Patients Enrolled for Hepatitis B
Media Library


Selgantolimod (TLR8 Agonist) Clinical Trial Eligibility Overview. Trial Name: NCT05551273 — Phase 2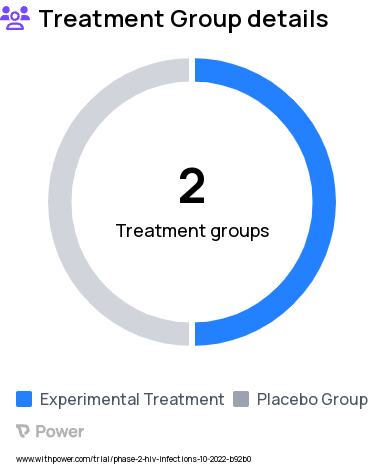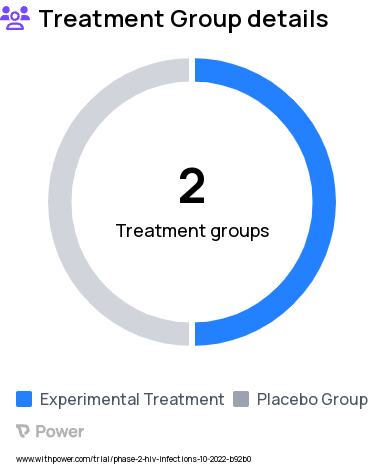 Hepatitis B Research Study Groups: Arm A, Arm B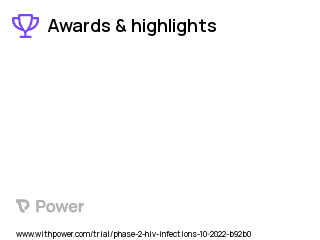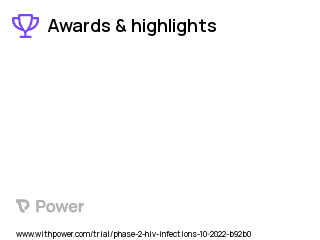 Hepatitis B Clinical Trial 2023: Selgantolimod Highlights & Side Effects. Trial Name: NCT05551273 — Phase 2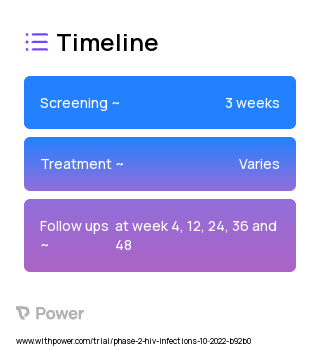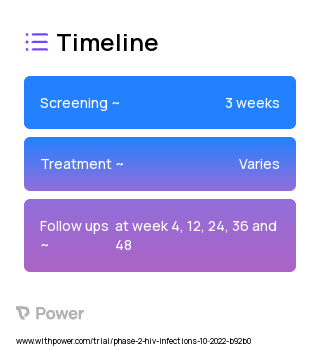 Selgantolimod (TLR8 Agonist) 2023 Treatment Timeline for Medical Study. Trial Name: NCT05551273 — Phase 2
Frequently Asked Questions
These questions and answers are submitted by anonymous patients, and have not been verified by our internal team.
What hazards should be taken into consideration when administering Selgantolimod?
"Selgantolimod's safety is supported by Phase 2 trial data, resulting in a score of two on our team's risk assessment scale. There are no studies that have yet to support its efficacy."
Is this clinical trial recruiting participants at present?
"The details listed on clinicaltrials.gov suggest that the trial is not actively soliciting participants at this time, as it was first posted in November 23rd 2022 and recently edited on September 20th 2022. However, there are 754 other medical studies currently looking for volunteers to join their trials."
Are applicants for this study required to be above a certain age threshold?
"Enrolment into this trial is restricted to individuals between the ages of 18 and 70. Alternatively, there are 133 clinical trials available for minors as well as 576 research studies dedicated to those aged 65 or above."
How many medical centers are offering this research project?
"A total of 24 medical centres are participating in this trial, including Columbia P&S CRS in New York, UCSD Antiviral Research Center CRS in San Diego, and Univ of Pittsburgh. Additionally, there are 21 other sites recruiting patients across the country."
What are the prerequisites for becoming a participant in this clinical study?
"This clinical trial is recruiting 48 HIV-positive individuals aged 18 to 70. The inclusion criteria for this study includes having an active HIV infection, a CD4+ cell count of ≥350 cells/mm3, being negative for anti-HDV antibodies, currently experiencing chronic HBV (CHB) infections with an HBV DNA level <50 IU/mL on at least two occasions 12 weeks apart in the past year and >1000 IU/mL of quantitive HBsAg, taking effective antiviral therapy such as TDF or TAF plus lamivudine among other combinations for more than 5 years prior to enrolment in the"