Your session is about to expire
We'll log you out in 60 seconds unless you choose to continue
← Back to Search
TR&ST for Interpersonal Relations and Suicide
(TR&ST Trial)
Led By Chandra E Khalifian, PhD
Research Sponsored by VA Office of Research and Development
Eligibility Criteria Checklist
Specific guidelines that determine who can or cannot participate in a clinical trial
Must have
An intimate partner who is willing to participate
Be older than 18 years old
Must not have
Be younger than 18 years old
Follow Up
delivered at baseline, 7 weeks after baseline (mid-treatment), 13 weeks after baseline (post-treatment), and 25 weeks after baseline
TR&ST Trial Summary
This trial is testing a novel suicide-specific couple-based intervention called TR&ST, which adapts an evidence-based intervention for suicide, BCBT for Suicide, to be dyadically focused and integrates CBCT skills. The goal is to reduce the severity of suicidal thoughts.
Suicide

Interpersonal Relations
TR&ST Trial Eligibility Criteria
Inclusion Criteria
You will be eligible if you check "Yes" for the criteria below
TR&ST Trial Timeline
Screening ~ 3 weeks
3 visits
This trial's timeline: 3 weeks for screening, Varies for treatment, and baseline for reporting.
Treatment Details
Study Objectives
Outcome measures can provide a clearer picture of what you can expect from a treatment.
Change in severity of suicidal ideation from baseline
Secondary outcome measures
Change in negative communication from baseline
Change in perceived burdensomeness and thwarted belonging from baseline
Change in positive bonding from baseline
+2 more
Change in relationship conflict from baseline
Change in severity of depression from baseline
Changes in Posttraumatic Stress Disorder severity from baseline
+3 more
Awards & Highlights
All patients enrolled in this study will receive some form of active treatment.
TR&ST Trial Design
Group I: Treatment for Relationships and Safety Together (TR&ST)
Experimental Treatment
1 Intervention
TR&ST consists of eleven 90-minute sessions delivered in three phases. During phase one, couples receive a tailored cognitive-behavioral conceptualization of suicide and relationship distress based on clinical interview, as well as psychoeducation about their bidirectional influences. They also engage in behavioral activation focused on positive couple activities, emotion regulation, distress tolerance, and conflict management strategies. In phase two, couples learn communication skills and discuss suicidal thoughts and behaviors, as well as their relationship challenges that interact with suicidal thoughts and behavior. Phase three is focused on conjoint thought challenging to shift dysfunctional cognitions related to suicide and relationship problems.
Group II: VA Standard Suicide Intervention
Active Control
1 Intervention
Our active control condition is standardized and contains the elements of standard practice suicide-specific intervention delivered at the VA, which include: 1) suicide risk assessment using the CSSR-S, 2) VA Safety Planning Intervention, 3) timely referral to VA mental health outpatient care, including couples intervention (engagement will be tracked), and 4) Suicide Prevention Coordinator (SPC) follow-up contacts (which have been found to significantly reduce suicidal behavior).
Who is running the clinical trial?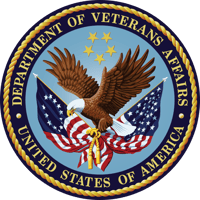 VA Office of Research and Development
Lead Sponsor
1,584 Previous Clinical Trials
2,897,584 Total Patients Enrolled
36 Trials studying Suicide
5,796 Patients Enrolled for Suicide
Chandra E Khalifian, PhD
Principal Investigator
VA San Diego Healthcare System, San Diego, CA
Media Library
Eligibility Criteria:
This trial includes the following eligibility criteria:
Your partner is willing to participate in the study.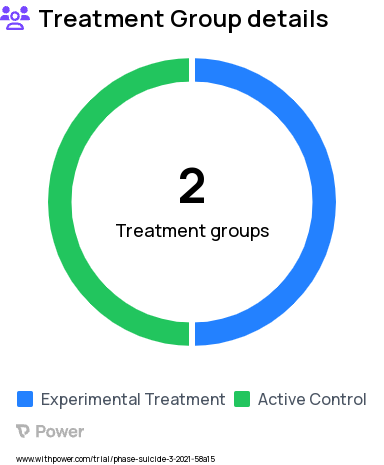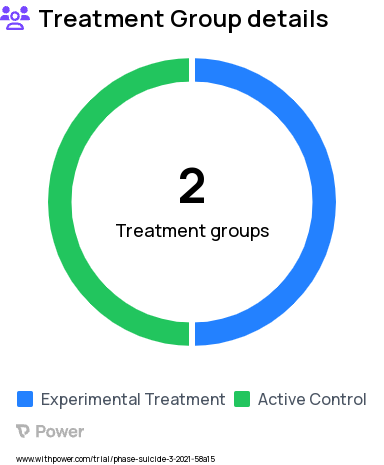 Research Study Groups:
This trial has the following groups:
Group 1: Treatment for Relationships and Safety Together (TR&ST)
Group 2: VA Standard Suicide Intervention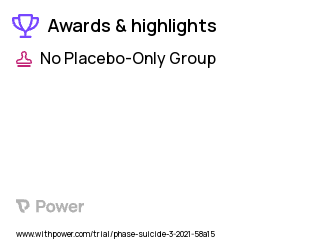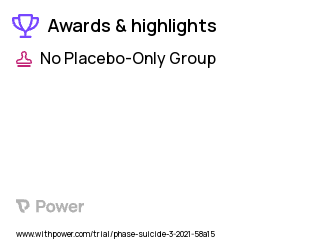 Awards:
This trial has 1 awards, including:
No Placebo-Only Group - All patients enrolled in this study will receive some form of active treatment.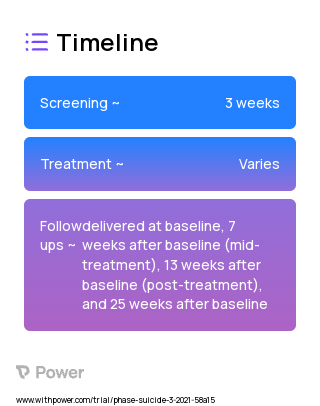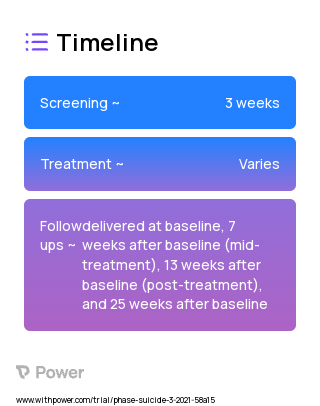 Timeline:
This trial has the following timeline:
Screening: It may take up to 3 Weeks to process to see if you qualify in this trial.
Treatment: The duration you will receive the treatment varies.
Follow Ups: You may be asked to continue sharing information regarding the trial for 6 Months after you stop receiving the treatment.
Frequently Asked Questions
These questions and answers are submitted by anonymous patients, and have not been verified by our internal team.
How many participants are being tracked for this research project?
"Affirmative. Clinicaltrials.gov's data displays that this research project is in the process of recruiting participants, which was posted on April 15th 2021 and last updated on March 10th 2022. The study requires 144 people to be recruited at 1 site."
Is the research team actively enrolling participants in this trial?
"Affirmative. Information hosted on clinicaltrials.gov confirms that enrollment for this medical study, which was first posted on April 15th 2021, is still open. Approximately 144 patients need to be recruited from a single location."
Share this study with friends