Study Summary
This trial will test if a new treatment for scoliosis, called vertebral body tethering, is safe and effective.
Adolescent Idiopathic Scoliosis

Scoliosis

Osteopathy

Juvenile Scoliosis

Spinal Diseases

Musculoskeletal Disorders
Study Objectives
1 Primary · 2 Secondary · Reporting Duration: 2 years after last subject's device implantation
Efficacy: Comparison of Preoperative and Postoperative Cobb Angle
Feasibility: Incidence of Successfully Implanted Tether Devices
Safety: Incidence of Treatment-Emergent Adverse Events
Trial Safety
Awards & Highlights
All patients enrolled in this trial will receive the new treatment.
Trial Design
1 Treatment Group
Anterior Vertebral Body Tethering
1 of 1
2 Total Participants · 1 Treatment Group
Primary Treatment: Anterior Vertebral Body Tethering · No Placebo Group · N/A
Anterior Vertebral Body Tethering
Experimental Group · 1 Intervention: Anterior Vertebral Body Tethering · Intervention Types: Device
Trial Logistics
Trial Timeline
Reporting: 2 years after last subject's device implantation
Who is running the clinical trial?
Ochsner Health System
Lead Sponsor
91 Previous Clinical Trials
184,874 Total Patients Enrolled
Lawrence Haber
Lead Sponsor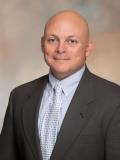 Lawrence Haber, MD
5.0
4 Reviews
Principal Investigator - Ochsner Health System
1 Previous Clinical Trials
95 Total Patients Enrolled
They're an excellent communicator and great at speaking to both parents and children. I would recommend them without reservation.
Eligibility Criteria
Age 8 - 16 · All Participants · 4 Total Inclusion Criteria
Mark "Yes" if the following statements are true for you:
It's okay if you have spina bifida occulta.
You have been diagnosed with a type of spinal curvature called idiopathic scoliosis.
Your spine curves at an angle between 35 and 60 degrees from the middle of your back to your lower back.
You have a certain type of spinal curvature, as determined by your doctor, which is classified as Lenke 1, 2, 3, 5, or 6.
Frequently Asked Questions
What criteria must a participant meet to be eligible for inclusion in this trial?
"This study seeks 40 children aged 8 to 16 with scoliosis. Preliminary requirements include: Sanders bone age ≤4; presence of Spina bifida occulta permitted; thoracic or thoracolumbar/lumbar curves ≥35 degrees and <60 degrees from T4-L3 levels; spondylolysis and spondylolisthesis permissible, so long as the patient has not undergone any surgery nor plans to in the future." - Anonymous Online Contributor
Does this clinical trial allow for new participants to join?
"Affirmative, according to the information on clinicaltrials.gov this investigation is presently recruiting volunteers. It was first made available on June 24th 2019 and its details were last modified July 23rd of the same year. The study requires 40 people for a single locale." - Anonymous Online Contributor
What is the magnitude of participation in this clinical investigation?
"Affirmative. Records on clinicaltrials.gov demonstrate that this research is now enrolling participants, with the initial posting having been made on June 24th 2019 and recently updated on July 23rd 2019. The trial necessitates 40 patients from a single location." - Anonymous Online Contributor
Can persons under the age of 70 participate in this research?
"This research is recruiting individuals aged between 8 and 16 years old." - Anonymous Online Contributor
Please Note: These questions and answers are submitted by anonymous patients, and have not been verified by our internal team.