Your session is about to expire
We'll log you out in 60 seconds unless you choose to continue
← Back to Search
Prostacyclin Analogue
Inhaled Treprostinil for Pulmonary Fibrosis
(TETON Trial)
Research Sponsored by United Therapeutics
Eligibility Criteria Checklist
Specific guidelines that determine who can or cannot participate in a clinical trial
Must have
The subject has a diagnosis of IPF based on the 2018 ATS/ERS/JRS/ALAT Clinical Practice Guideline (Raghu 2018) and confirmed by central review of high-resolution computed tomography (HRCT) (performed within the previous 12 months), and if available, surgical lung biopsy.
FVC ≥45% predicted at Screening.
Must not have
Be younger than 18 years old
TETON Trial Summary
This trial will study the safety and effectiveness of inhaled treprostinil in people with a lung disease called idiopathic pulmonary fibrosis.
Idiopathic Pulmonary Fibrosis

Interstitial Lung Disease
TETON Trial Eligibility Criteria
Inclusion Criteria
You will be eligible if you check "Yes" for the criteria below
TETON Trial Timeline
Screening ~ 3 weeks
1 visit
Treatment ~ 12 months
8 visits
This trial's timeline: 3 weeks for screening, 12 months for treatment, and week 52 for reporting.
Treatment Details
Study Objectives
Outcome measures can provide a clearer picture of what you can expect from a treatment.
Change in Absolute FVC from Baseline to Week 52
Secondary outcome measures
Change in % Predicted FVC from Baseline to Week 52
Change in DLCO from Baseline to Week 52
Change in K-BILD Questionnaire Score from Baseline to Week 52
+3 more
Side effects data
From 2019 Phase 2 & 3 trial • 326 Patients • NCT02630316
7%
Upper respiratory tract infection
6%
N-terminal prohormone brain natriuretic peptide increased
2%
Acute respiratory failure
2%
Interstitial lung disease
1%
Bronchopulmonary aspergillosis
1%
Cardiopulmonary failure
1%
Left ventricular failure
1%
Right ventricular failure
1%
Chronic obstructive pulmonary disease
1%
Chronic respiratory failure
1%
Combined pulmonary fibrosis and emphysema
1%
Idiopathic pulmonary fibrosis
1%
Acute myocardial infarction
1%
Acute right ventricular failure
1%
Cardiac failure congestive
Study treatment Arm
Placebo
Active Inhaled Treprostinil
Awards & Highlights
The final step before approval, pivotal trials feature drugs that have already shown basic safety & efficacy.
TETON Trial Design
Group I: Inhaled Treprostinil
Experimental Treatment
2 Interventions
Treprostinil for inhalation solution (0.6 mg/mL) delivered via an ultrasonic nebulizer which emits a dose of approximately 6 mcg per breath. Inhaled QID and titrated up to a target of 12 breaths QID or until the subject reaches their maximum clinically tolerated dose.
Group II: Placebo
Placebo Group
2 Interventions
Matching placebo inhaled using an ultrasonic nebulizer QID
How many patients have taken this drug
Logistics
Other reimbursement is provided
Other forms of reimbursement are provided for this trial.
Who is running the clinical trial?
United Therapeutics
Lead Sponsor
107 Previous Clinical Trials
12,859 Total Patients Enrolled
3 Trials studying Idiopathic Pulmonary Fibrosis
1,383 Patients Enrolled for Idiopathic Pulmonary Fibrosis
Media Library


Eligibility Criteria:
This trial includes the following eligibility criteria:
You have a serious illness that is expected to significantly shorten your lifespan to less than 6 months.

The Investigator believes that the subject is able to communicate effectively with study personnel and that they are reliable, willing, and cooperative with the study requirements.

People taking pirfenidone or nintedanib must have been on a stable and optimized dose for at least 30 days before the study begins

Women who might become pregnant during the study must not be pregnant (confirmed by a urine pregnancy test), must not be breastfeeding, and must use two forms of contraception for the duration of the study and for at least 30 days after they stop taking the study drug.

If you are male and have a partner who could potentially become pregnant, you must use a condom for the duration of treatment and for at least 48 hours after discontinuing the study drug.

You cannot have participated in any experimental treatment or study within the past 30 days, except for observational or registry studies.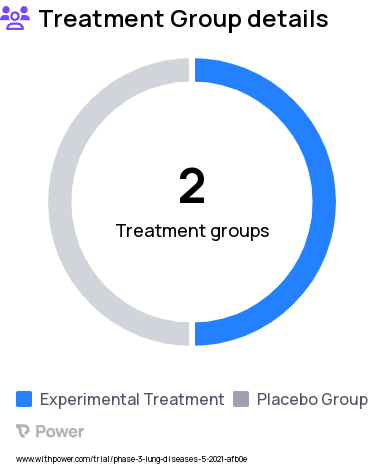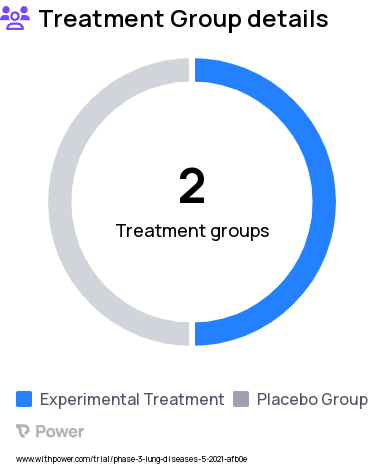 Research Study Groups:
This trial has the following groups:
Group 1: Placebo
Group 2: Inhaled Treprostinil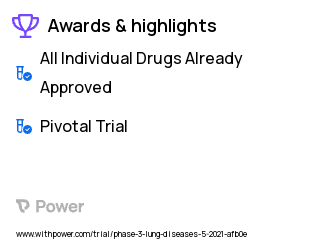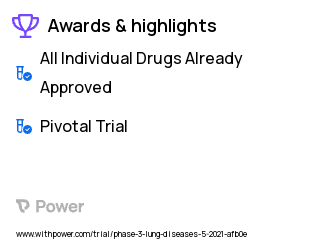 Awards:
This trial has 1 awards, including:
Pivotal Trial - The final step before approval, pivotal trials feature drugs that have already shown basic safety & efficacy.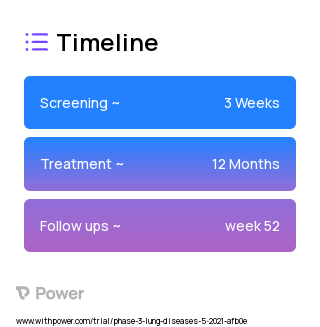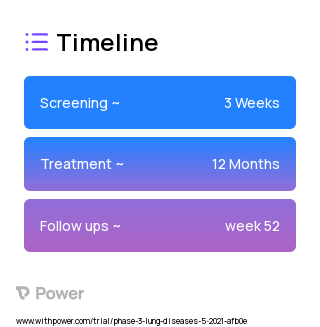 Timeline:
This trial has the following timeline:
Screening: It may take up to 3 Weeks to process to see if you qualify in this trial.
Treatment: You will receive the treatment for 12 Months
Follow Ups: You may be asked to continue sharing information regarding the trial for 6 Months after you stop receiving the treatment.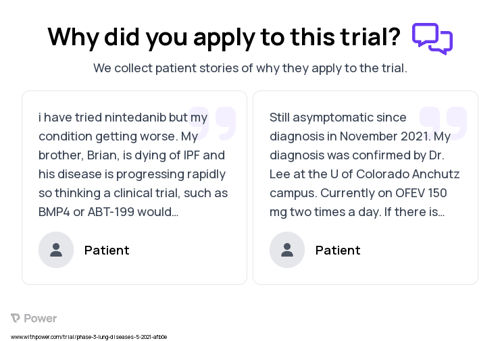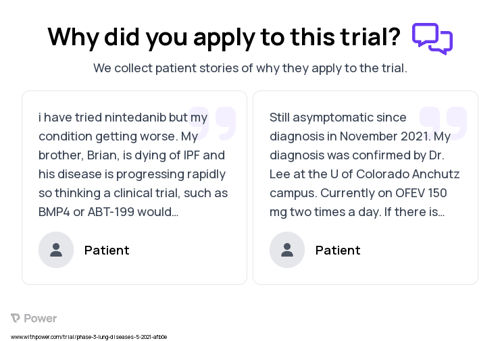 Idiopathic Pulmonary Fibrosis Patient Testimony for trial: Trial Name: NCT04708782 — Phase 3
Frequently Asked Questions
These questions and answers are submitted by anonymous patients, and have not been verified by our internal team.
Are there precedent studies on the efficacy of inhaled Treprostinil?
"There are nine active clinical trials related to inhaled treprostinil, four of which are in phase 3. Many of these are based in Little Rock, Arkansas, but there are 234 clinical trial sites for inhaled treprostinil in total."
Are there several sites running this trial in different cities?
"To enroll in this study, patients can visit one of the 72 sites that are currently recruiting. Some of these locations include Baltimore, Stanford and San Francisco. You can select the location nearest you to reduce travel time and inconvenience."
Which medical condition is Inhaled Treprostinil most often used as a treatment for?
"Inhaled Treprostinil is a common medication prescribed to patients with nyha functional class iii pulmonary arterial hypertension. This medication can also help patients that suffer from other conditions like nyha functional class iii, pulmonary arterial hypertension, and who functional class ii-iii pulmonary arterial hypertension."
What makes this trial unique compared to others like it?
"Inhaled Treprostinil has been under scientific scrutiny since 2015. The first clinical trial, which was conducted in 2015 and sponsored by United Therapeutics, involved 70 participants. Following the success of the first Phase 2 trial, Inhaled Treprostinil received drug approval. Today, there are 9 active trials in 101 cities and 6 countries."
Has inhaled Treprostinil received regulatory approval from the FDA?
"Inhaled Treprostinil has received a score of 3 for safety. This is based on the fact that it is a Phase 3 trial, where there is already some evidence of efficacy, as well as multiple rounds of data that support safety."
Are we still looking for more participants for this experiment?
"Yes, this clinical trial is recruiting patients according to the latest information available on clinicaltrials.gov. The listing for this trial was first posted on June 1, 2021 and was most recently updated on November 3, 2022."
How many people are able to join this clinical trial?
"That is accurate. The clinicaltrial.gov website contains information revealing that this trial is actively recruiting patients. The trial was posted on June 1, 2021, and the most recent update was on November 3, 2022. They are looking for a total of 396 patients from 72 different locations."
Who else is applying?
What state do they live in?
What site did they apply to?
David Geffen School of Medicine at UCLA
Baylor University Medical Center
What portion of applicants met pre-screening criteria?
How many prior treatments have patients received?
What questions have other patients asked about this trial?
How soon can we start?
Patient
Received 2+ prior treatments
Why did patients apply to this trial?
Unable to take OFEV. I am currently using Ofev. i have tried nintedanib but my condition getting worse.
Patient
Received 2+ prior treatments
My brother, Brian, is dying of IPF and his disease is progressing rapidly so thinking a clinical trial, such as BMP4 or ABT-199 would potentially extend his life and allow him to have a better quality of life.
Patient
Received no prior treatments
I have no quality of life anymore my physical ability is limited according to ct scans from last year to this year scaring in my lungs is progressing at the rate that my pulmonologist has ordered another bronchial scope two with in one year.
Patient
Received 2+ prior treatments
How responsive is this trial?
Most responsive sites:
East Carolina University and Leo Jenkins Cancer Center Room 243: < 24 hours
Share this study with friends