Your session is about to expire
We'll log you out in 60 seconds unless you choose to continue
← Back to Search
Behavioral Intervention
Tai Chi for Osteoarthritis
Led By Chenchen Wang, MD, MSc
Research Sponsored by Tufts Medical Center
Eligibility Criteria Checklist
Specific guidelines that determine who can or cannot participate in a clinical trial
Must have
Baseline (Month 0) WOMAC pain subscale score ≥ 40
Fulfills the American College of Rheumatology Criteria for symptomatic OA
Must not have
Be younger than 18 years old
Follow Up
from week 0, to week 12, or to week 24
Study Summary
This triallooks at how exercise and education can affect gut microbiota in people with osteoarthritis, as a first step towards larger trials.
Eligibility Criteria
Inclusion Criteria
You will be eligible if you check "Yes" for the criteria below
Timeline
Screening ~ 3 weeks
3 visits
Follow Up ~ from week 0, to week 12, or to week 24
Follow Up ~
from week 0, to week 12, or to week 24
This trial's timeline: 3 weeks for screening, Varies for treatment, and from week 0, to week 12, or to week 24 for reporting.
Treatment Details
Study Objectives
Outcome measures can provide a clearer picture of what you can expect from a treatment.
Secondary outcome measures
Change in Body mass index
Change in Hospital Anxiety and Depression Scale
Change in Medical Outcome 36-Item Short-Form Health Survey
+1 more
Trial Design
Group I: Tai Chi
Active Control
1 Intervention
12 weeks of Tai Chi classes
Group II: Wellnes Education
Placebo Group
1 Intervention
12 weeks of Wellness Education classes
Who is running the clinical trial?

Tufts Medical Center
Lead Sponsor
249 Previous Clinical Trials
253,206 Total Patients Enrolled
8 Trials studying Osteoarthritis
690 Patients Enrolled for Osteoarthritis
Chenchen Wang, MD, MSc
Principal Investigator
Tufts Medical Center
5 Previous Clinical Trials
589 Total Patients Enrolled
2 Trials studying Osteoarthritis
244 Patients Enrolled for Osteoarthritis
Media Library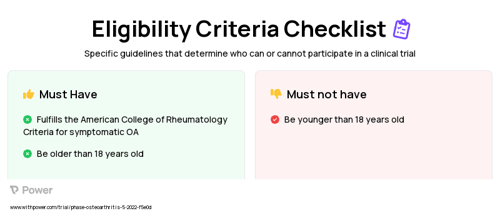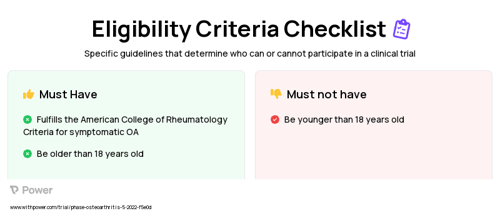 Eligibility Criteria:
This trial includes the following eligibility criteria:
You have taken antibiotics or probiotics in the last 4 weeks, you have had gastrointestinal issues like irritable bowel syndrome, inflammatory bowel disease, or history of gastrointestinal cancer or surgery. You may also have had severe gastrointestinal symptoms that required medical attention, opportunistic infections or evidence of hepatitis B or C virus infection.

You have a serious medical condition, such as dementia, cancer, heart, kidney, or liver disease that may limit your ability to participate in the study.

You are 55 years of age or older.

Your WOMAC pain subscale score is 40 or higher at baseline (Month 0).

You meet the standards set by the American College of Rheumatology for symptomatic osteoarthritis.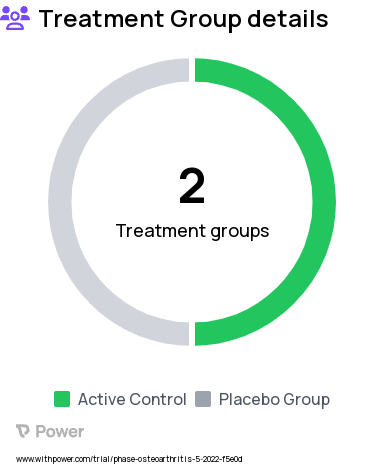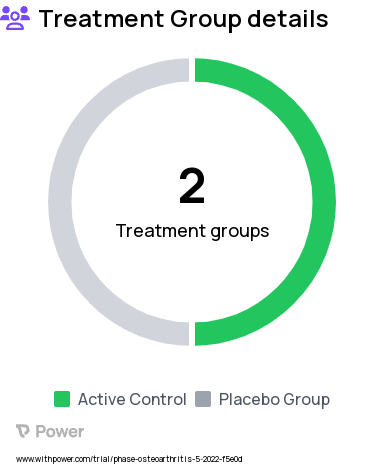 Research Study Groups:
This trial has the following groups:
Group 1: Wellnes Education
Group 2: Tai Chi
Awards:
This trial has 0 awards, including: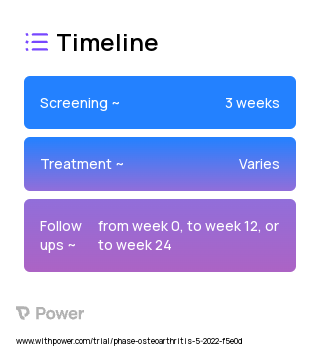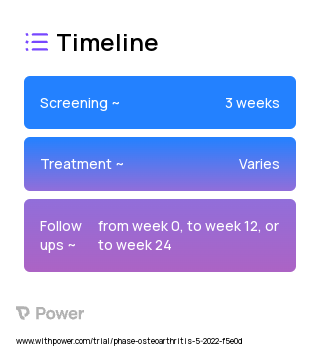 Timeline:
This trial has the following timeline:
Screening: It may take up to 3 Weeks to process to see if you qualify in this trial.
Treatment: The duration you will receive the treatment varies.
Follow Ups: You may be asked to continue sharing information regarding the trial for 6 Months after you stop receiving the treatment.
Frequently Asked Questions
These questions and answers are submitted by anonymous patients, and have not been verified by our internal team.
Is there still the potential to join this experiment?
"Evidenced by clinicaltrials.gov, this trial is no longer seeking candidates and has not been since it was last updated on November 14th 2022. Though the study isn't actively recruiting, 613 other medical experiments are currently looking for volunteers."
Who else is applying?
What state do they live in?
What portion of applicants met pre-screening criteria?
What site did they apply to?
Tufts Medical Center, Rheumatology
How many prior treatments have patients received?
Why did patients apply to this trial?
To understand more of my ailments.
Patient
Received 2+ prior treatments
Share this study with friends