Behavioral Intervention
ENGAGE for Multiple Disabilities
Research Sponsored by University of Illinois at Chicago
Eligibility Criteria Checklist
Specific guidelines that determine who can or cannot participate in a clinical trial
Must have
Report problems with social participation
Self-identify as disabled
Must not have
Be younger than 18 years old
Study Summary
This trial will examine how a community-based intervention helps people with disabilities during the pandemic, like social participation and satisfaction. Results will help inform a future trial.
Eligibility Criteria
Inclusion Criteria
You will be eligible if you check "Yes" for the criteria below
You report

issues with engaging in social activities

.
You

identify yourself as having a disability

.
Timeline
Screening ~ 3 weeks
3 visits
This trial's timeline: 3 weeks for screening, Varies for treatment, and 8 weeks for reporting.
Treatment Details
Study Objectives
Outcome measures can provide a clearer picture of what you can expect from a treatment.
Secondary outcome measures
Awards & Highlights
All patients enrolled in this study will receive some form of active treatment.
Trial Design
Group I: ENGAGE
Experimental Treatment
1 Intervention
ENGAGE uses social learning, guided problem-solving and applied skill training to promote social participation among people with disabilities within the context of the COVID-19 pandemic. This is a group intervention using a self-management framework.
How many patients have taken this drug
Who is running the clinical trial?
National Center for Advancing Translational Sciences (NCATS)
NIH
274 Previous Clinical Trials
386,997 Total Patients Enrolled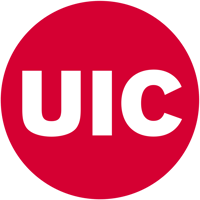 University of Illinois at Chicago
Lead Sponsor
572 Previous Clinical Trials
1,554,888 Total Patients Enrolled
Joy Hammel, PhD
Principal Investigator
University of Illinois Chicago
1 Previous Clinical Trials
38 Total Patients Enrolled
Media Library


ENGAGE (Behavioral Intervention) Clinical Trial Eligibility Overview. Trial Name: NCT05792852 — N/A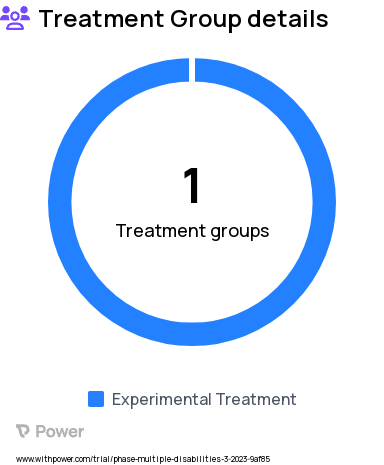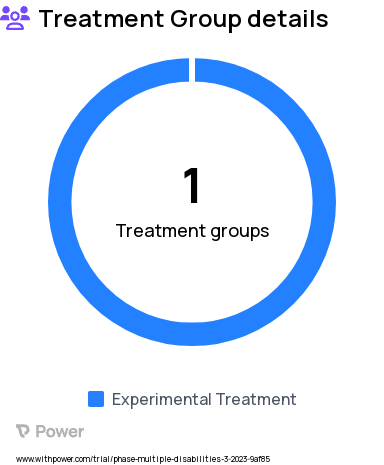 Multiple Disabilities Research Study Groups: ENGAGE
Multiple Disabilities Clinical Trial 2023: ENGAGE Highlights & Side Effects. Trial Name: NCT05792852 — N/A
ENGAGE (Behavioral Intervention) 2023 Treatment Timeline for Medical Study. Trial Name: NCT05792852 — N/A
Frequently Asked Questions
These questions and answers are submitted by anonymous patients, and have not been verified by our internal team.
Do you have any vacancies for those interested in participating in this trial?
"It appears this trial is no longer enrolling patients, as the last update to clinicaltrials.gov was on March 27th of 2023. There are fortunately 4 other trials that are currently in need of participants at this time."