Dietary Supplement
Low-oxalate controlled diet for Kidney Stones
University of Alabama at Birmingham, Birmingham, AL
Targeting 3 different conditions
Low-oxalate controlled diet

+1 more
N/A
Recruiting
Led by Sonia Fargue, PhD
Research Sponsored by University of Alabama at Birmingham
Eligibility Criteria Checklist
Specific guidelines that determine who can or cannot participate in a clinical trial
Must have
Body Mass Index (BMI) between 18.5 and 50 kg/m2
Be older than 18 years old
Must not have
Be younger than 18 years old
Study Summary
This trial will study how much oxalate the body produces each day, using a low-oxalate diet and measuring the amount of a radioactive tracer in the body.
Kidney Stones

Healthy Subjects

Obesity
Eligibility Criteria
Inclusion Criteria
You will be eligible if you check "Yes" for the criteria below
Your body mass index (BMI) falls between 18.5 and 50 kg/m2.
Timeline
Screening ~ 3 weeks
3 visits
This trial's timeline: 3 weeks for screening, Varies for treatment, and day 3-4 for reporting.
Treatment Details
Study Objectives
Outcome measures can provide a clearer picture of what you can expect from a treatment.
Endogenous Oxalate Synthesis Rate
Secondary outcome measures
Urinary Oxalate excretion
Urinary creatinine excretion
Awards & Highlights
All patients enrolled in this study will receive some form of active treatment.
Trial Design
Group I: Constant infusion of 13C2-oxalate
Experimental Treatment
2 Interventions
Subjects who have passed screening, will consume a low-oxalate, normal calcium controlled diet for 5 days total. On Days 3 and 4, subjects will collect two 24-hour urines. On Day 5, they will receive a carbon 13 oxalate infusion which will occur at a constant rate for 6 hours, in the fasted state, following a priming dose. Hourly urine and twice hourly blood samples will be collected during the 6 hours. Meals will be resumed at the end of the infusion and timed urine collections will take place at home until the next day. A DXA scan will be performed to assess body composition at another date.
Who is running the clinical trial?
University of Alabama at Birmingham
Lead Sponsor
1,499 Previous Clinical Trials
2,255,616 Total Patients Enrolled
11 Trials studying Kidney Stones
610 Patients Enrolled for Kidney Stones
Sonia Fargue, PhD
Principal Investigator
University of Alabama at Birmingham
Media Library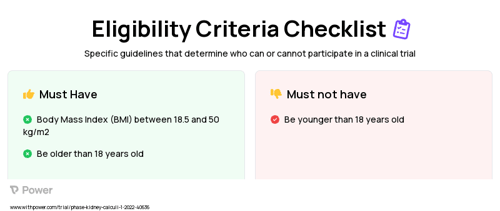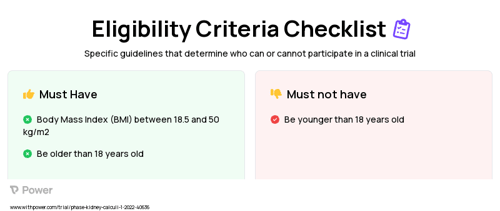 Low-oxalate controlled diet (Dietary Supplement) Clinical Trial Eligibility Overview. Trial Name: NCT05229952 — N/A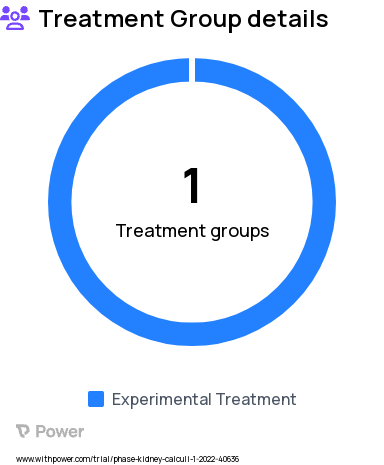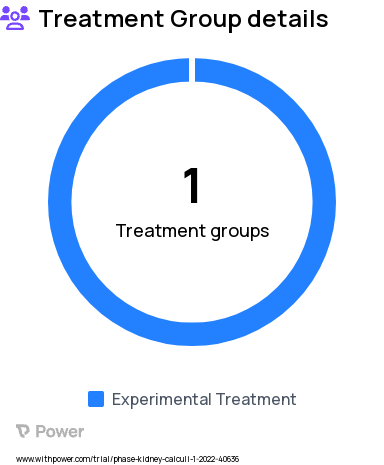 Kidney Stones Research Study Groups: Constant infusion of 13C2-oxalate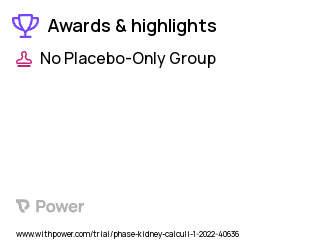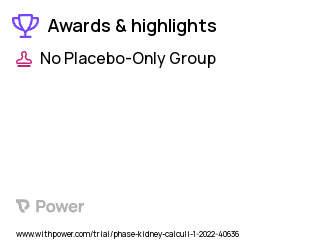 Kidney Stones Clinical Trial 2023: Low-oxalate controlled diet Highlights & Side Effects. Trial Name: NCT05229952 — N/A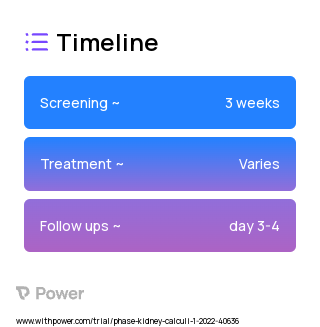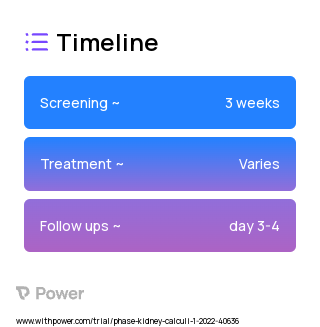 Low-oxalate controlled diet (Dietary Supplement) 2023 Treatment Timeline for Medical Study. Trial Name: NCT05229952 — N/A
Frequently Asked Questions
These questions and answers are submitted by anonymous patients, and have not been verified by our internal team.
Does this research project allow for participants of a younger age bracket to partake?
"This clinical research project is open to applicants between the ages of 18 and 75. Separately, there are 258 trials that cater specifically to minors while 1036 aim at patients over 65 years old."
Is this experiment recruiting participants at the moment?
"According to the information made available on clinicaltrials.gov, this medical study is currently recruiting participants as of February 21st 2022 (last update). This trial was first posted online a mere 11 days prior on February 10th."
Is my participation in this research experiment permissible?
"In order to be eligible for this medical research, subjects must have a current diagnosis of kidney stones and fall within the age group between 18 and 75. A total of 60 participants are being admitted into the study."
What is the upper limit of participants taking part in this experiment?
"Affirmative. According to clinicaltrials.gov, the trial which was first published on February 10th 2022 is still enrolling participants. Approximately 60 volunteers are needed from a single medical facility."