Diet and Exercise for Female Infertility
Research Sponsored by Arkansas Children's Hospital Research Institute
Eligibility Criteria Checklist
Specific guidelines that determine who can or cannot participate in a clinical trial
Must have
Be older than 18 years old
Must not have
Be younger than 18 years old
Study Summary
This trial looks at whether a change in diet and exercise can impact fertility treatment in women.
Eligibility Criteria
Inclusion Criteria
You will be eligible if you check "Yes" for the criteria below
You have a body mass index (BMI)

between 25 and 45

.
Timeline
Screening ~ 3 weeks
3 visits
This trial's timeline: 3 weeks for screening, Varies for treatment, and 8-12 weeks for reporting.
Treatment Details
Study Objectives
Outcome measures can provide a clearer picture of what you can expect from a treatment.
Oocyte gene expression profile
Awards & Highlights
All patients enrolled in this study will receive some form of active treatment.
Trial Design
Group I: Diet and Exercise
Active Control
2 Interventions
Group 1 = Diet Intervention group: They will be asked to follow a personalized diet during study period and record what they eat. The meal plan for this study is Mediterranean style and nutritionally complete for 8 to 12 weeks or until oocyte retrieval procedure. Exercise Intervention: Exercise 3 times/week at a gym of their choice or at home for 8 to 12 weeks or until oocyte retrieval procedure. Exercises will be light intensity and short duration at first and will gradually increase to moderate intensity and longer duration during the first 3 weeks. They will also be encouraged to walk an average 10,000 steps per day and wear a pedometer to monitor progress.
Group II: Standard Care
Active Control
1 Intervention
Group 2 = Standard: They will receive standard care from the Little Rock Fertility Center.
Who is running the clinical trial?
Arkansas Children's Hospital Research Institute
Lead Sponsor
135 Previous Clinical Trials
5,029,340 Total Patients Enrolled
Media Library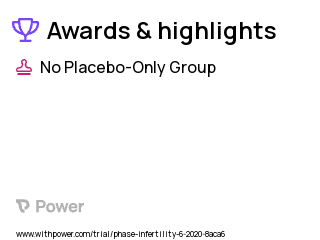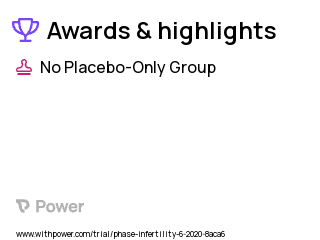 Female Infertility Clinical Trial 2023: Diet Intervention Highlights & Side Effects. Trial Name: NCT04273048 — N/A
Frequently Asked Questions
These questions and answers are submitted by anonymous patients, and have not been verified by our internal team.
Are investigators still signing up patients for this research?
"The trial, which was first announced on 7/21/2020, is currently looking for participants. The information available on clinicaltrials.gov was last updated on 8/4/2022."
Who else is applying?
What state do they live in?
What site did they apply to?
Arkansas Children's Nutrition Center
What portion of applicants met pre-screening criteria?
How many prior treatments have patients received?
What questions have other patients asked about this trial?
How long do screenings take?
Why did patients apply to this trial?
I have undergone IVF before. I have had 3 egg retrievals and 7 embryo transfers. One live birth.