Your session is about to expire
We'll log you out in 60 seconds unless you choose to continue
← Back to Search
Eligibility Criteria Checklist
Specific guidelines that determine who can or cannot participate in a clinical trial
Must have
Infertile women undergoing IVF treatment with ICSI
Be between 18 and 65 years old
Must not have
Be younger than 18 years old
Be older than 65 years old
Follow Up
1 month after biopsy
ICSIA Trial Summary
This trial will compare how well an automated system does vs manual injection in fertilizing eggs and whether the eggs survive.
ICSIA Trial Eligibility Criteria
Inclusion Criteria
You will be eligible if you check "Yes" for the criteria below
ICSIA Trial Timeline
Screening ~ 3 weeks
3 visits
Follow Up ~ 1 month after biopsy
Follow Up ~
1 month after biopsy
This trial's timeline: 3 weeks for screening, Varies for treatment, and 1 month after biopsy for reporting.
Treatment Details
Study Objectives
Outcome measures can provide a clearer picture of what you can expect from a treatment.
Secondary outcome measures
Awards & Highlights
All patients enrolled in this study will receive some form of active treatment.
ICSIA Trial Design
Group I: ICSIA
Experimental Treatment
1 Intervention
Intracytoplasmic sperm injection will be performed using the automated system named ICSIA (investigational device)
Group II: Control
Experimental Treatment
1 Intervention
In this control group oocytes will undergo manual ICSI as is routinely performed.
Who is running the clinical trial?
Overture Life
Lead Sponsor
3 Previous Clinical Trials
687 Total Patients Enrolled
New Hope Fertility Center
OTHER
3 Previous Clinical Trials
978 Total Patients Enrolled
John Zhang, MD
Principal Investigator
New Hope Fertility Center
Media Library


Eligibility Criteria:
This trial includes the following eligibility criteria: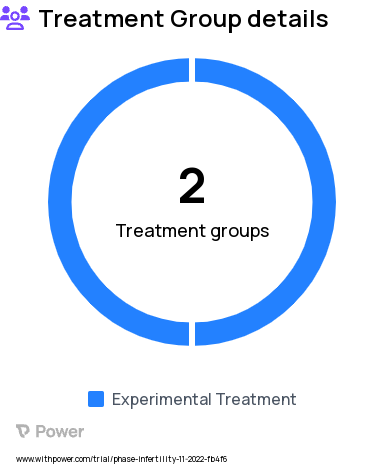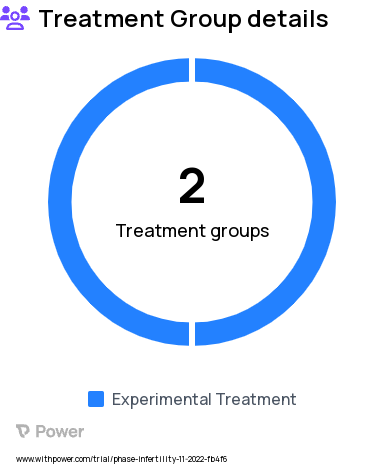 Research Study Groups:
This trial has the following groups:
Group 1: ICSIA
Group 2: Control
Awards:
This trial has 1 awards, including:
No Placebo-Only Group - All patients enrolled in this study will receive some form of active treatment.
Timeline:
This trial has the following timeline:
Screening: It may take up to 3 Weeks to process to see if you qualify in this trial.
Treatment: The duration you will receive the treatment varies.
Follow Ups: You may be asked to continue sharing information regarding the trial for 6 Months after you stop receiving the treatment.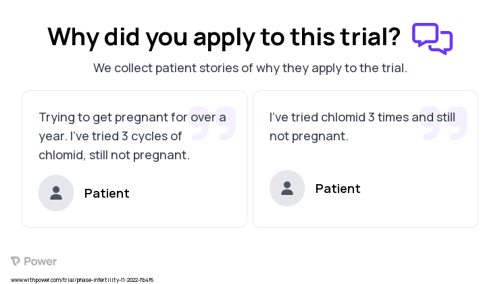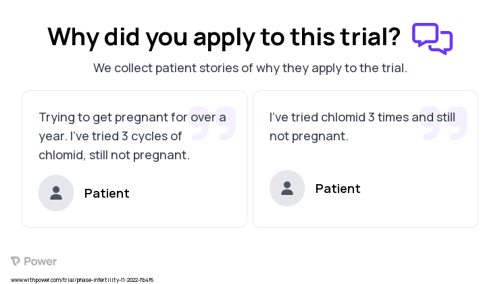 Female Infertility Patient Testimony for trial: Trial Name: NCT05633316 — N/A
Frequently Asked Questions
These questions and answers are submitted by anonymous patients, and have not been verified by our internal team.
Is there still an opportunity for participants to join this experiment?
"This investigation is not accepting recruits at the present time, as per clinicaltrials.gov records which indicate the first posting of this trial to be December 31st 2022 and its last update on December 5th 2022. However, there are 247 additional trials actively recruiting patients right now."
Does this trial accept participants of an advanced age?
"This medical trial has established an age requirement of 18-50. For patients below the minimum or above maximum, there are 14 trials for minors and 33 trials designed specifically with the elderly in mind."
Is it possible to sign up for this research program?
"This research is seeking 10 female participants aged 18-50 who have been diagnosed with infertility and are undergoing In Vitro Fertilization (IVF) paired with Intracytoplasmic Sperm Injection (ICSI)."
Who else is applying?
What state do they live in?
What site did they apply to?
New Hope Fertility Center
What portion of applicants met pre-screening criteria?
How many prior treatments have patients received?
What questions have other patients asked about this trial?
What is the timing process for this trial?
Patient
Received 1 prior treatment
Why did patients apply to this trial?
Trying to get pregnant for over a year. I've tried 3 cycles of chlomid, still not pregnant.
Patient
Received 2+ prior treatments
I've tried chlomid 3 times and still not pregnant. I have tried medicated IUI and it did not work, so I am hopeful this would help us achieve our dreams. We also really would love to help to find something that would help women get pregnant since we know what a struggle infertility has been for us.
Patient
Received no prior treatments
Recent research and studies
Share this study with friends