Other
Sperm Sorting for Infertility
Center for Reproductive Medicine- Weill Cornell Medicine, New York, NY
Targeting 2 different conditions
Sperm Sorting
N/A
Recruiting
Led by Gianpiero Palermo, MD, PhD
Research Sponsored by Weill Medical College of Cornell University
Eligibility Criteria Checklist
Specific guidelines that determine who can or cannot participate in a clinical trial
Must have
Couples undergoing infertility treatment with IVF or insemination seeking gender specific offspring for medical and non medical reasons
Be older than 18 years old
Must not have
Be younger than 18 years old
Study Summary
This trial is testing a new way to pick gender-specific sperm for in vitro fertilization or intrauterine insemination.
Infertility

In Vitro Fertilization
Eligibility Criteria
Inclusion Criteria
You will be eligible if you check "Yes" for the criteria below
You are a couple

seeking to have a baby

of a

specific gender

through

IVF or insemination

for

non-medical reasons

.
Timeline
Screening ~ 3 weeks
3 visits
This trial's timeline: 3 weeks for screening, Varies for treatment, and 8 years for reporting.
Treatment Details
Study Objectives
Outcome measures can provide a clearer picture of what you can expect from a treatment.
Rate of embryos of the desired gender in couples
Rate of gender bearing spermatozoa after 4-layer density gradient
Rate of offspring of the desired gender in couples
Awards & Highlights
All patients enrolled in this study will receive some form of active treatment.
Trial Design
Group I: Sperm sorting
Experimental Treatment
1 Intervention
Selection of gender specific spermatozoa using a multilayer density gradient
Who is running the clinical trial?

Weill Medical College of Cornell University
Lead Sponsor
1,025 Previous Clinical Trials
1,317,616 Total Patients Enrolled
24 Trials studying Infertility
6,671 Patients Enrolled for Infertility
Gianpiero Palermo, MD, PhD
Principal Investigator
Weill Medical College of Cornell University
1 Previous Clinical Trials
1,200 Total Patients Enrolled
1 Trials studying Infertility
1,200 Patients Enrolled for Infertility
Media Library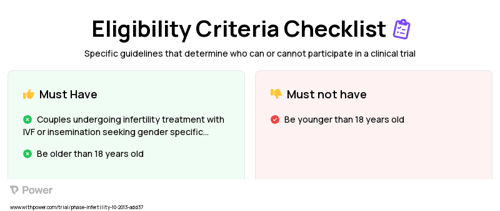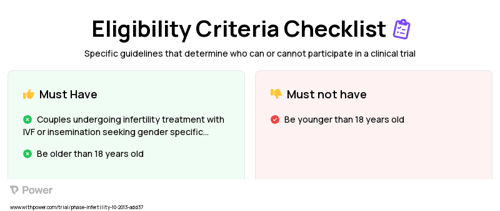 Sperm Sorting (Other) Clinical Trial Eligibility Overview. Trial Name: NCT05500573 — N/A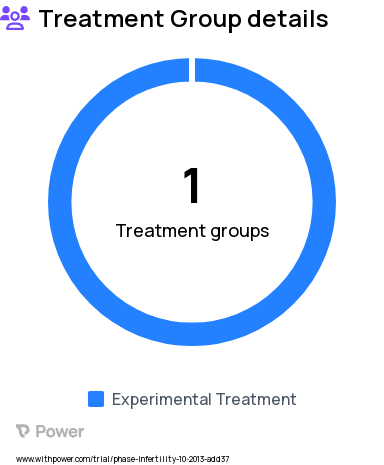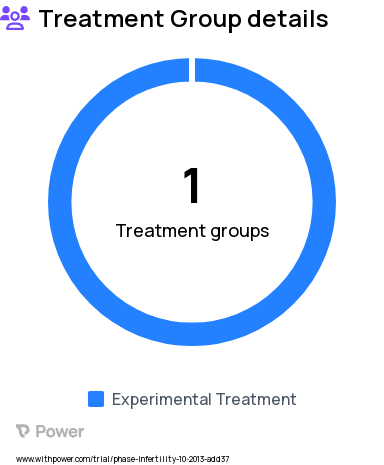 Infertility Research Study Groups: Sperm sorting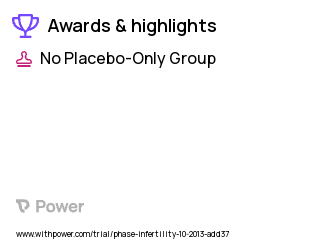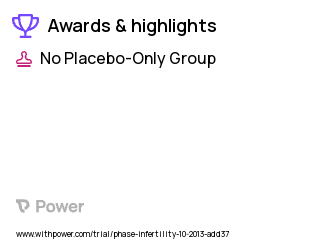 Infertility Clinical Trial 2023: Sperm Sorting Highlights & Side Effects. Trial Name: NCT05500573 — N/A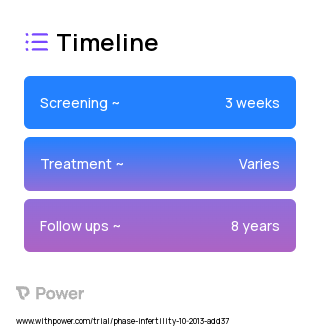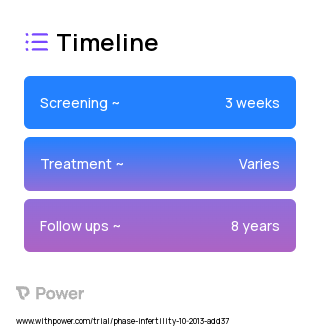 Sperm Sorting (Other) 2023 Treatment Timeline for Medical Study. Trial Name: NCT05500573 — N/A
Infertility Patient Testimony for trial: Trial Name: NCT05500573 — N/A
Frequently Asked Questions
These questions and answers are submitted by anonymous patients, and have not been verified by our internal team.
To whom is this research open for enrollment?
"Acceptance to this medical trial necessitates that participants are dealing with infertility and in the age range of 18 - 89. Upwards of 2000 patients need to be enrolled before the clinical investigation can commence."
What is the magnitude of participants for this research study?
"Affirmative. Clinicaltrials.gov indicates that the study was announced on November 6th 2013 and is still actively enrolling participants as of August 11th 2022. To date, 2000 patients have been accepted from a single medical site for this trial."
Is eligibility for this trial restricted to individuals under 30 years of age?
"Conforming to this clinical trial's selection criteria, the minimum age for enrolment is 18 years old and maximum permissible age is 89."
Are there still available slots in this clinical experiment?
"Per the information on clinicaltrials.gov, this investigation is recruiting patients at this time. The initial posting of the trial was made November 6th 2013 and its latest update occurred August 11th 2022."
Who else is applying?
What state do they live in?
What site did they apply to?
Center for Reproductive Medicine- Weill Cornell Medicine
What portion of applicants met pre-screening criteria?
How many prior treatments have patients received?
Why did patients apply to this trial?
No pregnancy in over a year. I've tried three cycles of chlomid. Still not pregnant.
Seeking to have another child preferably a boy since we already have a daughter.
I have tried Letrozole. I ovulate successfully but haven't been able to get pregnant.
My husband and I are wanting a baby but my tube is blocked and I keep having ectopics.
What questions have other patients asked about this trial?
How long do screening visits take? Where is the IVF conducted? What is the cost? What is the support offered?