Grafting
Strip Free gingival graft (SGG) + Acellular Dermal Matrix graft (ADM) for Peri-implant Mucositis
Research Sponsored by University of Alabama at Birmingham
Eligibility Criteria Checklist
Specific guidelines that determine who can or cannot participate in a clinical trial
Must have
Patients with teeth/implants lacking keratinized tissue.
Presence of periodontally healthy, non-carious neighboring teeth, healthy implants or edentulous ridges on either side of the involved site(s)
Must not have
Be younger than 18 years old
Follow Up
from baseline to 12 months
Study Summary
This trial is comparing two techniques to improve the quality of tissue lacking keratinization, either through soft tissue grafting with autogenous material or strip gingival grafting with acellular dermal matrix.
Peri-implant Mucositis

Gum Recession
Eligibility Criteria
Inclusion Criteria
You will be eligible if you check "Yes" for the criteria below
You have

missing or damaged gum tissue

around your teeth or dental implants.
The

affected teeth or implants

are

surrounded by healthy teeth or gums

.
Timeline
Screening ~ 3 weeks
3 visits
Follow Up ~ from baseline to 12 months
Follow Up ~
from baseline to 12 months
This trial's timeline: 3 weeks for screening, Varies for treatment, and from baseline to 12 months for reporting.
Treatment Details
Study Objectives
Outcome measures can provide a clearer picture of what you can expect from a treatment.
Quality of soft tissue regenerated
Quantity of soft tissue regenerated (Width of Keratinized Tissue)
Awards & Highlights
All patients enrolled in this study will receive some form of active treatment.
Trial Design
Group I: Strip Free gingival graft (SGG) + Acellular Dermal Matrix graft (ADM)
Experimental Treatment
1 Intervention
A horizontal incision is then placed at the middle of residual KT. Two vertical releasing incisions are followed to allow for apical displacement of the flap. The recipient site should ideally retain intact periosteum that is firmly attached to bone with no loose fibers, no irregularities and no perforations. A strip of a free gingival graft is then harvested from the patient's palate. This strip is only 2 to 3 mm wide ,1 to 1.5 mm thick and has an appropriate length to cover the full apical extension of the recipient site. The strip is sutured immediately with 6-0 monocryl sutures. Coronal to the strip, the periosteal bed is covered with ADM, which is already rehydrated in sterile saline for 10 min, trimmed and customized to fit the available space. The ADM is then stabilized on the periosteal bed with the epithelium side facing upward. The ADM is fixed on the recipient bed by periosteal 6-0 monocryl sutures.
Group II: Free gingival graft.
Active Control
1 Intervention
Two vertical incisions are made, and a partial thickness flap are designed to provide a firm and immobile periosteal bed. The raised partial thickness flap will be excised. Muscle and unattached connective tissue fibers are thoroughly scraped with a scalpel to prevent graft mobility. Autogenous FGG was harvested with #15C scalpel blade from hard palate at the same side randomly selected to receive the FGG. Donor area will be sutured with 5-0 gut sutures. FGG, is placed and stabilized with simple interrupted 5-0 vicryl sutures at recipient site coronal border and horizontal or periosteal anchorage sutures over the graft.
Who is running the clinical trial?
University of Alabama at Birmingham
Lead Sponsor
1,508 Previous Clinical Trials
2,256,541 Total Patients Enrolled
Media Library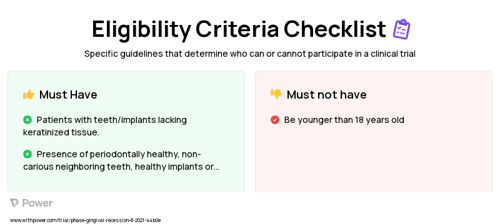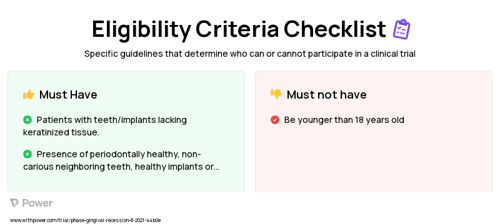 Free Gingival Graft (Grafting) Clinical Trial Eligibility Overview. Trial Name: NCT04920136 — N/A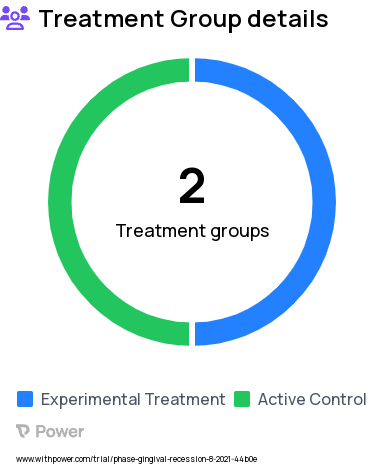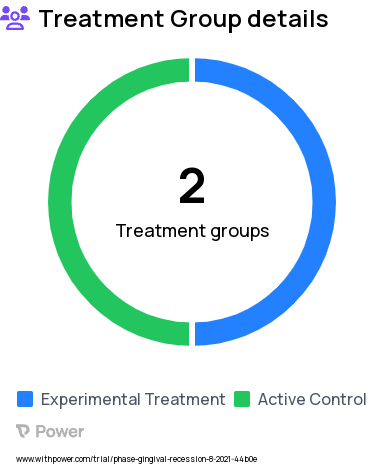 Peri-implant Mucositis Research Study Groups: Free gingival graft., Strip Free gingival graft (SGG) + Acellular Dermal Matrix graft (ADM)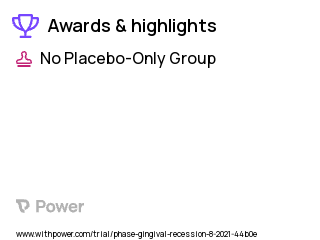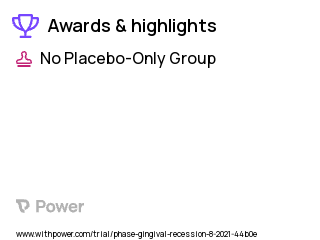 Peri-implant Mucositis Clinical Trial 2023: Free Gingival Graft Highlights & Side Effects. Trial Name: NCT04920136 — N/A
Free Gingival Graft (Grafting) 2023 Treatment Timeline for Medical Study. Trial Name: NCT04920136 — N/A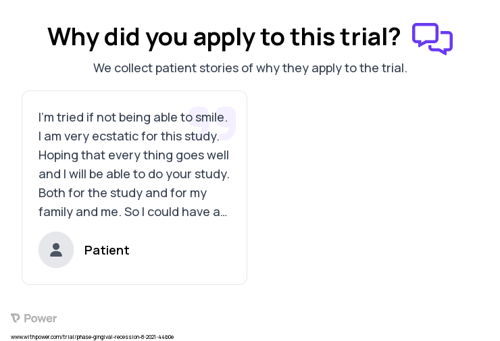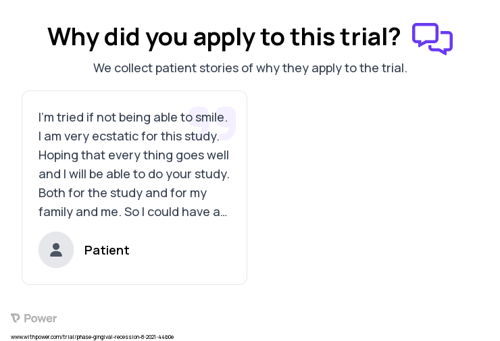 Peri-implant Mucositis Patient Testimony for trial: Trial Name: NCT04920136 — N/A
Frequently Asked Questions
These questions and answers are submitted by anonymous patients, and have not been verified by our internal team.
Is this research accommodating participants who are aged sixty and above?
"This trial allows all individuals aged 18 to 99 years old to participate, in accordance with the established inclusion criteria."
Is this examination still accepting participants?
"Yes, according to clinicaltrials.gov the trial is actively recruiting patients and was first posted on September 17th 2021. The last update made to this study was October 20th 2022 and a total of 20 individuals are being sought from one site."
May I partake in this research endeavor?
"This research initiative is recruiting 20 patients who have gingival atrophy, aged between 18 and 99. In addition to this requirement, they must be affiliated with UAB Dental School, possess periodontally healthy teeth or implants adjacent to the affected area(s), as well as meet the age of majority."
What is the most extensive participant count for this clinical experiment?
"Affirmative. Clinicaltrials.gov documents that, after first being posted on September 17th 2021, this research project is currently enlisting 20 participants from just one medical facility."
Who else is applying?
What state do they live in?
What site did they apply to?
Unversity of Alabama at Birmingham, School of Dentistry
What portion of applicants met pre-screening criteria?
How many prior treatments have patients received?
Why did patients apply to this trial?
I'm tried if not being able to smile. Want the best outcome for mouth health and to get implants ,but I have to get the receding gum line taken care of first.
I am very ecstatic for this study. Hoping that every thing goes well and I will be able to do your study. Both for the study and for my family and me. So I could have a better life. Thank U.
What questions have other patients asked about this trial?
Can you do a full set l? Does this entail the gum graft ans implants for mouth?
How responsive is this trial?
Most responsive sites:
Unversity of Alabama at Birmingham, School of Dentistry: < 24 hours