Laser Therapy
Erchonia® EVRL™ for Peripheral Neuropathy
Research Sponsored by Erchonia Corporation
Eligibility Criteria Checklist
Specific guidelines that determine who can or cannot participate in a clinical trial
Must have
Constant feet pain on-going over at least the past 3 months.
Agrees to refrain from taking a dosage of analgesic (pain medication) for at least 6 hours before a scheduled VAS foot pain rating is to be recorded.
Must not have
Be younger than 18 years old
Follow Up
baseline and 3 weeks
Study Summary
This trial will test whether the Erchonia EVRL machine can provide relief from foot pain caused by diabetic neuropathy.
Peripheral Neuropathy

Diabetic Neuropathy
Eligibility Criteria
Inclusion Criteria
You will be eligible if you check "Yes" for the criteria below
You have been experiencing

consistent foot pain

for

at least 3 months

.
You can't take any pain medication for at least 6 hours before we measure your foot pain.
You have

foot pain

that scores 50 or higher on a 0-100 pain scale.
Timeline
Screening ~ 3 weeks
3 visits
Follow Up ~ baseline and 3 weeks
Follow Up ~
baseline and 3 weeks
This trial's timeline: 3 weeks for screening, Varies for treatment, and baseline and 3 weeks for reporting.
Treatment Details
Study Objectives
Outcome measures can provide a clearer picture of what you can expect from a treatment.
Number of Participants With a 30% or Greater Change in Pain Rating on the Visual Analog Scale (VAS)
Secondary outcome measures
Neuropathic Pain Symptom Inventory (NPSI)
Trial Design
Group I: Erchonia® EVRL™
Active Control
1 Intervention
The Erchonia® EVRL™ is made up of (1) 635 nanometers red laser diode and (1) 405 nanometers violet laser diode mounted in a portable handheld device.
Group II: Placebo Laser
Placebo Group
1 Intervention
The Placebo Laser has the same appearance as the Erchonia® EVRL™ but does not emit any therapeutic light.
Who is running the clinical trial?
Erchonia Corporation
Lead Sponsor
43 Previous Clinical Trials
1,935 Total Patients Enrolled
Media Library
Erchonia® EVRL™ (Laser Therapy) Clinical Trial Eligibility Overview. Trial Name: NCT05291975 — N/A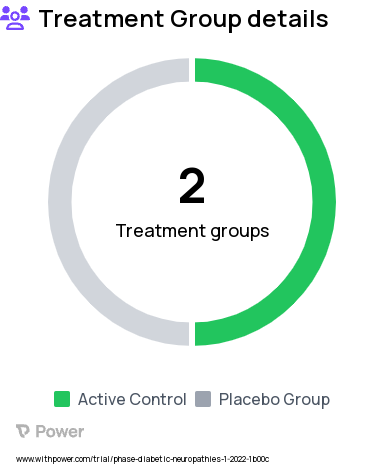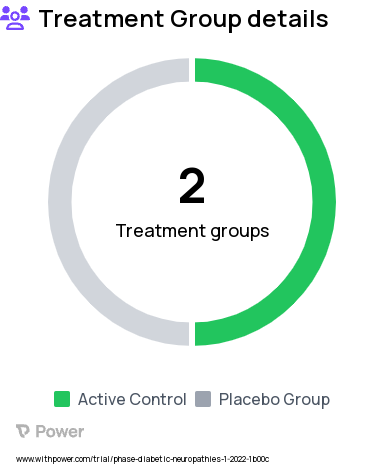 Peripheral Neuropathy Research Study Groups: Erchonia® EVRL™, Placebo Laser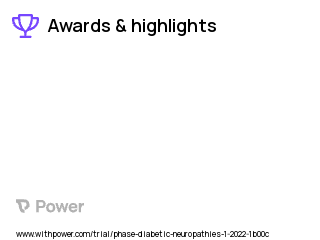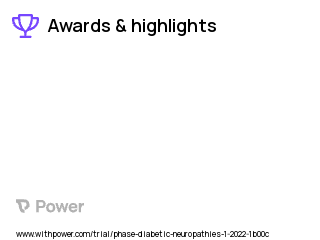 Peripheral Neuropathy Clinical Trial 2023: Erchonia® EVRL™ Highlights & Side Effects. Trial Name: NCT05291975 — N/A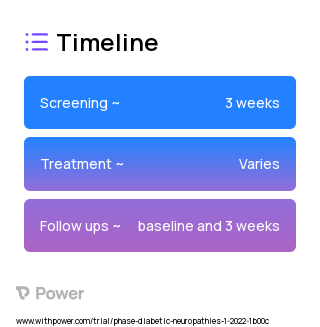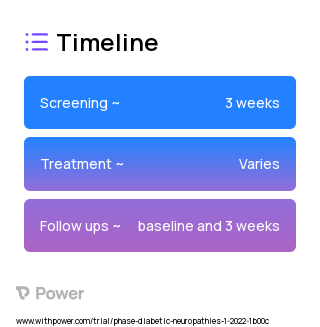 Erchonia® EVRL™ (Laser Therapy) 2023 Treatment Timeline for Medical Study. Trial Name: NCT05291975 — N/A
Frequently Asked Questions
These questions and answers are submitted by anonymous patients, and have not been verified by our internal team.
What is the maximum capacity of participants for this trial?
"Affirmative. Clinicaltrials.gov attests that this research, which was initially proposed on February 17th 2022, is actively looking for participants. A total of 64 individuals must be recruited from 3 distinct medical sites."
Does enrollment in this project remain open to interested participants?
"Indeed, the clinical trial is looking for new participants. Initially posted on February 17th 2022 and freshly updated on August 1st 2022, 64 volunteers are needed from 3 medical centers to take part in this study."
Who else is applying?
What state do they live in?
What site did they apply to?
What portion of applicants met pre-screening criteria?
How many prior treatments have patients received?