Online therapy with coaching for Postpartum Depression
University of California, Los Angeles (UCLA), Los Angeles, CA
Targeting 4 different conditions
Online therapy with coaching

+1 more
N/A
Recruiting
Research Sponsored by University of California, Los Angeles
Eligibility Criteria Checklist
Specific guidelines that determine who can or cannot participate in a clinical trial
Must have
Be older than 18 years old
Must not have
Be younger than 18 years old
Study Summary
This trial is investigating mood changes and risk factors for depression and anxiety in new moms, and treatment response around the time of delivery. Women with elevated symptoms can participate in treatment, which can last up to 6 months.
Postpartum Depression

Pregnancy

Depression

Anxiety
Timeline
Screening ~ 3 weeks
3 visits
This trial's timeline: 3 weeks for screening, Varies for treatment, and week 26 for reporting.
Treatment Details
Study Objectives
Outcome measures can provide a clearer picture of what you can expect from a treatment.
Change From Baseline in Computerized Adaptive Testing - Mental Health (CAT-MH) Scores At Post-Treatment and Week 26
Secondary outcome measures
Edinburgh Postnatal Depression Scale (EPDS-9)
Sheehan Disability Scale (SDS)
Awards & Highlights
All patients enrolled in this study will receive some form of active treatment.
Trial Design
Group I: Screening and Treatment of Anxiety and Depression (STAND)
Experimental Treatment
2 Interventions
This treatment condition provides access to a system of care, in which type of treatment is allocated based on presenting symptomatology. Participants will learn their allocation from study staff or participants will create a secure account through STAND to learn about their allocation through the STAND online dashboard. Through their STAND online dashboard, they could also have access to a) their CAT-MH results over time from the start of treatment, b) assessment of their current diet/nutrition and psychoeducation about the relationship between diet/nutrition and mental health, and c) list of additional resources available to them.
Group II: Treatment as usual (TAU, a.k.a. Perinatal Psychiatric Care)
Active Control
1 Intervention
This treatment condition is modelled after the psychiatry-delivered treatment usually provided at the Maternal Outpatient Mental Health Services (MOMS) Clinic associated with the UCLA Westwood OB-GYN Clinic and Department of Psychiatry.
Who is running the clinical trial?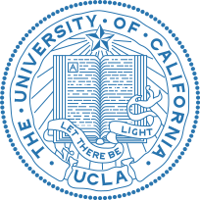 University of California, Los Angeles
Lead Sponsor
1,475 Previous Clinical Trials
10,150,532 Total Patients Enrolled
2 Trials studying Postpartum Depression
231 Patients Enrolled for Postpartum Depression
Media Library


Clinical care Clinical Trial Eligibility Overview. Trial Name: NCT05056454 — N/A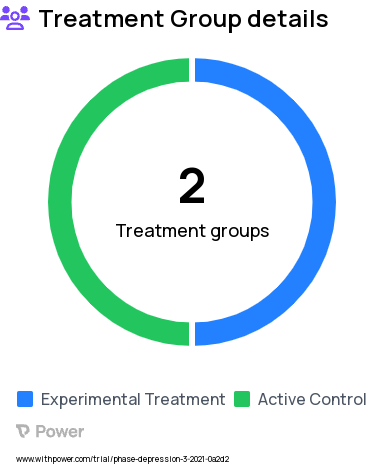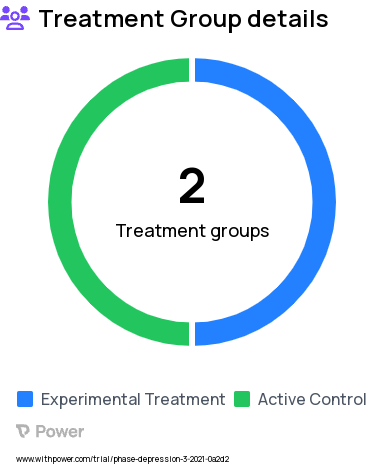 Postpartum Depression Research Study Groups: Treatment as usual (TAU, a.k.a. Perinatal Psychiatric Care), Screening and Treatment of Anxiety and Depression (STAND)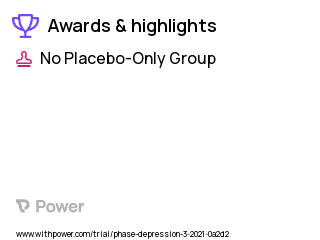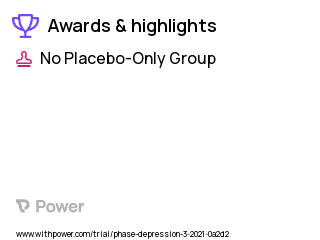 Postpartum Depression Clinical Trial 2023: Clinical care Highlights & Side Effects. Trial Name: NCT05056454 — N/A
Clinical care 2023 Treatment Timeline for Medical Study. Trial Name: NCT05056454 — N/A
Frequently Asked Questions
These questions and answers are submitted by anonymous patients, and have not been verified by our internal team.
To what extent is the current trial involving participants?
"Affirmative, the medical trial is presently enrolling individuals. This research endeavour was initially posted on April 15th 2021 and was last modified on May 16th 2022. The study requires 200 participants to be recruited from a single site."
Who has the opportunity to volunteer for this clinical research?
"This clinical trial is currently enrolling two hundred individuals aged 18 to 65 who have been diagnosed with depression. In order for volunteers to be eligible, they must not already be in one-on-one treatment for a mental health or behavioural issue (e.g., anxiety), possess fluency in the English language, and own either a mobile phone or desktop computer that can access the internet. Furthermore, women between 28 weeks of gestation and 10 weeks postpartum receiving care at an UCLA OB-GYN clinic will qualify if their Edinburgh Postnatal Depression Scale score registers as moderate or higher (>11). All participants are expected to follow study protocols"
Is participation in this medical trial restricted to individuals aged 18 or older?
"According to the eligibility requirements, applicants for this trial must be aged 18-65. For those under or over that range, 255 and 1186 trials respectively are available."
Does this research endeavor currently have openings for participants?
"According to the available information on clinicaltrials.gov, this trial is recruiting new participants since its posting date of April 15th 2021 and last update on May 16th 2022."