Study Summary
This trial found that the use of EnChroma glasses was feasible for color vision deficient providers in the emergency department.
Treatment Effectiveness
Phase-Based Effectiveness
Study Objectives
3 Primary · 1 Secondary · Reporting Duration: Baseline, 2 weeks
Comfort of EnChroma glasses
Change in color vision based on on 100mm scale
Change in color vision based on patients' description
Impact of the glasses on patient care
Trial Safety
Awards & Highlights
All patients enrolled in this trial will receive the new treatment.
Trial Design
1 Treatment Group
5 Total Participants · 1 Treatment Group
Primary Treatment: EnChroma glasses · No Placebo Group · N/A
EnChroma glasses
Experimental Group · 1 Intervention: EnChroma glasses · Intervention Types: Device
How many patients have taken this drug
Trial Logistics
Trial Timeline
Reporting: baseline, 2 weeks
Who is running the clinical trial?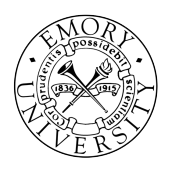 Emory University
Lead Sponsor
1,558 Previous Clinical Trials
2,765,736 Total Patients Enrolled
Jeffrey Siegelman, MD
Principal Investigator
Emory Univer
Eligibility Criteria
Age 18 - 65 · All Participants · 0 Total Inclusion Criteria
Mark "Yes" if the following statements are true for you:
Who else is applying?
What state do they live in?
What portion of applicants met pre-screening criteria?
Did not meet criteria

100.0%
Frequently Asked Questions
How many test subjects are engaged in the research project?
"Affirmative. Clinicaltrials.gov confirms that this examination is actively enrolling participants, with the initial posting occuring on August 14th 2019 and latest update being made on August 25th 2022. 10 people need to be recruited from a single centre for participation in this trial." - Anonymous Online Contributor
Does this experiment extend to individuals over two decades old?
"In order to meet the entrance requirements for this trial, individuals must be no younger than eighteen and not have exceeded sixty-five years of age." - Anonymous Online Contributor
Who is eligible to join this research project?
"This scientific research is looking for 10 achromatopsia patients between 18 and 65 years old who possess both red-green color deficiency." - Anonymous Online Contributor
Is recruitment for this clinical experiment presently ongoing?
"Per clinical trials.gov, the trial is recruiting subjects as of now. It was uploaded onto the website on August 14th 2019 and recently updated on August 25th 2022." - Anonymous Online Contributor
Please Note: These questions and answers are submitted by anonymous patients, and have not been verified by our internal team.