Chemotherapy
Nivolumab for Stomach Cancer
Research Sponsored by Bristol-Myers Squibb
Eligibility Criteria Checklist
Specific guidelines that determine who can or cannot participate in a clinical trial
Must have
Eastern Cooperative Oncology Group (ECOG) performance status score of 0 or 1
Histologically- or cytologically-confirmed diagnosis of unresectable and either locally advanced, or metastatic gastric cancer or GEJ adenocarcinoma
Must not have
Be younger than 18 years old
All Individual Drugs Already Approved
Study Summary
This trial is testing an investigational drug in combination with chemotherapy to treat people with gastric or gastroesophageal junction cancer that can't be removed by surgery and has spread to other parts of the body.
Stomach Cancer

Esophagogastric Junction
Eligibility Criteria
Inclusion Criteria
You will be eligible if you check "Yes" for the criteria below
You must be able to

carry out daily activities without difficulty

or with little assistance.
You have been diagnosed with

advanced stomach or gastroesophageal junction cancer

that

cannot be removed through surgery

.
You have

not received any medication

for your

stomach or esophageal cancer

that has spread to other parts of the body.
You need to provide a

sample of your tumor

for laboratory testing.
Timeline
Screening ~ 3 weeks
3 visits
Follow Up ~ up to 25 months
Follow Up ~
up to 25 months
This trial's timeline: 3 weeks for screening, Varies for treatment, and up to 25 months for reporting.
Treatment Details
Study Objectives
Outcome measures can provide a clearer picture of what you can expect from a treatment.
BICR-Assessed Objective Response Rate (ORR) in Randomized LAG-3 Positive (>=1 %) Participants
Secondary outcome measures
Duration of Response (DOR)
Number of Participants With Adverse Events (AEs)
+5 more
Side effects data
From 2022 Phase 3 trial • 541 Patients • NCT02041533
36%
Malignant neoplasm progression
16%
Neutrophil count decreased
14%
Platelet count decreased
13%
Blood creatinine increased
13%
White blood cell count decreased
11%
Alanine aminotransferase increased
11%
Aspartate aminotransferase increased
9%
Upper respiratory tract infection
9%
Peripheral sensory neuropathy
7%
Blood alkaline phosphatase increased
7%
Lymphocyte count decreased
5%
Musculoskeletal chest pain
5%
Urinary tract infection
5%
Gamma-glutamyltransferase increased
3%
Metastases to central nervous system
3%
Chronic obstructive pulmonary disease
2%
Malignant pleural effusion
2%
General physical health deterioration
1%
Gastrointestinal haemorrhage
1%
Small intestinal haemorrhage
1%
Small intestinal obstruction
1%
Performance status decreased
1%
Pericardial effusion malignant
1%
Respiratory tract infection
1%
Superior vena cava syndrome
Study treatment Arm
Investigator Choice of Chemotherapy
Post Chemotherapy Optional Nivolumab
Nivolumab
Awards & Highlights
All Individual Drugs Already Approved
Therapies where all constituent drugs have already been approved are likely to have better-understood side effect profiles.
All patients enrolled in this study will receive some form of active treatment.
Trial Design
Group I: Nivolumab + investigator's choice chemotherapy
Experimental Treatment
4 Interventions
Nivolumab + XELOX or Nivolumab + FOLFOX or Nivolumab + SOX
Group II: BMS-986213 + investigator's choice chemotherapy
Experimental Treatment
5 Interventions
BMS-986213 + XELOX or BMS-986213 + FOLFOX or BMS-986213 + SOX
How many patients have taken this drug
Who is running the clinical trial?

Bristol-Myers Squibb
Lead Sponsor
2,576 Previous Clinical Trials
4,033,551 Total Patients Enrolled
Media Library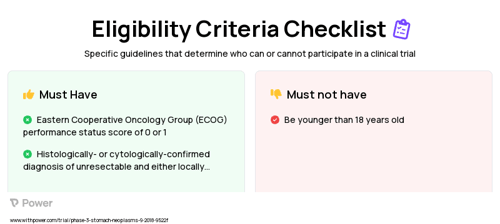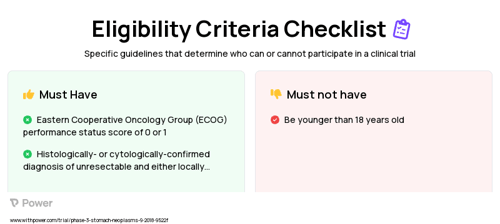 FOLFOX (Chemotherapy) Clinical Trial Eligibility Overview. Trial Name: NCT03662659 — Phase 2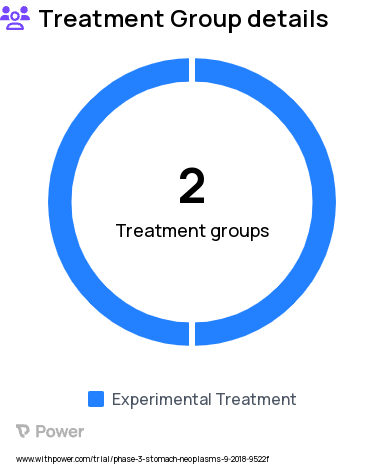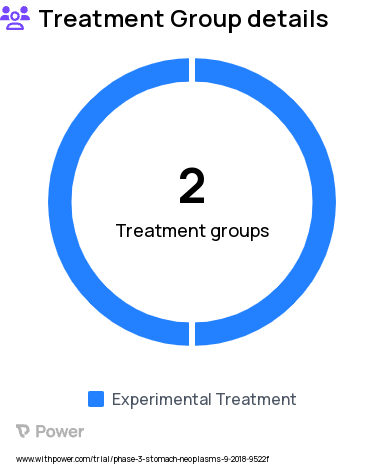 Stomach Cancer Research Study Groups: BMS-986213 + investigator's choice chemotherapy, Nivolumab + investigator's choice chemotherapy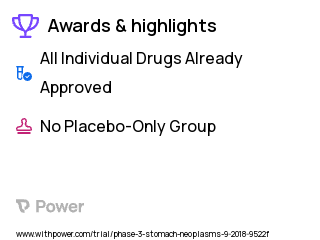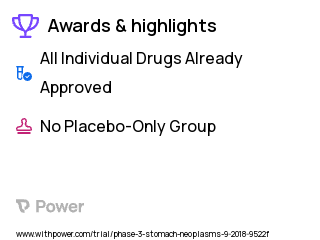 Stomach Cancer Clinical Trial 2023: FOLFOX Highlights & Side Effects. Trial Name: NCT03662659 — Phase 2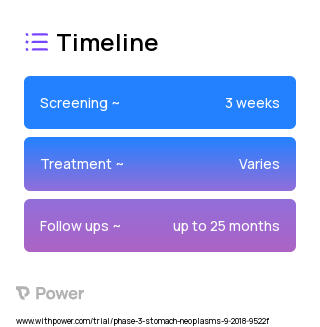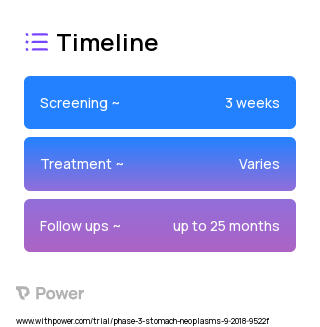 FOLFOX (Chemotherapy) 2023 Treatment Timeline for Medical Study. Trial Name: NCT03662659 — Phase 2
Frequently Asked Questions
These questions and answers are submitted by anonymous patients, and have not been verified by our internal team.
Could you provide an estimate of the total participants enrolled in this clinical trial?
"Currently, no participants are being sought for this particular clinical trial. The study was initially posted on October 16th 2018 and was last amended November 3rd 2022. If you are in search of other studies, 631 medical trials recruiting patients with gastric cancer and 718 trials looking to enroll Nivolumab recipients exist at present."
Is this a pioneering endeavor in terms of clinical research?
"At present, there are 718 trials involving Nivolumab that are being conducted across 2354 cities and 49 nations. The initial experiment regarding this pharmaceutical was completed by Ono Pharmaceutical Co. Ltd in 2012, with 659 participants testing the drug's safety during its Phase 1 & 2 assessment period. Since then, 273 further clinical studies have been undertaken."
Are there any participating sites that are located in North America for this trial?
"This clinical trial has sites scattered across North America, including Local Institution in Kelowna, British Columbia; Dallas VA Medical Center in Quebec, Nova Scotia and Uc Irvine Medical Centre located in Halifax, Texas. Additionally there are 25 other medical centres participating."
Have any past studies been conducted involving Nivolumab treatment?
"Currently, there are 718 Nivolumab-based clinical trials in operation with 82 being Phase 3 evaluations. The majority of studies take place near Zürich BE; however, 40237 different sites are running related research initiatives."
Is there any risk associated with Nivolumab treatments?
"Based on the current scientific evidence, our team has assigned a score of 2 for Nivolumab's safety. This is due to Phase 2 trial data indicating that there may be some safety benefits but no efficacy yet established."
Are there still vacancies for prospective participants in this research project?
"This research project has closed its recruitment phase, with the initial posting on October 16th 2018 and final update on November 3rd 2022. Fortunately, there are 631 clinical trials recruiting patients suffering from stomach cancer and 718 separate studies seeking participants for treatment using Nivolumab."
What maladies has Nivolumab been proven to aid in addressing?
"Nivolumab is often prescribed to treat cancerous growths, such as metastatic esophageal adenocarcinoma and malignant neoplasms like unresectable melanoma and squamous cell carcinoma."