Study Summary
This trial is studying how well pembrolizumab works before surgery in treating patients with MSI-H or dMMR solid cancers.
Mismatch Repair Protein Deficiency

Loss of PMS2 Expression

Loss of MSH2 Expression

High Frequency Microsatellite Instability

Microsatellite Instability-High (MSI-H)

Locally Advanced Malignant Solid Tumor

Lynch Syndrome
Treatment Effectiveness
Phase-Based Effectiveness
Similar Trials
Study Objectives
2 Primary · 5 Secondary · Reporting Duration: Up to 2 years
Pathological complete response (pCR)
Pathological complete response
Incidence of adverse events
Trial Safety
This is further along than 68% of similar trials
Similar Trials
9%
Aspartate aminotransferase increased
8%
Upper respiratory tract infection
8%
Alanine aminotransferase increased
7%
Blood creatinine increased
5%
Blood alkaline phosphatase increased
5%
Musculoskeletal chest pain
4%
Urinary tract infection
1%
Inappropriate antidiuretic hormone secretion
1%
Superior vena cava syndrome
1%
Transient ischaemic attack
1%
Infusion related reaction
1%
Clostridium difficile colitis
This histogram enumerates side effects from a completed 2021 Phase 3 trial (NCT03066778) in the Pembrolizumab+EP ARM group. Side effects include: Neutropenia with 54%, Anaemia with 45%, Nausea with 38%, Alopecia with 34%, Decreased appetite with 31%.
Awards & Highlights
All patients enrolled in this trial will receive the new treatment.
All Individual Drugs Already Approved
Therapies where all constituent drugs have already been approved are likely to have better-understood side effect profiles.
Trial Design
1 Treatment Group
Treatment (pembrolizumab)
1 of 1
35 Total Participants · 1 Treatment Group
Primary Treatment: Pembrolizumab · No Placebo Group · Phase 2
Treatment (pembrolizumab)
Experimental Group · 1 Intervention: Pembrolizumab · Intervention Types: Biological
How many patients have taken this drug
Who is running the clinical trial?

National Cancer Institute (NCI)
NIH
13,281 Previous Clinical Trials
41,235,091 Total Patients Enrolled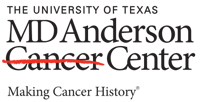 M.D. Anderson Cancer Center
Lead Sponsor
2,849 Previous Clinical Trials
1,793,489 Total Patients Enrolled
Michael J Overman
Principal Investigator
M.D. Anderson Cancer Center
5 Previous Clinical Trials
283 Total Patients Enrolled
Eligibility Criteria
Age 18+ · All Participants · 1 Total Inclusion Criteria
Mark "Yes" if the following statements are true for you:
You have cancer that has spread to nearby tissues or organs and cannot be completely removed by surgery or can be removed but has a high probability of coming back.
Frequently Asked Questions
How many participants are actively engaged in this clinical experiment?
"Affirmative. Clinicaltrials.gov data shows that the recruitment for this medical trial, which was opened on September 17th 2019, is still open and actively seeking participants. 35 patients need to be enrolled from a single location." - Anonymous Online Contributor
Has the regulatory agency given authorization for Pembrolizumab?
"Data has only been collected on Pembrolizumab's safety, so we have assigned it a score of 2." - Anonymous Online Contributor
Have there been other investigations utilizing Pembrolizumab?
"Currently, Pembrolizumab has 961 active clinical trials running worldwide, 122 of which are in the third stage. Houston is a major hub for this medication research with around 35 thousand locations conducting tests on it." - Anonymous Online Contributor
What are the overarching aims of this medical study?
"The primary objective of this research, evaluated over a 12 month period, is to assess the pathological complete response (pCR) rate. Secondary objectives include tracking adverse events using Common Terminology Criteria for Adverse Events toxicity and post-operative complications classified with Clavien-Dindo's framework; additionally, organ sparing rates amongst those receiving at least 3 doses of neoadjuvant pembrolizumab will be considered. Finally, relapse-free survival data determined by Kaplan and Meier's methodology shall also be obtained." - Anonymous Online Contributor
For what conditions is Pembrolizumab typically prescribed?
"Pembrolizumab is regularly administered to patients suffering from malignant neoplasms, and can also be beneficial in treating microsatellite instability high, unresectable melanoma, and cancer that has progressed following chemotherapy." - Anonymous Online Contributor
Are there still opportunities to partake in this investigation?
"This medical trial is currently recruiting participants, as noted on the clinicaltrials.gov website. It was initially listed on September 17th 2019 and has most recently been amended in March 2022." - Anonymous Online Contributor
Please Note: These questions and answers are submitted by anonymous patients, and have not been verified by our internal team.