Nonsteroidal Anti-inflammatory Drug
Ibuprofen for Patent Ductus Arteriosus
Centre Hospitalier Universitaire de Quebec, Québec City, Canada
Ibuprofen
Phase 3
Recruiting
Led by Souvik Mitra, MD, MSc
Research Sponsored by IWK Health Centre
Eligibility Criteria Checklist
Specific guidelines that determine who can or cannot participate in a clinical trial
Must have
Preterm infants less than 26 completed weeks (i.e., up to and including 25 weeks and 6 days) of gestation
Be younger than 18 years old
Must not have
Be older than 18 years old
Follow Up
through hospital discharge (approximately 20 weeks postnatal age unless death occurs first)
All Individual Drugs Already Approved
Approved for 10 Other Conditions
Study Summary
This trial will assess the feasibility of a large study exploring whether early treatment of a symptomatic PDA is beneficial for preterm infants born <26 weeks gestation.
Eligibility Criteria
Inclusion Criteria
You will be eligible if you check "Yes" for the criteria below
Babies

born before 26 weeks of pregnancy

are not eligible.
Timeline
Screening ~ 3 weeks
3 visits
Follow Up ~ birth through 36 weeks post menstrual age
Follow Up ~
birth through 36 weeks post menstrual age
This trial's timeline: 3 weeks for screening, Varies for treatment, and birth through 36 weeks post menstrual age for reporting.
Treatment Details
Study Objectives
Outcome measures can provide a clearer picture of what you can expect from a treatment.
Proportion of eligible infants recruited during the study period
Proportion of randomized infants with no reported protocol deviations
Secondary outcome measures
All-cause mortality during hospital stay
Completeness of data collection for clinical outcomes
+19 more
Awards & Highlights
All Individual Drugs Already Approved
Therapies where all constituent drugs have already been approved are likely to have better-understood side effect profiles.
Approved for 10 Other Conditions
This treatment demonstrated efficacy for 10 other conditions.
All patients enrolled in this study will receive some form of active treatment.
The final step before approval, pivotal trials feature drugs that have already shown basic safety & efficacy.
Trial Design
Group I: Selective early medical treatment (SMART) strategy
Experimental Treatment
1 Intervention
Infants who are randomized to experimental group will follow the SMART treatment protocol, which includes echocardiographic screening every 72 hours to categorize PDA disease severity by combining clinical and echocardiographic features. At any evaluation if patients are found to have a "severe PDA" on echocardiography, irrespective of clinical symptoms, or a "moderate PDA" on echocardiography with at least moderate clinical illness, they will receive pharmacotherapy aimed at PDA closure (The PDA severity has been divided into mild, moderate or severe based on pre-defined clinical and echocardiographic criteria).
Group II: Early conservative management strategy
Active Control
1 Intervention
Infants randomized to this arm will not undergo any further echocardiographic assessment or pharmacological treatment of the PDA regardless of the clinical signs. If the infant gets an echocardiographic assessment for a reason different than PDA assessment (such as hypotension or oxygenation failure) and a PDA is incidentally noted that fits the treatment criteria, the infant will not be initiated on pharmacotherapy. After 7 days of age, decision on PDA assessment and treatment will be at the discretion of the treating physician.
How many patients have taken this drug
Who is running the clinical trial?
IWK Health Centre
Lead Sponsor
123 Previous Clinical Trials
100,177 Total Patients Enrolled
BC Children's Hospital Research Institute
OTHER
12 Previous Clinical Trials
2,242 Total Patients Enrolled
CHU de Quebec-Universite Laval
OTHER
162 Previous Clinical Trials
106,476 Total Patients Enrolled

Sunnybrook Health Sciences Centre
OTHER
627 Previous Clinical Trials
1,475,917 Total Patients Enrolled
Mount Sinai Hospital, Canada
OTHER
189 Previous Clinical Trials
66,778 Total Patients Enrolled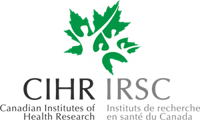 Canadian Institutes of Health Research (CIHR)
OTHER_GOV
1,293 Previous Clinical Trials
25,479,199 Total Patients Enrolled
Dalhousie Medical Research Foundation
UNKNOWN
1 Previous Clinical Trials
104 Total Patients Enrolled
Children's Hospital of Orange County, OC, California, United States
UNKNOWN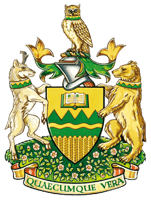 University of Alberta
OTHER
858 Previous Clinical Trials
390,025 Total Patients Enrolled
Sharp Mary Birch Hospital for Women & Newborns
OTHER
11 Previous Clinical Trials
5,578 Total Patients Enrolled
Souvik Mitra, MD, MSc
Principal Investigator
Dalhousie University & IWK Health
1 Previous Clinical Trials
1,350 Total Patients Enrolled
Media Library
Ibuprofen (Nonsteroidal Anti-inflammatory Drug) Clinical Trial Eligibility Overview. Trial Name: NCT05011149 — Phase 3
Patent Ductus Arteriosus Research Study Groups: Selective early medical treatment (SMART) strategy, Early conservative management strategy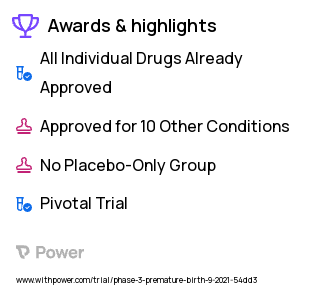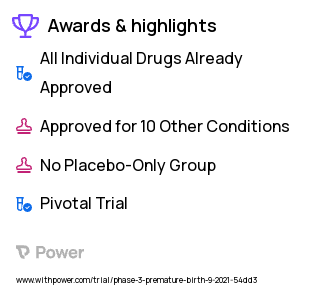 Patent Ductus Arteriosus Clinical Trial 2023: Ibuprofen Highlights & Side Effects. Trial Name: NCT05011149 — Phase 3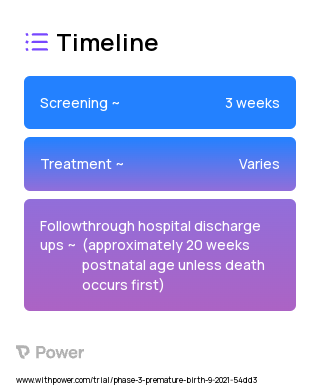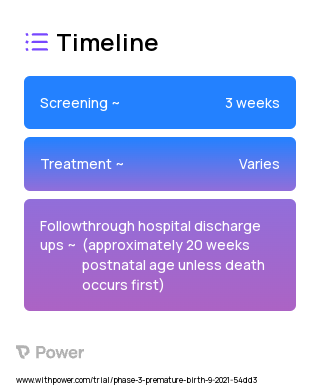 Ibuprofen (Nonsteroidal Anti-inflammatory Drug) 2023 Treatment Timeline for Medical Study. Trial Name: NCT05011149 — Phase 3
Frequently Asked Questions
These questions and answers are submitted by anonymous patients, and have not been verified by our internal team.
At how many hospitals is this trial currently being conducted?
"There are 8 clinical trial sites available for this study, located at hospitals including Stollery Children's Hospital in Edmonton, British Columbia Women's Hospital in Vancouver, and Mount Sinai Hospital in Toronto."
What are the dangers of Ibuprofen for patients?
"Ibuprofen's safety is well-documented, as it has progressed to Phase 3 clinical trials. This over-the-counter medication receives a score of 3 from our team."
How many patients are enrolled in this clinical research?
"In order to move forward, this clinical trial requires 100 individuals that match the pre-determined inclusion criteria. These potential participants can be located at different hospitals such as Stollery Children's Hospital in Edmonton, Alberta or British Columbia Women's Hospital in Vancouver, British Columbia."
For what medical purposes is Ibuprofen most commonly prescribed?
"Inflammation of the mucous membranes, muscle spasms, and fever can all be treated with Ibuprofen."
Are patients being actively recruited for participation in this clinical trial?
"Yes, the clinical trial is presently enrolling 100 patients from 8 different locations. The information was initially posted on 1/10/2022 and was last edited on 1/3/2022."
Could you provide some context for this trial by referencing similar studies?
"Ibuprofen has 46 studies underway with 11 of them in the last stage before approval. Although most trials are based in Pittsburgh, Pennsylvania, there are Ibuprofen clinical trials taking place at 93 different locations."