Intensive Behavioral Program Arm for Childhood Obesity
University of Minnesota, Delaware Clinical Research Unit, Minneapolis, MN
Semaglutide and Behavioral Program

+1 more
Phase 2
Recruiting
Led by Aaron Kelly, PhD
Research Sponsored by University of Minnesota
Eligibility Criteria Checklist
Specific guidelines that determine who can or cannot participate in a clinical trial
Must have
Be younger than 18 years old
Must not have
Be older than 18 years old
All Individual Drugs Already Approved
Approved for 10 Other Conditions
Study Summary
This trial found that pharmacotherapy helped facilitate weight loss in adolescents with severe obesity when used in conjunction with low-intensity behavioral counseling.
Timeline
Screening ~ 3 weeks
3 visits
This trial's timeline: 3 weeks for screening, Varies for treatment, and 52 weeks for reporting.
Treatment Details
Study Objectives
Outcome measures can provide a clearer picture of what you can expect from a treatment.
Change in body mass index
Awards & Highlights
All Individual Drugs Already Approved
Therapies where all constituent drugs have already been approved are likely to have better-understood side effect profiles.
Approved for 10 Other Conditions
This treatment demonstrated efficacy for 10 other conditions.
All patients enrolled in this study will receive some form of active treatment.
Trial Design
Group I: Intensive Behavioral Program Arm
Active Control
1 Intervention
Participants randomized to this arm of the study will receive intensive behavioral therapy. Participants will receive 52 weekly sessions (50% in person and 50% virtual).
Group II: Medication Arm
Active Control
1 Intervention
Participants randomized to this arm of the study will receive semaglutide and will receive behavioral therapy. Behavioral therapy will consist of 12 monthly sessions (50% in person and 50% virtual).
Who is running the clinical trial?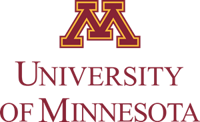 University of Minnesota
Lead Sponsor
1,315 Previous Clinical Trials
1,502,173 Total Patients Enrolled
Aaron Kelly, PhD
Principal Investigator
University of Minnesota
1 Previous Clinical Trials
143 Total Patients Enrolled
Media Library


Intensive Behavioral Program Clinical Trial Eligibility Overview. Trial Name: NCT04873245 — Phase 2
Childhood Obesity Research Study Groups: Intensive Behavioral Program Arm, Medication Arm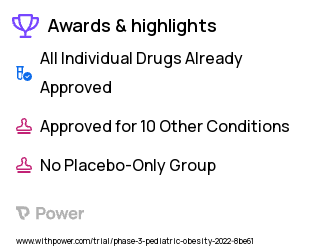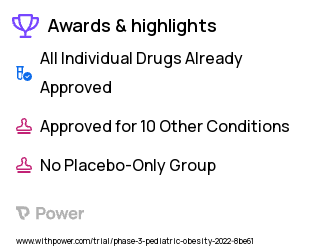 Childhood Obesity Clinical Trial 2023: Intensive Behavioral Program Highlights & Side Effects. Trial Name: NCT04873245 — Phase 2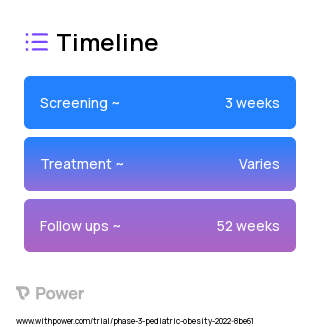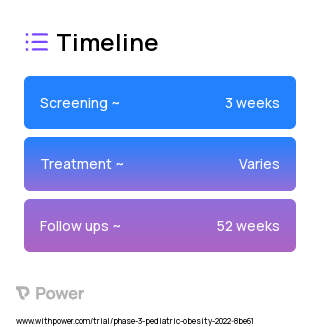 Intensive Behavioral Program 2023 Treatment Timeline for Medical Study. Trial Name: NCT04873245 — Phase 2
Frequently Asked Questions
These questions and answers are submitted by anonymous patients, and have not been verified by our internal team.
Is Intensive Behavioral Program Arm likely to cause serious harm to people?
"While there is some evidence of safety, the lack of efficacy data drops Intensive Behavioral Program Arm's score to a 2."
Are there any vacancies in this research project for willing test subjects?
"Yes, this trial is still ongoing and looking for participants. It was originally posted on March 15th, 2022 and updated two days ago on the 17th."
Has this clinical trial been done before?
"Intensive Behavioral Program Arm has been the subject of clinical research trials since 2018. The first study was sponsored by Novo Nordisk A/S and took place in that same year. It involved 1387 patients. After this initial Phase 4 drug approval trial in 2018, there have been 58 active Intensive Behavioral Program Arm trials spread out over 766 cities and 55 countries."
If a person is under the age of 65, can they participate in this research project?
"The age range that is eligible for this clinical trial according to the inclusion criteria is 12 to 17 years old."
What population does Intensive Behavioral Program Arm typically target?
"The Intensive Behavioral Program Arm is often used in the treatment of chronic weight management. Additionally, this course of action can be taken to help patients with comorbid conditions that are related to weight, including a reduced-calorie diet and exercise."
Are there other medical studies that compare the Intensive Behavioral Program Arm to other treatments?
"Currently, there are 58 ongoing trials related to the Intensive Behavioral Program Arm. Most of these studies are in Phase 3 and 27 of them are based in Loma Linda, California. However, clinical trials for this topic are being conducted at 3894 different locations worldwide."
Which types of patients does this study seek to enroll?
"Candidates between the ages of 12 and 17 who suffer from pediatric obesity have a chance to be a part of this clinical trial. Out of the 120 candidates that will be accepted, researchers are looking for those who fit these specific inclusion criteria."
How many willing test subjects are needed for this experiment?
"Yes, the information on clinicaltrials.gov says that this trial is actively seeking patients. The study was originally posted on 3/15/2022 and was most recently edited on 3/17/2022. The trial is recruiting for 120 patients across 1 sites."