AKT Inhibitor
Capivasertib for B-Cell Non-Hodgkin Lymphoma
Research Site, Sutton, United Kingdom
Capivasertib
Phase 2
Waitlist Available
Research Sponsored by AstraZeneca
Eligibility Criteria Checklist
Specific guidelines that determine who can or cannot participate in a clinical trial
Must have
Life expectancy > 6 months
Be older than 18 years old
Must not have
Be younger than 18 years old
Follow Up
until death due to any cause (assessed up to 1.6 years)
Study Summary
This trial is testing a new drug for people with a certain kind of cancer that has come back or does not respond to treatment.
Relapsed or Refractory B-cell Non-Hodgkin Lymphoma
Eligibility Criteria
Inclusion Criteria
You will be eligible if you check "Yes" for the criteria below
You are expected to live for at least 6 more months.
Timeline
Screening ~ 3 weeks
3 visits
Follow Up ~ until death due to any cause (assessed up to 1.6 years)
Follow Up ~
until death due to any cause (assessed up to 1.6 years)
This trial's timeline: 3 weeks for screening, Varies for treatment, and until death due to any cause (assessed up to 1.6 years) for reporting.
Treatment Details
Study Objectives
Outcome measures can provide a clearer picture of what you can expect from a treatment.
Proportion of participants with objective response
Secondary outcome measures
Change from baseline in health-related quality of life as measured by European Organization for Research and Treatment of Cancer Quality of Life Questionnaire Core 30 (EORTC QLQ-C30)
Duration of response (DoR)
Number of participants with AEs and Serious adverse events
+8 more
Awards & Highlights
All patients enrolled in this study will receive some form of active treatment.
Trial Design
Group I: Capivasertib monotherapy
Experimental Treatment
1 Intervention
Participants with R/R FL, R/R MZL, and R/R MCL will receive capivasertib orally until progression of disease (PD) or unacceptable toxicity.
How many patients have taken this drug
Who is running the clinical trial?

4,118 Previous Clinical Trials
336,413,814 Total Patients Enrolled

287 Previous Clinical Trials
93,216 Total Patients Enrolled
Media Library


Capivasertib (AKT Inhibitor) Clinical Trial Eligibility Overview. Trial Name: NCT05008055 — Phase 2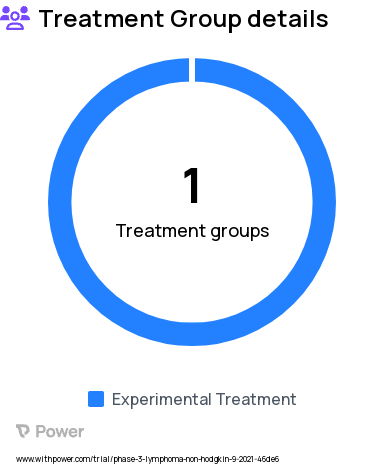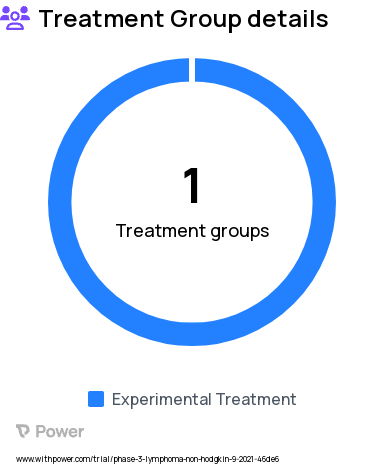 B-Cell Non-Hodgkin Lymphoma Research Study Groups: Capivasertib monotherapy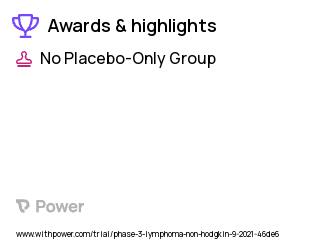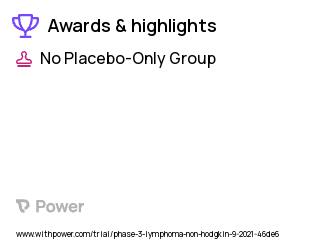 B-Cell Non-Hodgkin Lymphoma Clinical Trial 2023: Capivasertib Highlights & Side Effects. Trial Name: NCT05008055 — Phase 2
Capivasertib (AKT Inhibitor) 2023 Treatment Timeline for Medical Study. Trial Name: NCT05008055 — Phase 2
Frequently Asked Questions
These questions and answers are submitted by anonymous patients, and have not been verified by our internal team.
Are patients currently being accepted for this trial?
"From what is listed on clinicaltrials.gov, this trial is still looking for participants and is thus actively recruiting patients. The listing was created on 11/3/2021 and last updated on 11/2/2022."
Have there been similar medical studies to this one in the past?
"Capivasertib has been under research for just over a decade now. AstraZeneca first sponsored a trial in 2010, which resulted in Phase 1 approval after studying 285 patients. 23 different studies are ongoing as of now, conducted across 959 cities and 44 countries worldwide."
What is the target number of enrollees for this clinical trial?
"Yes, that is accurate. According to the information on clinicaltrials.gov, this particular trial was originally posted on 11/3/2021 and is currently looking for 272 patients from 6 different sites."
What was the outcome of Capivasertib's FDA hearing?
"Capivasertib's safety is only supported by phase 2 data, meaning that there is not yet any clinical evidence indicating that the drug is effective. However, it did receive a score of 2 because there are no major safety concerns at this time."
How many different hospitals are running this trial?
"Currently, there are six sites administering this trial with more locations in Victoria, Duarte and Los Angeles. To limit participant's travel burden, it is best to select a location closest to you."
Are middle-aged adults welcome in this research project?
"This particular clinical study is open to patients aged 18-130. In contrast, there are 320 trials for minors and 1666 studies available for elderly patients."
What else is known about Capivasertib from other research?
"As of now, 23 different clinical trials are underway to research Capivasertib. 4 of these trials have progressed to Phase 3. The majority of the tests for Capivasertib are being conducted in Montpellier, Ontario; however, 4213 unique locations around the world are running studies concerning Capivasertib."