Angiotensin Receptor Neprilysin Inhibitor
sacubitril/valsartan for Heart Failure
Novartis Investigative Site, Konak-Izmir, Turkey
sacubitril/valsartan
Phase 3
Waitlist Available
Research Sponsored by Novartis Pharmaceuticals
Eligibility Criteria Checklist
Specific guidelines that determine who can or cannot participate in a clinical trial
Must have
Be younger than 65 years old
Must not have
Be older than 65 years old
Follow Up
to end of study, up to 3 years
All Individual Drugs Already Approved
Approved for 10 Other Conditions
Study Summary
This trial looks at the long-term safety and tolerability of a heart failure drug.
Timeline
Screening ~ 3 weeks
3 visits
Follow Up ~ to end of study, up to 3 years
Follow Up ~
to end of study, up to 3 years
This trial's timeline: 3 weeks for screening, Varies for treatment, and to end of study, up to 3 years for reporting.
Treatment Details
Study Objectives
Outcome measures can provide a clearer picture of what you can expect from a treatment.
Number of participants with Adverse Events (AEs) as a measure of safety and tolerability
Number of participants with Serious Adverse Events (SAEs) as a measure of safety and tolerability
Side effects data
From 2019 Phase 3 trial • 2572 Patients • NCT03066804
12%
Glomerular filtration rate decreased
8%
Urine albumin/creatinine ratio increased
5%
Urine protein/creatinine ratio increased
3%
Urinary tract infection
2%
Blood creatinine increased
1%
Blood potassium increased
1%
Cardiac failure congestive
Study treatment Arm
Individualized Medical Therapy (IMT)
Total
Sacubitril/Valsartan (LCZ696)
Awards & Highlights
The final step before approval, pivotal trials feature drugs that have already shown basic safety & efficacy.
All patients enrolled in this study will receive some form of active treatment.
All Individual Drugs Already Approved
Therapies where all constituent drugs have already been approved are likely to have better-understood side effect profiles.
Approved for 10 Other Conditions
This treatment demonstrated efficacy for 10 other conditions.
Trial Design
Group I: sacubitril/valsartan
Experimental Treatment
1 Intervention
single arm, open label sacubitril/valsartan
How many patients have taken this drug
Who is running the clinical trial?

Novartis Pharmaceuticals
Lead Sponsor
2,810 Previous Clinical Trials
4,030,766 Total Patients Enrolled
66 Trials studying Heart Failure
2,000,754 Patients Enrolled for Heart Failure
Media Library


sacubitril/valsartan (Angiotensin Receptor Neprilysin Inhibitor) Clinical Trial Eligibility Overview. Trial Name: NCT03785405 — Phase 3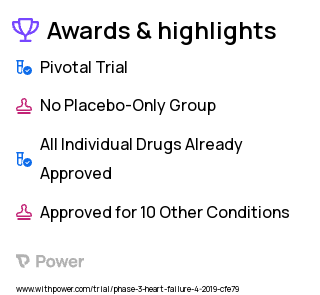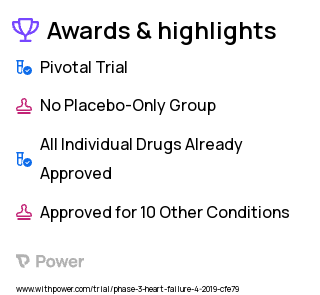 Heart Failure Clinical Trial 2023: sacubitril/valsartan Highlights & Side Effects. Trial Name: NCT03785405 — Phase 3
sacubitril/valsartan (Angiotensin Receptor Neprilysin Inhibitor) 2023 Treatment Timeline for Medical Study. Trial Name: NCT03785405 — Phase 3
Heart Failure Research Study Groups: sacubitril/valsartan
Frequently Asked Questions
These questions and answers are submitted by anonymous patients, and have not been verified by our internal team.
Are middle-aged individuals being accepted into this research project?
"Children aged 1 year to 18 years old are eligible for this clinical trial. In total, there are 25 clinical trials for patients under 18 and 758 for people 65 and older."
Could I qualify to join this experiment?
"This study, which is looking for 217 individuals with a history of heart failure, has the following requirements for applicants: They must have given informed consent, be taking the study drug at the EOS visit for PANORAMA-HF Part 2, and not have any major safety concerns."
What is the primary medical condition that sacubitril/valsartan is indicated for?
"sacubitril/valsartan is most often given to patients with left ventricular dysfunction. It can also be used to lower blood pressure in patients that haven't respond well to other treatments and to prevent cardiovascular events."
Is this the first time that sacubitril/valsartan is being trialed?
"There are currently 39 different ongoing clinical trials for sacubitril/valsartan. Phase 3 trials, which are the most advanced, are being conducted at 8 of those locations. Most of the research is taking place in Montreal, Quebec, but there are 812 sites total."
What are some known risks associated with sacubitril/valsartan?
"Although it is still in Phase 3, sacubitril/valsartan has shown efficacy in some patients and has been proven to be safe multiple times. Therefore, it received a score of 3."