PARP Inhibitor
Niraparib for Colorectal Cancer
Emory Saint Joseph's Hospital, Atlanta, GA
Targeting 6 different conditions
Niraparib

+1 more
Phase 2
Waitlist Available
Led by Olatunji Alese, MD
Research Sponsored by Emory University
Eligibility Criteria Checklist
Specific guidelines that determine who can or cannot participate in a clinical trial
Must have
Participant must have advanced, metastatic RAS wildtype colorectal cancer and must have received at least one line of systemic therapy. Both microsatellite (MSI) high and stable (MSS) patients are eligible
Be older than 18 years old
Must not have
Be younger than 18 years old
Follow Up
up to 5 years post treatment
All Individual Drugs Already Approved
Study Summary
This trial is testing niraparib and panitumumab to see if they're effective at treating colorectal cancer.
Metastatic Microsatellite Stable Colorectal Cancer

Colorectal Carcinoma

Microsatellite Stability

RAS Wild Type

Colorectal Cancer
Eligibility Criteria
Inclusion Criteria
You will be eligible if you check "Yes" for the criteria below
You have

advanced colorectal cancer

that has

spread to other parts

of your body and does not have specific gene mutations. You have already

received at least one type of treatment

.
Timeline
Screening ~ 3 weeks
3 visits
Follow Up ~ up to 5 years post treatment
Follow Up ~
up to 5 years post treatment
This trial's timeline: 3 weeks for screening, Varies for treatment, and up to 5 years post treatment for reporting.
Treatment Details
Study Objectives
Outcome measures can provide a clearer picture of what you can expect from a treatment.
Clinical benefit rate (CBR)
Secondary outcome measures
Duration of response (DOR)
Objective response rate (ORR)
+1 more
Awards & Highlights
All Individual Drugs Already Approved
Therapies where all constituent drugs have already been approved are likely to have better-understood side effect profiles.
All patients enrolled in this study will receive some form of active treatment.
Trial Design
Group I: Treatment (niraparib, panitumumab)
Experimental Treatment
2 Interventions
Patients receive 200 or 300 mg niraparib orally once daily on days 1-28 and 6 mg/kg panitumumab intravenously over 60-90 minutes on days 1 and 15. Cycles repeat every 28 days in the absence of disease progression or unacceptable toxicity.
How many patients have taken this drug
Who is running the clinical trial?
Emory University
Lead Sponsor
1,585 Previous Clinical Trials
2,882,388 Total Patients Enrolled

GlaxoSmithKline
Industry Sponsor
4,704 Previous Clinical Trials
8,046,801 Total Patients Enrolled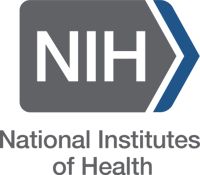 National Institutes of Health (NIH)
NIH
2,611 Previous Clinical Trials
6,663,298 Total Patients Enrolled
Media Library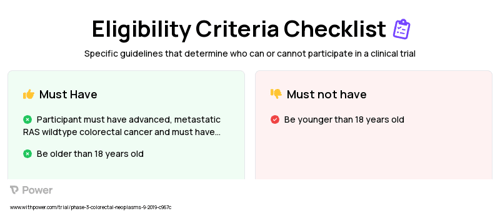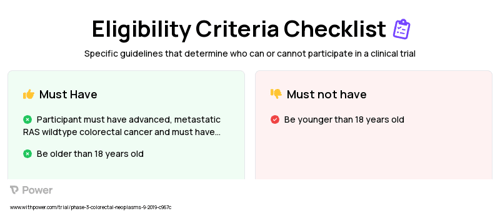 Niraparib (PARP Inhibitor) Clinical Trial Eligibility Overview. Trial Name: NCT03983993 — Phase 2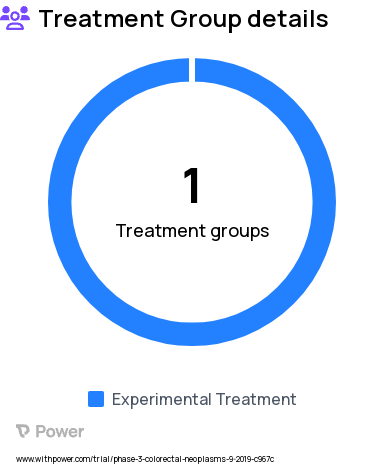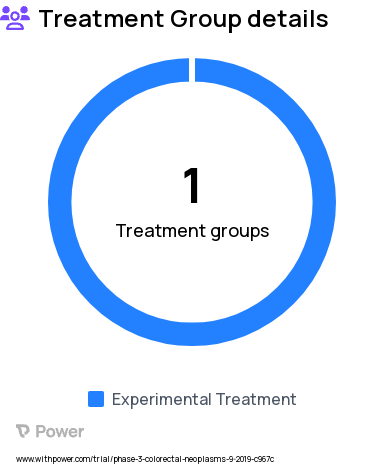 Colorectal Cancer Research Study Groups: Treatment (niraparib, panitumumab)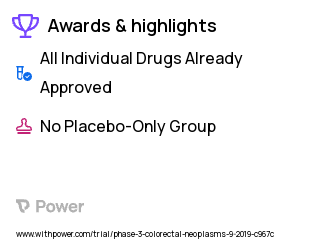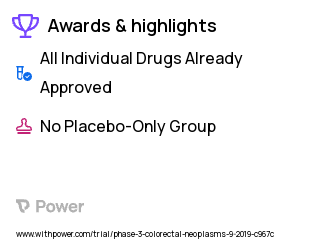 Colorectal Cancer Clinical Trial 2023: Niraparib Highlights & Side Effects. Trial Name: NCT03983993 — Phase 2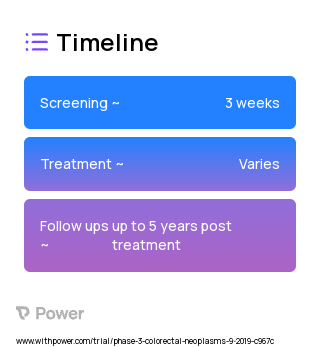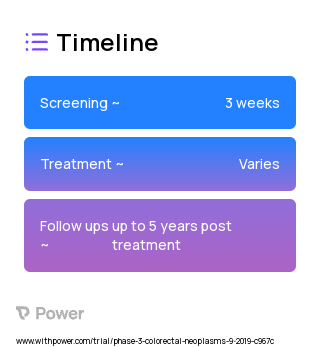 Niraparib (PARP Inhibitor) 2023 Treatment Timeline for Medical Study. Trial Name: NCT03983993 — Phase 2
Frequently Asked Questions
These questions and answers are submitted by anonymous patients, and have not been verified by our internal team.
Is there an ongoing recruitment effort for this clinical experiment?
"As evidenced on clinicaltrials.gov, this study is currently recruiting volunteers and was first made available to the public in October of 2019 with its most recent update occurring November 1st 2022."
How many participants have enrolled in this clinical investigation?
"Affirmative. As indicated by clinicaltrials.gov, this medical investigation is currently seeking volunteers; first posted on October 15th 2019 and last updated November 1st 2022. 40 participants have to be sourced from 3 locations for the trial's completion."
Are there previous investigations concerning Niraparib?
"As of now, 131 clinical trials are in progress for Niraparib. 16 of these studies are currently at Phase 3 and there is a total of 3374 sites hosting the research. The bulk of these investigations take place within Washington D.C., however other locations across the United States also offer access to these resources."
Has the Drug and Food Administration sanctioned the use of Niraparib?
"The safety of niraparib was rated a 2 on our scale, as although there is some evidence confirming its security, no data exists to display the efficacy."
Is this an unprecedented medical experiment?
"Amgen first initiated the research of niraparib in 2011 and, following a successful Phase 1 trial involving 75 patients, granted it approval for Phase 2 testing. Currently there are 131 active trials occurring across 561 cities within 50 countries."
What has been the primary focus of research involving Niraparib?
"Niraparib is primarily utilized to address primary peritoneal cancer, yet it can also be employed in the treatment of metastatic colorectal cancer (crc), fallopian tubes carcinoma, and other malignancies."