Monoclonal Antibodies
Donanemab for Alzheimer's Disease
Coram CVS/Specialty Infusion Services - Houston, Houston, TX
Targeting 2 different conditions
Donanemab

+1 more
Phase 3
Recruiting
Research Sponsored by Eli Lilly and Company
Eligibility Criteria Checklist
Specific guidelines that determine who can or cannot participate in a clinical trial
Must have
Are you between the ages of 65-80?
Are you able and willing to undergo a MRI?
Must not have
Be younger than 65 years old
Follow Up
baseline, up to week 182
Study Summary
This trial will test a new drug, donanemab, for safety and effectiveness in people with early Alzheimer's disease.
Eligibility Criteria
Inclusion Criteria
You will be eligible if you check "Yes" for the criteria below
You should not have

Alzheimer's disease

or any

form of dementia

.
You can only participate in this study if you are

not already taking part in another research study

.
Timeline
Screening ~ 3 weeks
3 visits
Follow Up ~ baseline, up to week 182
Follow Up ~
baseline, up to week 182
This trial's timeline: 3 weeks for screening, Varies for treatment, and baseline, up to week 182 for reporting.
Treatment Details
Study Objectives
Outcome measures can provide a clearer picture of what you can expect from a treatment.
Secondary outcome measures
Change from Baseline in Behavioral Pattern Separation-Object test (BPS-O)
Change from Baseline in CDR-Sum of Boxes (CDR-SB)
Change from Baseline in Category Fluency
+9 more
Side effects data
From 2021 Phase 2 trial • 272 Patients • NCT03367403
25%
Amyloid related imaging abnormality-oedema/effusion
14%
Superficial siderosis of central nervous system
10%
Urinary tract infection
8%
Amyloid related imaging abnormality-microhaemorrhages and haemosiderin deposits
8%
Cerebral microhaemorrhage
7%
Upper respiratory tract infection
6%
Infusion related reaction
2%
Gastrooesophageal reflux disease
2%
Cerebellar microhaemorrhage
2%
Conjunctival haemorrhage
2%
Upper-airway cough syndrome
2%
Electrocardiogram qt prolonged
2%
Prostatic specific antigen increased
2%
Squamous cell carcinoma
2%
Benign prostatic hyperplasia
2%
Orthostatic hypotension
1%
Clostridium difficile colitis
1%
Injection site pruritus
1%
Small intestinal obstruction
1%
Cervical vertebral fracture
1%
Cerebrovascular accident
1%
Bundle branch block left
1%
Bundle branch block right
1%
Mitral valve incompetence
1%
Ventricular extrasystoles
1%
Arteriovenous malformation
1%
Lower respiratory tract infection
1%
General physical health deterioration
1%
Viral upper respiratory tract infection
1%
Cataract operation complication
1%
Vaccination complication
1%
Blood pressure systolic increased
1%
Creatinine renal clearance decreased
1%
Lymphocyte morphology abnormal
1%
Glucose tolerance impaired
1%
Musculoskeletal chest pain
1%
Temporomandibular joint syndrome
1%
Squamous cell carcinoma of skin
1%
Peripheral sensorimotor neuropathy
1%
Transient acantholytic dermatosis
1%
Bacterial test positive
1%
Mucoid degeneration of the anterior cruciate ligament
1%
Dementia alzheimer's type
1%
Cardiac pacemaker insertion
1%
Blood pressure increased
1%
C-reactive protein increased
1%
Duodenal ulcer haemorrhage
1%
Non-small cell lung cancer stage ii
1%
Anaemia of chronic disease
1%
Dry age-related macular degeneration
1%
Medical device site reaction
1%
Soft tissue inflammation
1%
Drug withdrawal headache
1%
Cardiac pacemaker replacement
1%
Intraocular lens implant
1%
Peripheral venous disease
1%
Orthostatic hypertension
Study treatment Arm
Donanemab Monotherapy (Donanemab-M)
Donanemab in Combination With LY3202626 (Donanemab-C)
Placebo
Awards & Highlights
The final step before approval, pivotal trials feature drugs that have already shown basic safety & efficacy.
Trial Design
Group I: Donanemab
Experimental Treatment
1 Intervention
Donanemab administered intravenously (IV)
Group II: Placebo
Placebo Group
1 Intervention
Placebo is administered intravenously
How many patients have taken this drug
Who is running the clinical trial?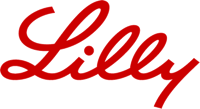 Eli Lilly and Company
Lead Sponsor
2,531 Previous Clinical Trials
3,171,239 Total Patients Enrolled
Call 1-877-CTLILLY (1-877-285-4559) or 1-317-615-4559 Mon - Fri 9 AM - 5 PM Eastern time (UTC/GMT - 5 hours, EST)
Study Director
Eli Lilly and Company
1,300 Previous Clinical Trials
391,988 Total Patients Enrolled
Media Library


Donanemab (Monoclonal Antibodies) Clinical Trial Eligibility Overview. Trial Name: NCT05026866 — Phase 3
Alzheimer's Disease Research Study Groups: Donanemab, Placebo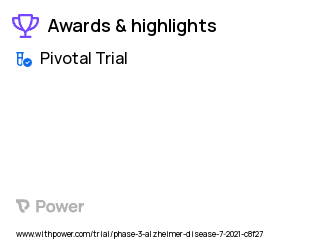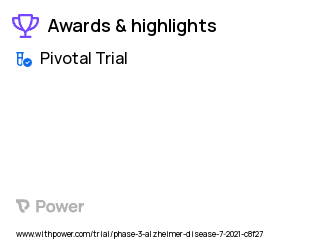 Alzheimer's Disease Clinical Trial 2023: Donanemab Highlights & Side Effects. Trial Name: NCT05026866 — Phase 3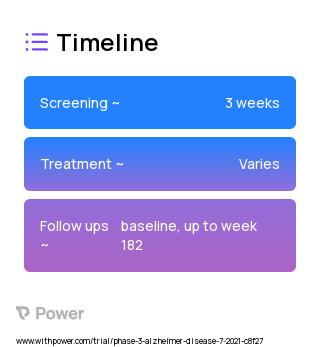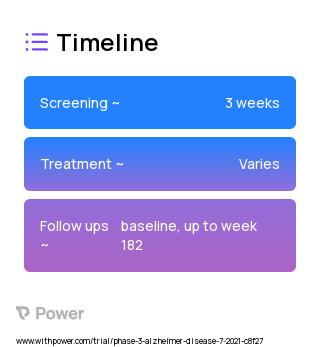 Donanemab (Monoclonal Antibodies) 2023 Treatment Timeline for Medical Study. Trial Name: NCT05026866 — Phase 3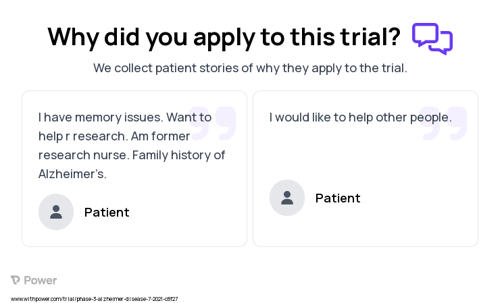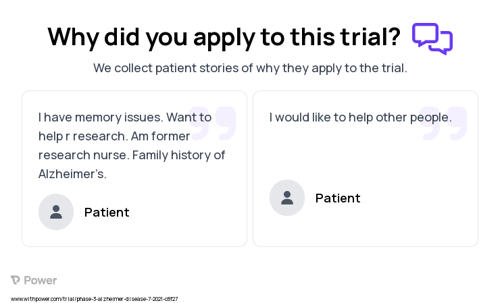 Alzheimer's Disease Patient Testimony for trial: Trial Name: NCT05026866 — Phase 3
Frequently Asked Questions
These questions and answers are submitted by anonymous patients, and have not been verified by our internal team.
Has Donanemab received official government sanction for medical use?
"Donanemab has received a score of 3 for safety. This is due to the fact that it is a Phase 3 trial, which means that there is evidence supporting its efficacy as well as data from multiple rounds of testing affirming its safety."
Are there comparable treatments to Donanemab that have undergone clinical trials?
"At the moment, there are four ongoing clinical trials studying donanemab. Three of those studies are in phase three. Although most of the trials for donanemab are taking place in Milford, Ohio, there are a total of 684 locations running these studies."
Are people still being accepted into the program?
"The latest information from clinicaltrials.gov does show that this trial is still enrolling patients. The initial posting was on 8/27/2021, with the most recent update being 11/10/2022. There are 3300 positions open across 100 different medical facilities."
How many people can join this research project?
"3300 participants are required to successfully run this clinical trial. The sponsor, Eli Lilly and Company, has selected different medical sites across the country to help with recruitment. For example, Option Care - Sacramento in Sacramento, California and Care Access - Beverly Hills in Beverly Hills, Texas will both be participating."
Are there many locations where this research project is taking place in town?
"Currently, there are 100 clinical trial sites operating across the nation, with locations in cities such as Sacramento, Beverly Hills, and Houston."
For this particular test, are senior citizens welcome?
"This particular study is for patients aged between 65 and 80 years old. Out of the 557 clinical trials for patients over 65, this one is just 1/23rds."
Do we have any other examples to compare this too?
"Donanemab has a short clinical history, with the first trial being conducted in 2020. This initial study was sponsored by Eli Lilly and Company. After this 1800-person Phase 1 study, Donanemab received approval for further testing. Currently, there are 4 active trials involving 334 cities across 9 nations."
What are the Participant Inclusion Criteria for this research project?
"The eligibility criteria for this study include being 65-80 years old and having a diagnosis of Alzheimer's disease. The clinical trial is looking to enroll 3300 total patients."
Who else is applying?
What state do they live in?
What site did they apply to?
Valley Clinical Trials, Inc.
Accellacare - Winston-Salem
What portion of applicants met pre-screening criteria?
How many prior treatments have patients received?
Why did patients apply to this trial?
I have memory issues. Want to help r research. Am former research nurse. Family history of Alzheimer's.
I would like to help other people.
What questions have other patients asked about this trial?
When can I start? When and where will it take place? How long does the screening take? What is involved?
How long do screening visits take? Who is the ideal candidate for this trial?
How responsive is this trial?
Most responsive sites:
Tilda Research - USAL 45: < 24 hours

Accellacare - DuPage: < 48 hours

Accellacare - Winston-Salem: < 48 hours