Monoclonal Antibodies
Donanemab for Alzheimer's Disease
Parkinson's Disease and Movement Disorders, Boca Raton, FL
Donanemab

+1 more
Phase 3
Waitlist Available
Research Sponsored by Eli Lilly and Company
Eligibility Criteria Checklist
Specific guidelines that determine who can or cannot participate in a clinical trial
Must have
MMSE score of 20 to 28 (inclusive) at baseline
Gradual and progressive change in memory function reported by participants or informants for ≥ 6 months
Must not have
Be younger than 18 years old
Follow Up
baseline, up to week 76
Study Summary
This trial is studying how safe and effective donanemab is in treating early Alzheimer's disease.
Eligibility Criteria
Inclusion Criteria
You will be eligible if you check "Yes" for the criteria below
Your memory and thinking skills, as measured by a test called MMSE, should be

between 20 and 28

.
You or someone close to you has noticed a decline in your memory for

at least 6 months

.
Timeline
Screening ~ 3 weeks
3 visits
Follow Up ~ baseline, up to week 76
Follow Up ~
baseline, up to week 76
This trial's timeline: 3 weeks for screening, Varies for treatment, and baseline, up to week 76 for reporting.
Treatment Details
Study Objectives
Outcome measures can provide a clearer picture of what you can expect from a treatment.
Change from Baseline on the integrated Alzheimer's Disease Rating Scale (iADRS)
Secondary outcome measures
Change from Baseline in Brain Tau Deposition as Measured by Flortaucipir F18 PET Scan
Change from Baseline in Brain Volume as Measured by volumetric Magnetic Resonance Imaging (vMRI)
+6 more
Side effects data
From 2021 Phase 2 trial • 272 Patients • NCT03367403
25%
Amyloid related imaging abnormality-oedema/effusion
14%
Superficial siderosis of central nervous system
10%
Urinary tract infection
8%
Amyloid related imaging abnormality-microhaemorrhages and haemosiderin deposits
8%
Cerebral microhaemorrhage
7%
Upper respiratory tract infection
6%
Infusion related reaction
2%
Gastrooesophageal reflux disease
2%
Cerebellar microhaemorrhage
2%
Conjunctival haemorrhage
2%
Upper-airway cough syndrome
2%
Electrocardiogram qt prolonged
2%
Prostatic specific antigen increased
2%
Squamous cell carcinoma
2%
Benign prostatic hyperplasia
2%
Orthostatic hypotension
1%
Clostridium difficile colitis
1%
Injection site pruritus
1%
Small intestinal obstruction
1%
Cervical vertebral fracture
1%
Cerebrovascular accident
1%
Bundle branch block left
1%
Bundle branch block right
1%
Mitral valve incompetence
1%
Ventricular extrasystoles
1%
Arteriovenous malformation
1%
Lower respiratory tract infection
1%
General physical health deterioration
1%
Viral upper respiratory tract infection
1%
Cataract operation complication
1%
Vaccination complication
1%
Blood pressure systolic increased
1%
Creatinine renal clearance decreased
1%
Lymphocyte morphology abnormal
1%
Glucose tolerance impaired
1%
Musculoskeletal chest pain
1%
Temporomandibular joint syndrome
1%
Squamous cell carcinoma of skin
1%
Peripheral sensorimotor neuropathy
1%
Transient acantholytic dermatosis
1%
Bacterial test positive
1%
Mucoid degeneration of the anterior cruciate ligament
1%
Dementia alzheimer's type
1%
Cardiac pacemaker insertion
1%
Blood pressure increased
1%
C-reactive protein increased
1%
Duodenal ulcer haemorrhage
1%
Non-small cell lung cancer stage ii
1%
Anaemia of chronic disease
1%
Dry age-related macular degeneration
1%
Medical device site reaction
1%
Soft tissue inflammation
1%
Drug withdrawal headache
1%
Cardiac pacemaker replacement
1%
Intraocular lens implant
1%
Peripheral venous disease
1%
Orthostatic hypertension
Study treatment Arm
Donanemab Monotherapy (Donanemab-M)
Donanemab in Combination With LY3202626 (Donanemab-C)
Placebo
Awards & Highlights
The final step before approval, pivotal trials feature drugs that have already shown basic safety & efficacy.
Trial Design
Group I: Donanemab
Experimental Treatment
1 Intervention
Donanemab given intravenously (IV).
Group II: Placebo
Placebo Group
1 Intervention
How many patients have taken this drug
Who is running the clinical trial?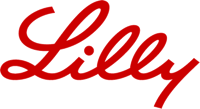 Eli Lilly and Company
Lead Sponsor
2,531 Previous Clinical Trials
3,172,039 Total Patients Enrolled
Call 1-877-CTLILLY (1-877-285-4559) or 1-317-615-4559 Mon - Fri 9 AM - 5 PM Eastern time (UTC/GMT - 5 hours, EST)
Study Director
Eli Lilly and Company
1,300 Previous Clinical Trials
392,788 Total Patients Enrolled
Media Library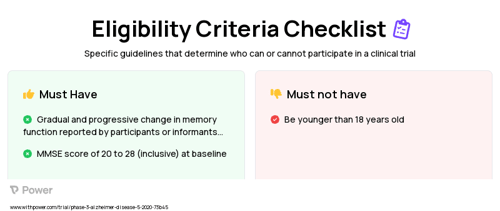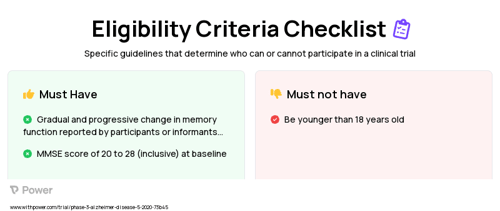 Donanemab (Monoclonal Antibodies) Clinical Trial Eligibility Overview. Trial Name: NCT04437511 — Phase 3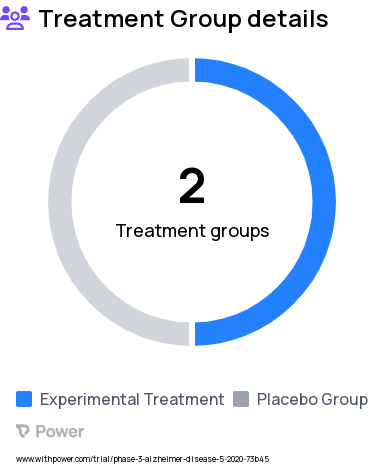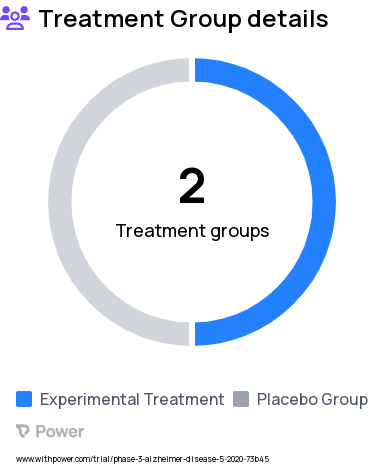 Alzheimer's Disease Research Study Groups: Donanemab, Placebo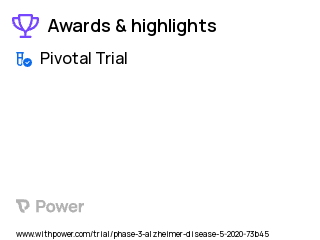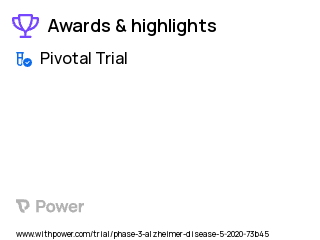 Alzheimer's Disease Clinical Trial 2023: Donanemab Highlights & Side Effects. Trial Name: NCT04437511 — Phase 3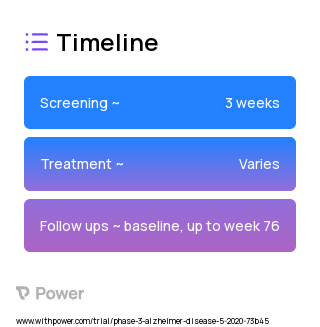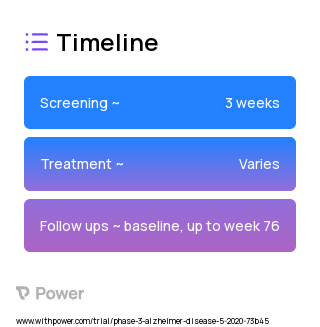 Donanemab (Monoclonal Antibodies) 2023 Treatment Timeline for Medical Study. Trial Name: NCT04437511 — Phase 3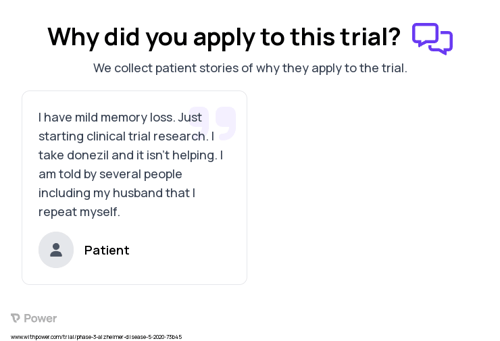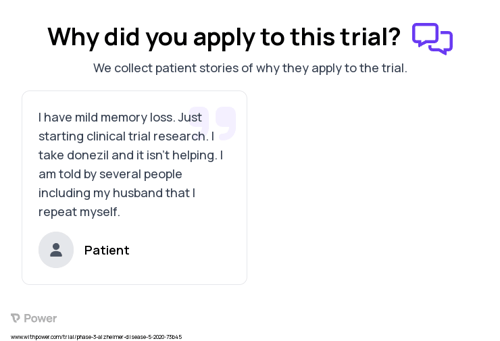 Alzheimer's Disease Patient Testimony for trial: Trial Name: NCT04437511 — Phase 3
Frequently Asked Questions
These questions and answers are submitted by anonymous patients, and have not been verified by our internal team.
Are we able to sign up for this trial right now?
"This particular clinical trial is not currently recruiting patients. However, it was initially posted on 6/19/20 and edited as recently as 8/3/22. If you are interested in other studies, 562 clinical trials for alzheimer disease and 4 studies for Donanemab are actively searching for participants."
Does this clinical trial have an age limit? If so, what is the maximum age of participants?
"The age limit for candidates eligible for this trial are between 60 to 85 years old."
How many different medical facilities are running this clinical trial?
"There are 100 recruiting patients for this study such as Sensible Healthcare, LLC in Ocoee, Senior Adults Specialty Research in Austin, and Arch Clinical Trials, LLC in Saint Louis."
What is the current regulatory status of Donanemab?
"Donanemab has received a 3 for safety from our team at Power. This is because it is a Phase 3 trial, and there is thus some data supporting efficacy as well as multiple rounds of data affirming safety."
How many patients are currently enrolled in this trial?
"Unfortunately, this study is not enrolling patients at the moment. The listing was created on June 19th 2020 and updated as recently as August 3rd 2022. There are 562 other trials for patients with Alzheimer's disease that are still recruiting participants along with 4 clinical trials for Donanemab."
Can you provide some context for this Donanemab study by detailing other research that has been conducted in the past?
"Donanemab was first studied in 2020 for its efficacy in treating Parkinson's Disease and Movement Disorders. Since then, there have been 18290 completed clinical trials worldwide. As of now, there are 4 live studies-- a significant number of which are based out of Ocoee, Texas."
To whom does this study's eligibility requirements apply?
"The target population for this study are those aged 60 to 85 who have Alzheimer's disease. Out of these patients, 1800 will be enrolled. Furthermore, it is a requirement that they have a Mini-Mental State Examination (MMSE) score between 20 and 28 at the start of the trial as well as having had gradual changes in their memory function over a period of at least six months."
Has a clinical trial like this been conducted before?
"There are 4 ongoing clinical trials for Donanemab in 334 cities across 9 countries. The very first study was completed in 2020 and it received Phase 3 drug approval. Since then, 18290 more trials have been completed."
Who else is applying?
What state do they live in?
What site did they apply to?
ARS- Neurology and Neurodiagnostics of Alabama
Suncoast Neuroscience Associates
What portion of applicants met pre-screening criteria?
How many prior treatments have patients received?
Why did patients apply to this trial?
I have mild memory loss. Just starting clinical trial research. I take donezil and it isn't helping. I am told by several people including my husband that I repeat myself.