Gene Therapy
RST-001 for Retinitis Pigmentosa
Research Sponsored by Allergan
Eligibility Criteria Checklist
Specific guidelines that determine who can or cannot participate in a clinical trial
Must have
Be older than 18 years old
Must not have
Be younger than 18 years old
Follow Up
baseline to 24 months
Study Summary
This trial is testing an experimental treatment for macular degeneration. It is enrolling 12 patients total, 6 of which must have very poor vision in the study eye, and 6 of which must have vision ranging from poor to 20/200.
Timeline
Screening ~ 3 weeks
3 visits
Follow Up ~ baseline to 24 months
Follow Up ~
baseline to 24 months
This trial's timeline: 3 weeks for screening, Varies for treatment, and baseline to 24 months for reporting.
Treatment Details
Study Objectives
Outcome measures can provide a clearer picture of what you can expect from a treatment.
Number of Participants With Any Grade 3 or Greater Adverse Event (AE) Considered Related to RST-001.
Secondary outcome measures
Change in Quality of Life
Awards & Highlights
All patients enrolled in this study will receive some form of active treatment.
Trial Design
Group I: Group 1
Experimental Treatment
1 Intervention
Single intravitreal injection of RST-001
Who is running the clinical trial?
781 Previous Clinical Trials
275,851 Total Patients Enrolled
1 Trials studying Retinitis Pigmentosa
21 Patients Enrolled for Retinitis Pigmentosa
902 Previous Clinical Trials
487,051 Total Patients Enrolled
Hanh Badger, PharmD
Study Director
Allergan
1 Previous Clinical Trials
80 Total Patients Enrolled
Media Library


RST-001 (Gene Therapy) Clinical Trial Eligibility Overview. Trial Name: NCT02556736 — Phase 1 & 2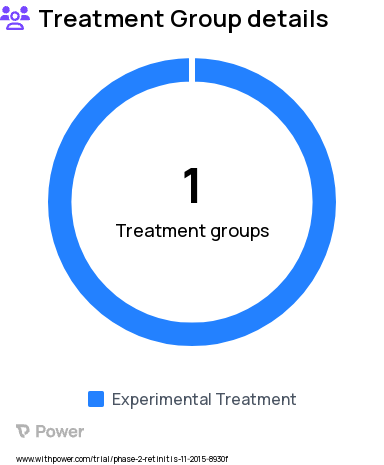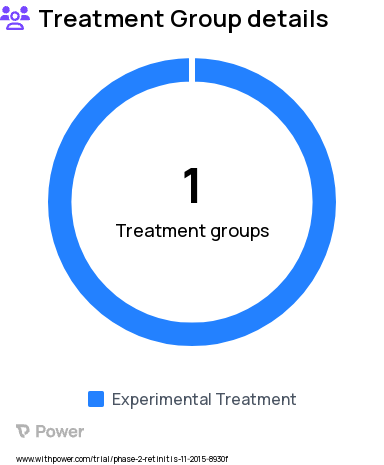 Retinitis Pigmentosa Research Study Groups: Group 1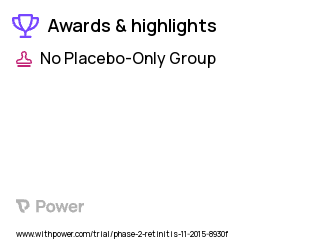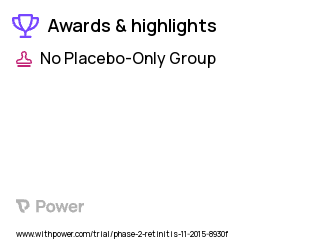 Retinitis Pigmentosa Clinical Trial 2023: RST-001 Highlights & Side Effects. Trial Name: NCT02556736 — Phase 1 & 2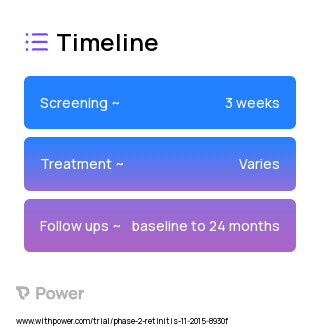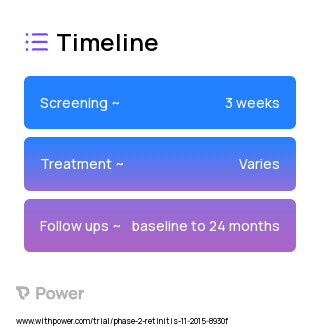 RST-001 (Gene Therapy) 2023 Treatment Timeline for Medical Study. Trial Name: NCT02556736 — Phase 1 & 2
Frequently Asked Questions
These questions and answers are submitted by anonymous patients, and have not been verified by our internal team.
Are there numerous facilities administering the experiment within this state?
"At present, 4 medical centres are recruiting for this trial. Dallas, San Francisco and Cincinnati have established locations where patients can participate in the study while other cities house additional potential sites of enrolment. To reduce travelling burdens it is recommended to choose the closest location available when enrolling."
Is the recruitment process for this clinical trial currently underway?
"Clinicaltrials.gov shows that this research project is no longer accepting participants, as the last update to its posting was made on September 9th 2022. Despite this trial being inactive, there are 51 other trials actively recruiting patients at present time."
Who else is applying?
What state do they live in?
What site did they apply to?
Retina Foundation of the Southwest
What portion of applicants met pre-screening criteria?
How many prior treatments have patients received?