Your session is about to expire
We'll log you out in 60 seconds unless you choose to continue
← Back to Search
Eligibility Criteria Checklist
Specific guidelines that determine who can or cannot participate in a clinical trial
Must have
FVC ≥40% predicted of normal
DLCO corrected for Hgb ≥25% and ≤80% predicted of normal.
Must not have
Be younger than 18 years old
Follow Up
from day 1 through week 24
Study Summary
This trial tests a new drug, DWN12088, to see if it is safe and effective for treating Idiopathic Pulmonary Fibrosis.
Idiopathic Pulmonary Fibrosis
Eligibility Criteria
Inclusion Criteria
You will be eligible if you check "Yes" for the criteria below
You have been diagnosed with a lung disease called IPF according to certain guidelines from medical societies.
Timeline
Screening ~ 3 weeks
3 visits
Follow Up ~ from day 1 through week 24
Follow Up ~
from day 1 through week 24
This trial's timeline: 3 weeks for screening, Varies for treatment, and from day 1 through week 24 for reporting.
Treatment Details
Study Objectives
Outcome measures can provide a clearer picture of what you can expect from a treatment.
Incidents of treatment-emergent adverse events
Secondary outcome measures
Diffusing capacity of lung for carbon monoxide (DLCO) corrected for Hgb
Functional exercise capacity, assessed by the 6-minute walk test (6MWT) distance
Quantitative high-resolution computed tomography
+1 more
Trial Design
Group I: DWN12088 Xmg Tablet (BID)
Experimental Treatment
1 Intervention
Group II: Placebo 0mg Tablet (BID)
Placebo Group
1 Intervention
How many patients have taken this drug
Who is running the clinical trial?
Daewoong Pharmaceutical Co. LTD.
Lead Sponsor
187 Previous Clinical Trials
155,065 Total Patients Enrolled
3 Trials studying Idiopathic Pulmonary Fibrosis
108 Patients Enrolled for Idiopathic Pulmonary Fibrosis
JW Song
Principal Investigator
Asan Medical Center
Song
Principal Investigator
AIDS Malignancy Consortium
Media Library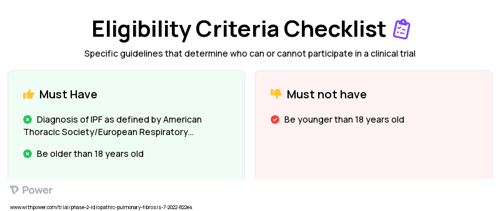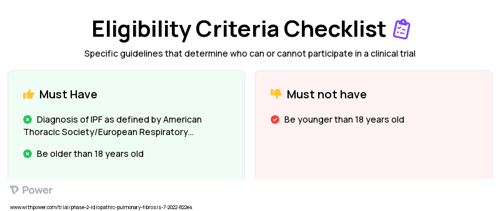 Eligibility Criteria:
This trial includes the following eligibility criteria:
You have experienced a sudden worsening of your lung condition called IPF within the past 6 months or during the screening period.

You have not taken any experimental drugs for IPF in the past 4 weeks before screening.

You have been diagnosed with a lung disease called IPF according to certain guidelines from medical societies.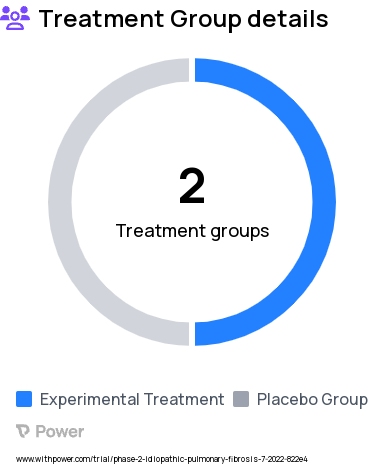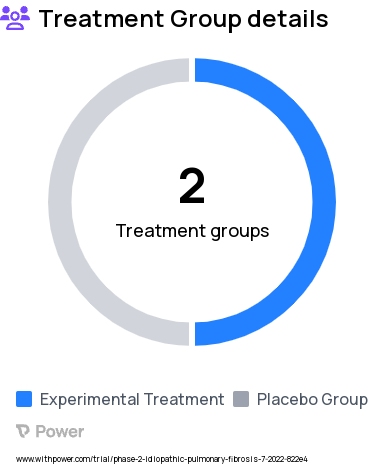 Research Study Groups:
This trial has the following groups:
Group 1: DWN12088 Xmg Tablet (BID)
Group 2: Placebo 0mg Tablet (BID)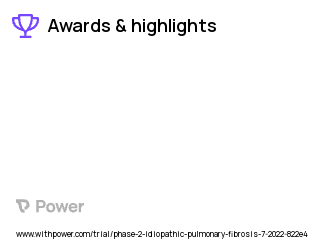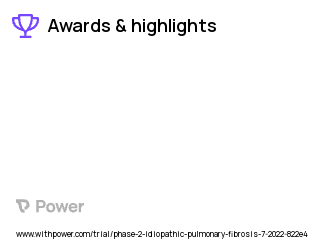 Awards:
This trial has 0 awards, including: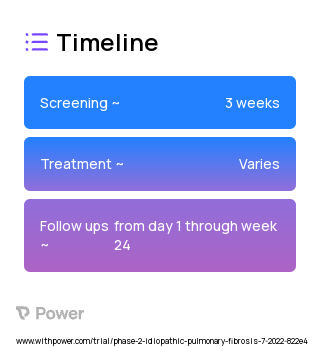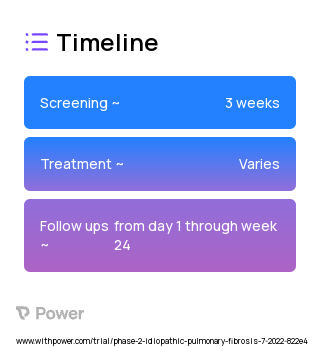 Timeline:
This trial has the following timeline:
Screening: It may take up to 3 Weeks to process to see if you qualify in this trial.
Treatment: The duration you will receive the treatment varies.
Follow Ups: You may be asked to continue sharing information regarding the trial for 6 Months after you stop receiving the treatment.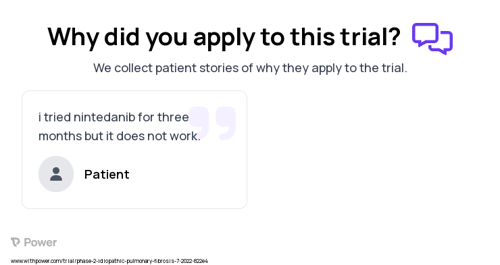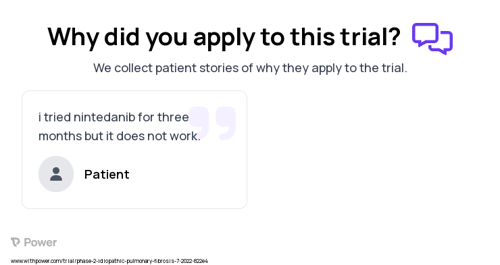 Idiopathic Pulmonary Fibrosis Patient Testimony for trial: Trial Name: NCT05389215 — Phase 2
Frequently Asked Questions
These questions and answers are submitted by anonymous patients, and have not been verified by our internal team.
Has DWN12088 been given the green light from the FDA?
"Due to the limited amount of evidence available for DWN12088's efficacy, it was given a safety ranking score of 2. However, there is some research that substantiates its safety."
What are the desired outcomes of this clinical experiment?
"The principal objective of this medical trial, which will be monitored over the course of 24 weeks, is to establish a rate for Forced Vital Capacity (FVC) decrease. Additionally, Quantitative High-Resolution Computed Tomography (HRCT), Time To Progression Of Idiopathic Pulmonary Fibrosis (IPF), and Diffusing Capacity Of Lung For Carbon Monoxide Corrected By Haemoglobin levels will also be tracked as secondary objectives."
Is this investigation accepting new recruits?
"Unfortunately, according to the details posted on clinicaltrials.gov, this particular medical trial is no longer recruiting participants; it was initially published on August 30th 2022 and last updated July 25th 2022. However, fortunately there are currently 410 other studies actively enrolling patients at this time."
Who else is applying?
What state do they live in?
What site did they apply to?
Daewoong Investigator site
University of Kansas Medical Center Research Institute, Inc
Lowcountry Lung and Critical Care
What portion of applicants met pre-screening criteria?
How many prior treatments have patients received?
Why did patients apply to this trial?
i tried nintedanib for three months but it does not work.
Patient
Received 1 prior treatment
Share this study with friends