Your session is about to expire
We'll log you out in 60 seconds unless you choose to continue
← Back to Search
Hormone Therapy
Thyroid Hormone for Nonalcoholic Steatohepatitis in Veterans
Led By Jamal A Ibdah, MD PhD
Research Sponsored by VA Office of Research and Development
Eligibility Criteria Checklist
Specific guidelines that determine who can or cannot participate in a clinical trial
Must have
Features of metabolic syndrome: 3 or more (central obesity, hypertension, low HDL, high triglycerides, high fasting glucose)
Scheduled for a medically indicated, diagnostic liver biopsy
Must not have
Be younger than 18 years old
Study Summary
This trial is testing whether low-dose thyroid hormone can help treat NASH by improving fat breakdown in mitochondria. The study will happen in two stages, with an interim analysis to determine if the trial should continue. If successful, this could provide new information and strategies for treating NASH in Veterans.
Non-alcoholic Fatty Liver Disease (NAFLD)

Liver Fibrosis
Eligibility Criteria
Inclusion Criteria
You will be eligible if you check "Yes" for the criteria below
You

cannot consume more than 20 grams of alcohol per day

.
Both men and women, regardless of age or menopausal status.
Timeline
Screening ~ 3 weeks
3 visits
This trial's timeline: 3 weeks for screening, Varies for treatment, and 12 months for reporting.
Treatment Details
Study Objectives
Outcome measures can provide a clearer picture of what you can expect from a treatment.
Improvement in Nonalcoholic fatty liver disease activity score (NAS) by 2 points
Secondary outcome measures
Improvement in mitochondrial biogenesis
Improvement in mitochondrial fatty acid oxidation
Improvement in mitochondrial mitophagy
+1 more
Trial Design
Group I: Study group
Active Control
1 Intervention
Study group will receive Synthroid (Levothyroxine) 25, 50, or 75 mcg daily
Group II: Placebo group
Placebo Group
1 Intervention
Placebo group will receive placebo tablets
Who is running the clinical trial?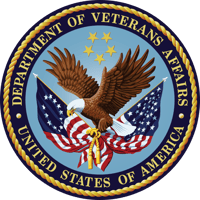 VA Office of Research and Development
Lead Sponsor
1,584 Previous Clinical Trials
2,897,580 Total Patients Enrolled
2 Trials studying Non-alcoholic Fatty Liver Disease
116 Patients Enrolled for Non-alcoholic Fatty Liver Disease
Jamal A Ibdah, MD PhD
Principal Investigator
Harry S. Truman Memorial, Columbia, MO
Media Library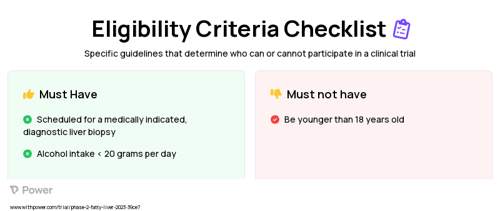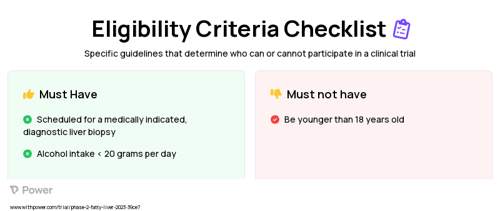 Eligibility Criteria:
This trial includes the following eligibility criteria:
You cannot consume more than 20 grams of alcohol per day.

You can only rely on abstinence from heterosexual intercourse as a birth control method if you usually practice it.

Both men and women, regardless of age or menopausal status.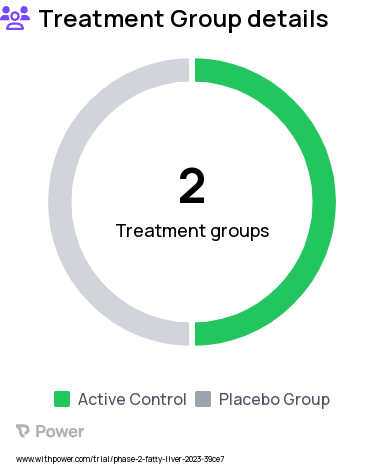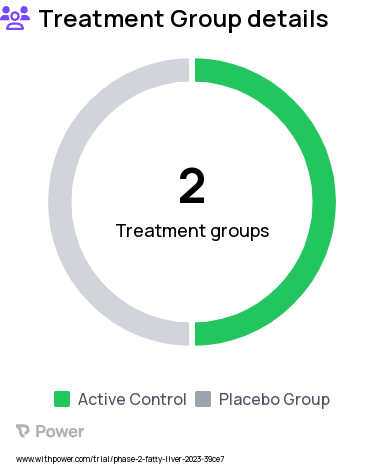 Research Study Groups:
This trial has the following groups:
Group 1: Placebo group
Group 2: Study group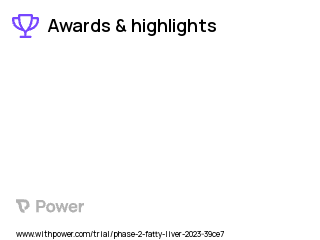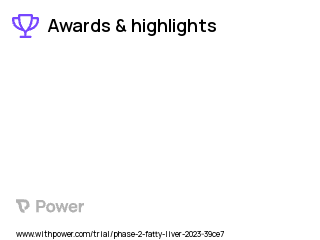 Awards:
This trial has 0 awards, including: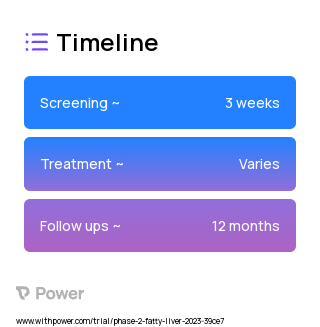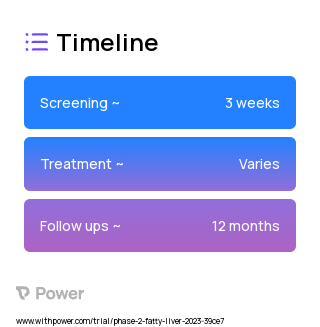 Timeline:
This trial has the following timeline:
Screening: It may take up to 3 Weeks to process to see if you qualify in this trial.
Treatment: The duration you will receive the treatment varies.
Follow Ups: You may be asked to continue sharing information regarding the trial for 6 Months after you stop receiving the treatment.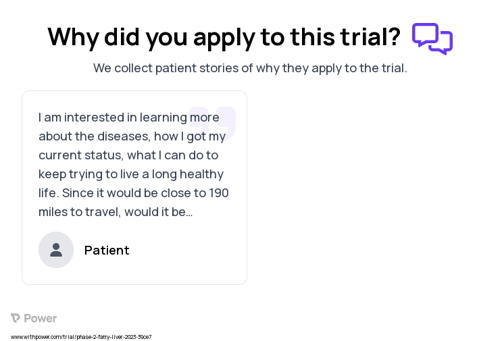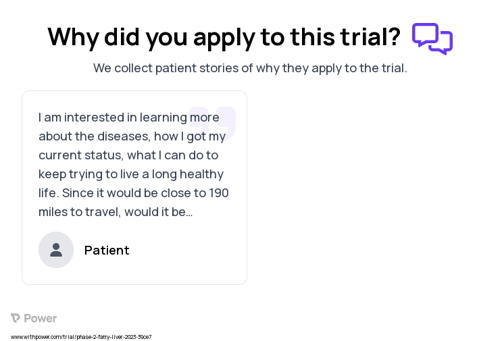 Non-alcoholic Fatty Liver Disease Patient Testimony for trial: Trial Name: NCT05526144 — Phase 2
Frequently Asked Questions
These questions and answers are submitted by anonymous patients, and have not been verified by our internal team.
Has the FDA okayed this research project?
"While there is some data indicating that Study group is safe, it does not yet have any evidence of efficacy and thus receives a score of 2."
Am I eligible to participate in this clinical research?
"Eligible patients for this trial must have fibrosis, liver damage, and be aged between 18-75. This study will accept a maximum of 128 participants."
Are people currently being signed up for this experiment?
"The clinical trial in question is not searching for participants at this moment, as per the information found on clinicaltrials.gov. This study was initially posted on 1/1/2023 and was most recently edited on 8/30/2022. There are 437 other trials that are currently enrolling patients."
Can elderly people participate in this research project?
"According to the inclusion criteria for this clinical trial, patients aged 18-75 may qualify to participate. There are 37 other trials available for children and 384 trials available for elderly patients."
Who else is applying?
What state do they live in?
What site did they apply to?
Harry S. Truman Memorial, Columbia, MO
What portion of applicants met pre-screening criteria?
How many prior treatments have patients received?
Why did patients apply to this trial?
I will think the same answer only to help my liver. I have lost weight and am exercising more.I would like to try the drug that you are testing .
Patient
Received 2+ prior treatments
I am interested in learning more about the diseases, how I got my current status, what I can do to keep trying to live a long healthy life. Since it would be close to 190 miles to travel, would it be possible to consolidate visits. I just completed a 6-year study on Alzheimer's new trial drug for Eli Lilly at Washington University, St. Louis.
Patient
Received 1 prior treatment
What questions have other patients asked about this trial?
How long are the visits, what is the screening process? My husband would be coming with me, also. What is the length of the study?
Patient
Received 2+ prior treatments
Share this study with friends