Study Summary
This trial is testing a combination of drugs to treat patients with colorectal cancer that has spread and cannot be removed by surgery. The drugs work by blocking enzymes needed for cell growth and by helping the body's immune system attack the cancer.
Metastatic Microsatellite Stable Colorectal Cancer

Unresectable Colon Cancer

Progressive Disease

Colon Cancer

BRAF V600E Mutation

Metastatic Rectal Cancer

Stage IIIB Colorectal Cancer

Stage IVC Colorectal Cancer

Stage IVA Colorectal Cancer

Stage IVB Colorectal Cancer

Stage IIIA Colorectal Cancer

Unresectable Rectal Cancer

Stage IV Colorectal Cancer

Stage III Colorectal Cancer

Colorectal Cancer
Treatment Effectiveness
Phase-Based Effectiveness
Study Objectives
2 Primary · 4 Secondary · Reporting Duration: Up to 5 years
Incidence of treatment-related grade 3 adverse events
Progression-free survival
Best radiographic response
Trial Safety
Awards & Highlights
All patients enrolled in this trial will receive the new treatment.
All Individual Drugs Already Approved
Therapies where all constituent drugs have already been approved are likely to have better-understood side effect profiles.
Approved for 5 Other Conditions
This treatment demonstrated efficacy for 5 other conditions.
Trial Design
1 Treatment Group
Treatment (encorafenib, cetuximab, nivolumab)
1 of 1
38 Total Participants · 1 Treatment Group
Primary Treatment: Cetuximab · No Placebo Group · Phase 1 & 2
Treatment (encorafenib, cetuximab, nivolumab)
Experimental Group · 3 Interventions: Cetuximab, Nivolumab, Encorafenib · Intervention Types: Biological, Biological, Drug
How many patients have taken this drug
Who is running the clinical trial?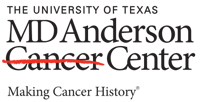 M.D. Anderson Cancer Center
Lead Sponsor
2,845 Previous Clinical Trials
1,793,404 Total Patients Enrolled

National Cancer Institute (NCI)
NIH
13,273 Previous Clinical Trials
41,234,645 Total Patients Enrolled
Van K Morris
Principal Investigator
M.D. Anderson Cancer Center
3 Previous Clinical Trials
1,566 Total Patients Enrolled
Eligibility Criteria
Age 18+ · All Participants · 0 Total Inclusion Criteria
Mark "Yes" if the following statements are true for you:
Who else is applying?
What state do they live in?
What site did they apply to?
M D Anderson Cancer Center

100.0%
What portion of applicants met pre-screening criteria?
Why did patients apply to this trial?
"I saw this trial and was interested in it. I have Stage 4 Colon Cancer that metastasized to my liver where I had 7 lesions but after 6 months of chemotherapy I am down to 3 lesions in my liver. However, the chemotherapy is wearing me down. I hurt all over, most the time I just want to sleep all day because I am so tired. I am still working a full time job but financially, physically and mentally I can not do another 6 months of the 5FU chemotherapy. I am just looking into this trial to see if it would get rid of my last 3 lesions faster without as many side affects. My CEA level is currently at 3.5 and it started at 57."
What questions have other patients asked about this trial?
"If I am able to do the trial will you provide a place to stay while I am in Texas?"
How many prior treatments have patients received?
Frequently Asked Questions
What past examinations have been conducted centering on Cetuximab?
"Presently, 851 trials are running on Cetuximab with 112 of them in the latter Phase 3. While most of these studies have been based out of Pittsburgh, Pennsylvania there is an expansive network encompassing over 46,000 sites testing this medication." - Anonymous Online Contributor
To what extent is this experiment involving human test subjects?
"Correct. Data hosted on clinicaltrials.gov indicates that this medical investigation, which was initially posted on June 14th 2019, is still actively looking for enrollees. About 38 patients need to be enlisted from a single site." - Anonymous Online Contributor
Are there any open slots available for the research trial?
"As per clinicaltrials.gov, this particular medical trial is seeking new members to join their research team and is currently open for recruitment. This experiment was first posted on June 14th 2019 with the most recent modifications occurring August 31st 2022." - Anonymous Online Contributor
To what ailments are practitioners most often prescribing Cetuximab?
"Cetuximab can be deployed to treat unresectable melanoma, squamous cell carcinomas, and those at an elevated risk of relapse." - Anonymous Online Contributor
Please Note: These questions and answers are submitted by anonymous patients, and have not been verified by our internal team.