Your session is about to expire
We'll log you out in 60 seconds unless you choose to continue
← Back to Search
Peptide Hormone
Kisspeptin-10 for Metabolic Diseases
Led By Margaret Lippincott
Research Sponsored by Massachusetts General Hospital
Eligibility Criteria Checklist
Specific guidelines that determine who can or cannot participate in a clinical trial
Must not have
Be younger than 18 years old
Be older than 65 years old
Study Summary
This trial looks at how the hormone kisspeptin affects metabolism and blood sugar levels.
Eligibility Criteria
Inclusion Criteria
You will be eligible if you check "Yes" for the criteria below
You have

gone through puberty normally

.
You have a

normal menstrual cycle

.
You have a

healthy weight

for your height.
Timeline
Screening ~ 3 weeks
3 visits
This trial's timeline: 3 weeks for screening, Varies for treatment, and 10 minutes for reporting.
Treatment Details
Study Objectives
Outcome measures can provide a clearer picture of what you can expect from a treatment.
First Phase Insulin Secretion
Second Phase Insulin Secretion
Trial Design
Group I: Kisspeptin
Experimental Treatment
2 Interventions
Intravenous administration of kisspeptin 112-121 x 16 hours
Group II: Placebo
Placebo Group
2 Interventions
Intravenous administration of placebo x 16 hours
How many patients have taken this drug
Logistics
Participation is compensated
You will be compensated for participating in this trial.
Who is running the clinical trial?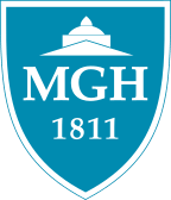 Massachusetts General Hospital
Lead Sponsor
2,865 Previous Clinical Trials
13,150,670 Total Patients Enrolled
6 Trials studying Metabolic Diseases
581 Patients Enrolled for Metabolic Diseases
Margaret Lippincott
Principal Investigator
Massachusetts General Hospital
Media Library
Eligibility Criteria:
This trial includes the following eligibility criteria:
You have gone through puberty normally.

You have a normal menstrual cycle.

You have a healthy weight for your height.

You currently use illegal drugs.

You have had a serious reaction to a medication in the past that required urgent medical attention.

A close family member, like your parent or sibling, has diabetes.

You have a history of high blood pressure, diabetes, heart disease, high cholesterol, cancer, or clotting disorders.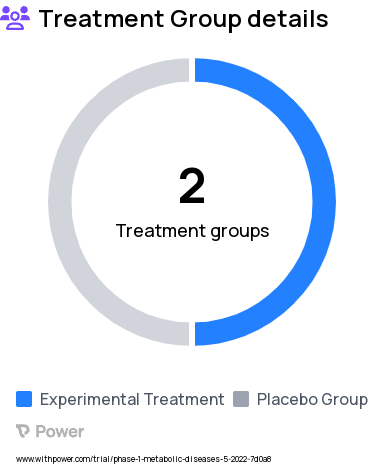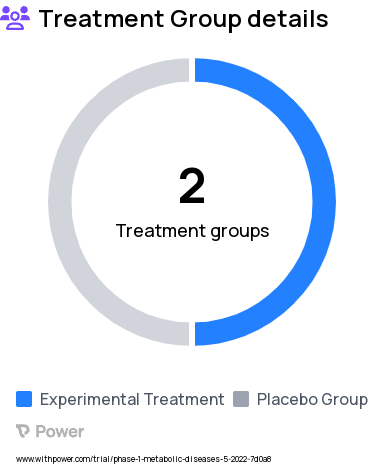 Research Study Groups:
This trial has the following groups:
Group 1: Kisspeptin
Group 2: Placebo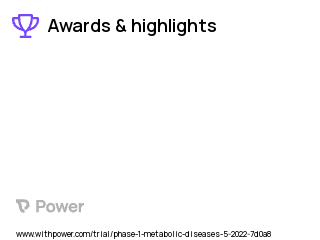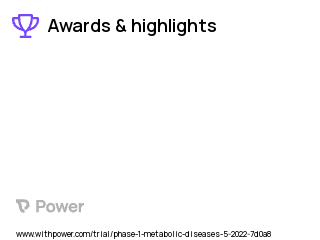 Awards:
This trial has 0 awards, including: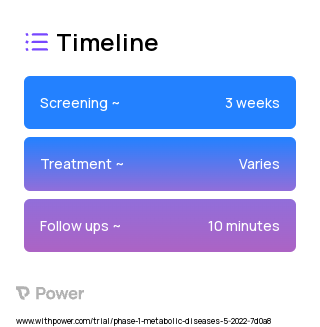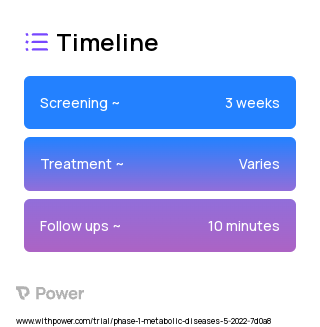 Timeline:
This trial has the following timeline:
Screening: It may take up to 3 Weeks to process to see if you qualify in this trial.
Treatment: The duration you will receive the treatment varies.
Follow Ups: You may be asked to continue sharing information regarding the trial for 6 Months after you stop receiving the treatment.
Frequently Asked Questions
These questions and answers are submitted by anonymous patients, and have not been verified by our internal team.
How many participants are engaged in this research endeavor?
"Affirmative, the clinical trial is still open for recruitment. According to data available on clinicaltrials.gov, this study was first published on June 3rd 2022 and its details were last modified on July 12th 2022. This research has a requirement of 12 participants from one site."
How has Hyperglycemic Clamp been assessed for its safety in human patients?
"Hyperglycemic Clamp is a relatively untested therapeutic intervention, so it only received a score of 1 due to the lack of data regarding its efficacy and safety."
Does the criteria for this research encompass participants over 50 years of age?
"This clinical trial is open to individuals between 18 and 40 years of age. There are separate trials for those under the legal voting age as well as one specifically tailored towards seniors above 65."
Who is eligible to become a participant of this research?
"Eligible participants in this trial must be under 40 years of age and suffering from a metabolic disorder. Additional requirements include being 17 or older, normal pubertal development, regular menstrual cycles, stable weight within the last three months, BMI below average values for their height and sex (systolic BP < 140 mm Hg/diastolic < 90 mm Hg), hemoglobin level within the physiological range (A1C < 6.5%), creatinine not elevated above baseline levels as well as AST & ALT concentrations lower than 3 times upper limit of normative figures."
Does this research project currently have open enrollment?
"Indeed, the information on clinicaltrials.gov reveals that this research is currently enrolling patients. Initially posted on June 3rd 2022 and last modified on July 12th 2022, it seeks to recruit a total of twelve participants from one location."
Share this study with friends