Other
Imiquimod for Melanoma
Mayo Clinic in Florida, Jacksonville, FL
Targeting 4 different conditions
Imiquimod

+2 more
Phase < 1
Waitlist Available
Led by Richard Joseph
Research Sponsored by Mayo Clinic
Eligibility Criteria Checklist
Specific guidelines that determine who can or cannot participate in a clinical trial
Must have
Platelet count >= 100,000/mm^3
Hemoglobin > 9.0 g/dL or >= 5.6 mmol/L without transfusion or (EPO) erythropoietin dependency (within 7 days of assessment)
Must not have
Be younger than 18 years old
All Individual Drugs Already Approved
Approved for 5 Other Conditions
Study Summary
This trial studies the side effects and efficacy of imiquimod and pembrolizumab in treating patients with stage IIIB-IV melanoma.
Metastatic Melanoma

Cutaneous Melanoma
Eligibility Criteria
Inclusion Criteria
You will be eligible if you check "Yes" for the criteria below
Timeline
Screening ~ 3 weeks
3 visits
Follow Up ~ up to 2 years
This trial's timeline: 3 weeks for screening, Varies for treatment, and up to 2 years for reporting.
Treatment Details
Study Objectives
Outcome measures can provide a clearer picture of what you can expect from a treatment.
Incidence of adverse events graded using Common Terminology Criteria for Adverse Events version 4.0
+2 more
Secondary outcome measures
Biomarker changes during treatment
Awards & Highlights
All Individual Drugs Already Approved
Therapies where all constituent drugs have already been approved are likely to have better-understood side effect profiles.
Approved for 5 Other Conditions
This treatment demonstrated efficacy for 5 other conditions.
All patients enrolled in this study will receive some form of active treatment.
Trial Design
Group I: Treatment (pembrolizumab, imiquimod)
Experimental Treatment
3 Interventions
Patients receive pembrolizumab IV on day 1 and apply imiquimod cutaneously on days 1-5 (Monday - Friday). Courses repeat every 21 days for up to 2 years (approximately 35 courses) in the absence of disease progression or unacceptable toxicity.
How many patients have taken this drug
Who is running the clinical trial?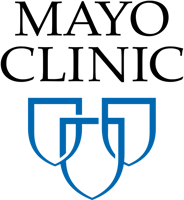 3,084 Previous Clinical Trials
3,491,844 Total Patients Enrolled
38 Trials studying Melanoma
2,031 Patients Enrolled for Melanoma

National Cancer Institute (NCI)
NIH
13,412 Previous Clinical Trials
41,239,059 Total Patients Enrolled
554 Trials studying Melanoma
160,224 Patients Enrolled for Melanoma
Richard Joseph
Principal Investigator
Mayo Clinic
Media Library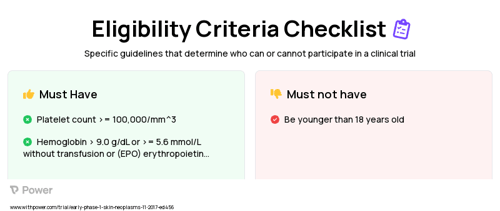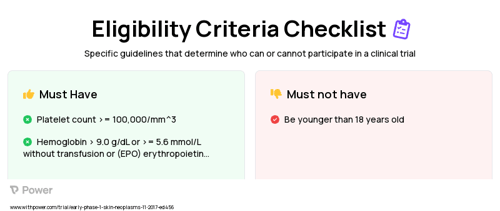 Imiquimod (Other) Clinical Trial Eligibility Overview. Trial Name: NCT03276832 — Phase < 1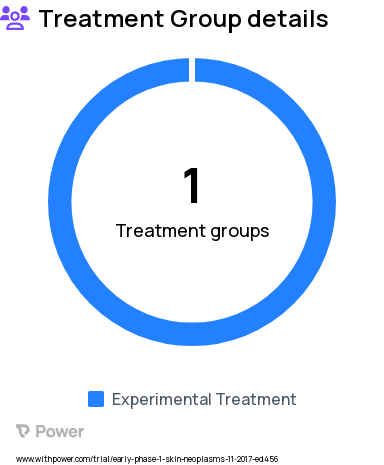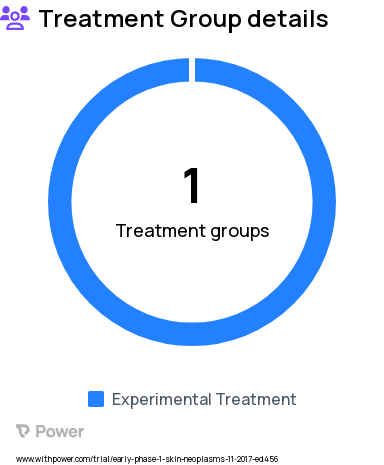 Melanoma Research Study Groups: Treatment (pembrolizumab, imiquimod)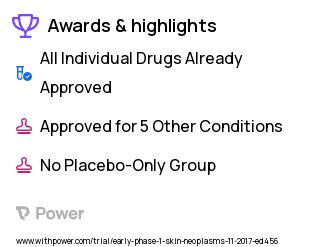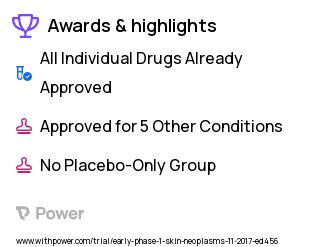 Melanoma Clinical Trial 2023: Imiquimod Highlights & Side Effects. Trial Name: NCT03276832 — Phase < 1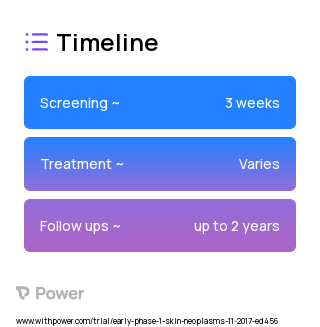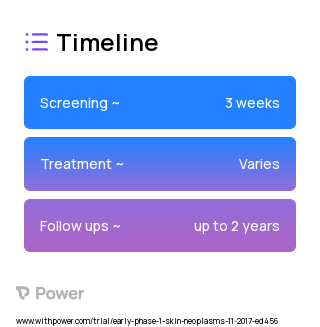 Imiquimod (Other) 2023 Treatment Timeline for Medical Study. Trial Name: NCT03276832 — Phase < 1
Frequently Asked Questions
These questions and answers are submitted by anonymous patients, and have not been verified by our internal team.
What is the scale of participation in this research project?
"As of now, this study is not currently enrolling. It was initially published in December 2017 and last edited on October 7th 2022; however, there are 832 studies recruiting participants with stage IV cutaneous melanoma AJCC V6 and V7 as well as 978 trials utilizing Pembrolizumab actively seeking volunteers."
Are there any available openings for individuals seeking to join this clinical trial?
"This research project is not presently looking for new participants. It was first publicized on December 20th 2017 and most recently edited October 7th 2022. However, if you are searching for alternatives, 832 clinical trials with Stage IV cutaneous melanoma AJCC v6 & V7 are actively recruiting as well as 978 experiments using Pembrolizumab."
What other research has been conducted regarding the use of Pembrolizumab?
"At present, there are 978 clinical trials pertaining to Pembrolizumab in active progress and 127 of those studies have progressed past the second phase. Although numerous investigations are conducted out of Nashville, Tennessee, a total of 36006 research centres around the world are currently exploring this novel therapy."